Excerpts from KGI report

Analyst: Joel Ng

• Still going strong. UAG provided a 9M21 business update. While no revenue and earnings were disclosed, the overall tone was positive. Industry trends for handysize dry bulk carriers remain supportive, even with the recent correction of the Baltic Dry Bulk indices.


Uni-Asia Group

Share price:
$1.32

Target:
$1.56
Meanwhile, HK's property market is expected to improve upon the reopening of borders with China.

• Maintain Outperform and S$1.56 TP. Despite the 125% YTD rally of its shares, UAG's valuations are attractive amid the stronger-than-expected bulk carrier upcycle.

Our TP implies a 0.7x FY2021F P/B, which is still a conservative 30% discount to int'l peers who are trading >1.0x P/B.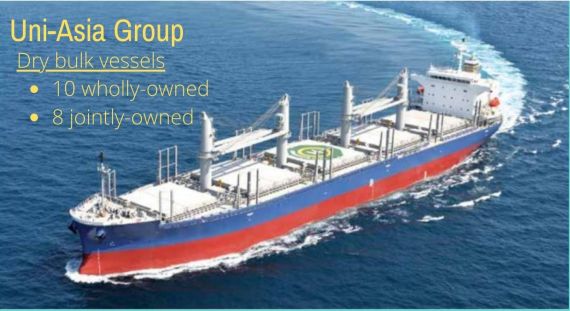 Strength to strength. UAG did not provide any revenue or profit numbers in its 3Q business update. However, the disclosure of 9M2021 cash flows showed a positive picture.

UAG generated US$19.1mn of operating cashflows in 9M2021, a significant increase from US$4.8mn generated in 9M2020.

It paid back around US$28mn in debt, bringing total borrowings down to US$85.1mn as at end-3Q2021. When accounting for the US$33.4mn in cash, net debt was only US$57.3mn.

Resilient demand for handysize dry bulk carriers. Despite the 25% correction in the Baltic Handysize Index, Handysize charter rates in the market remain above US$25,000 per day vs UAG's average charter income of US$14,321 in 3Q2021, leaving more upside as we head into 2022.

Six of UAG's wholly owned dry bulks will renew in 2H2021, three will renew in 1H2022 and one in 2H2022 (Figure 4). We expect Handysize charter rates to remain resilient at these levels amid a historically low order book, rising scrap rates and further cuts in operating speeds.

Dry bulk seaborne trade expected to remain healthy. The US recently passed the US$1 trillion infrastructure plan that will ramp up demand for steel and other construction materials, thus driving up bulk shipping demand.

The global economy is expected to expand 4.4% in 2022, with the potential to pick up in the second half of 2022 as supply chain problems are resolved. This is positive for dry bulk shipping companies as Seaborne trade is traditionally correlated with economic growth.


Bear markets are the authors of bull markets. The dry bulk shipping market went through a challenging decade driven by the excess supply before the global financial crisis.

The current decade is setting up for a much tighter market due to discipline among ship owners, led partly by the reluctance to build new vessels that may become obsolete in 2030 when ships are required to cut carbon emissions by 40%.

HK and Japan business update. UAG's five HK commercial properties will likely only contribute from 2H2022 onwards, given the relatively high HK office vacancy rates and weak leasing demand.

Marketing of properties may start to pick up in 2H2022 upon the reopening of borders with China. Bloomberg reported that there could be a limited capacity reopening in January 2022. Meanwhile, UAG's property assets under management (AUM) rose to JPY32.0bn as at end3Q2021, up from JPY30.4bn as at end-2020.


Valuation & Action:


We maintain our OUTPERFORM rating and TP of S$1.56, based on SOTP valuations. The favourable supply-demand dynamics for handysize dry bulk carriers should benefit the group over our forecast period.

We maintain our multiple-based valuation for the shipping business at 0.8x FY2021F P/B and 0.6x FY2021F P/B for the Japan & HK property business.

UAG's continues to pare down debt; this will likely be a precursor to higher full year dividends.

UAG will report its FY2021 results on or before 28 Feb 2022.

Risks: A supply-demand imbalance in the dry bulk shipping sector that leads to a drop in charter rates will have the largest short-term impact on UAG's earnings.

Full report here.