ASM Pacific Technology
(ASMPT) is headquartered in Singapore and listed on the Hong Kong Stock Exchange.
It is a leading global provider of hardware and software solutions for the manufacture of semiconductors and electronics.

Its customers span the breadth of the semiconductor and electronics manufacturing ecosystem -- including OEM, Fabless and Foundry companies, OSATs, EMS, IDM, LED manufacturers, CIS Camera Mobile manufacturers and High Density Substrate Manufacturers.
It announced a robust set of results yesterday (27 Oct), with record bookings, revenues and net profits for 9M2021. (see table)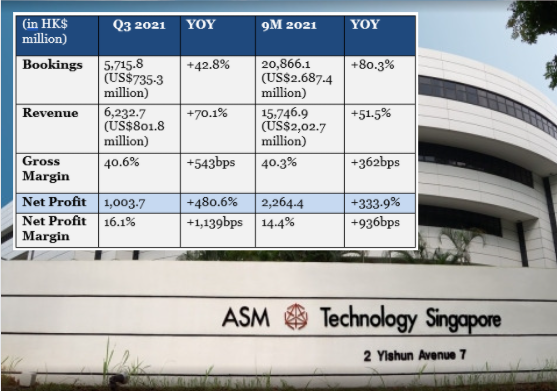 ASMPT's CEO, Robin Ng, said at an earnings call yesterday (Oct 27): "We believe our unique and broad portfolio puts us in good stead to achieve long term structural growth."

Within this portfolio, mainstream tools and applicative packaging tools deliver volume leverage to the group's financial performance. On the other hand, its comprehensive range of advanced packaging tools deliver high growth.

Details of this portfolio: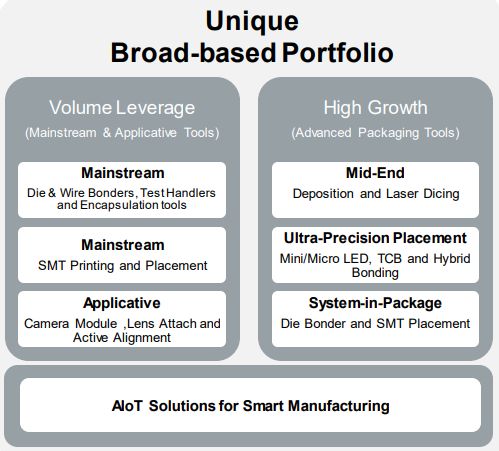 The portfolio will benefit from strong industry tailwinds coming from the global digital transformation, among other things, sweeping across entire economies.

Together with long term secular trends such as 5G, automotive electrification, autonomous driving, AI and advanced displays, these will collectively drive significantly higher non-discretionary silicon consumption across the world.

"We expect our customers to undertake new rounds of capacity and capability investments in semiconductor capital equipment in order to meet these new but sustained waves of non-discretionary silicon consumption," said Mr Ng.

This growth is in tandem with what ASMPT sees as an increase in the total number of semiconductor devices to 1.4 trillion units by 2025, a CAGR of 7.2%.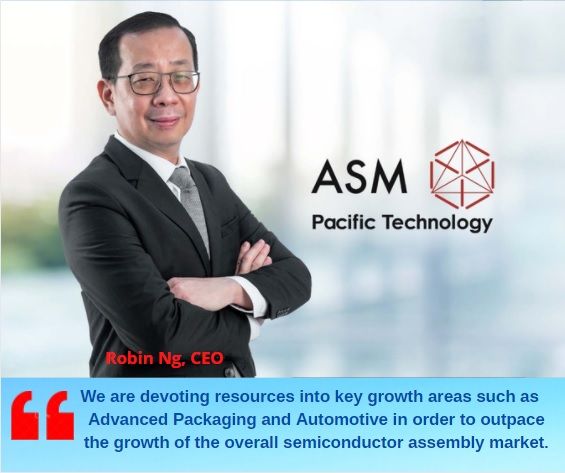 Photo: Company

In addition, the group's AIoT solutions for smart manufacturing are at a nascent stage of development and but are expected to augment its longer-term growth story.


Stock price

HK$82.00

52-week range

HK$74.50 – 133.80

Market cap

HK$33.7 b

PE (ttm)

23

Dividend yield

4.0%

1-year return

0.87 %

Shares outstanding

410.8 m

Source: Bloomberg
Mr Ng also highlighted:

• The continued role of R&D. The Group will sustain its commitment of about 10% of its equipment revenue in order to continue deepening its R&D talent pool and fostering innovation.

• ASMPT's approach to inorganic growth - both acquisitions and partnership - distinctively complements its strong in-house capabilities.


ASMPT last month (Sept) announced the acquisition of Mycronic Group's subsidiary, US-based Automation Engineering, Inc. ('AEi'), the de facto leader for the automotive camera active alignment market.

According to research firm Yole Développement, growth in non-radar automotive sensors (LiDAR, ADAS and camera modules) is expected to reach US$13.4 billion in 2025 from US$4.94 billion in 2020, representing a 2020-2025 CAGR of 22.1%.

"We always seek to invest 'ahead of the curve' in order to capture opportunities in growth areas and we have a strong record of successful integration," said Mr Ng.

• ASMPT's implementation of key strategic initiatives continues to gather pace. "We see margin-accretive effects continuing to filter into our performance."

As a result of the above factors, ASMPT is "very confident of supporting consistent and sustainable long-term performance, to deliver structural growth and lowered cyclicality in revenue and earnings over the long term," said Mr Ng.


Details of the financial performance are available in the PowerPoint material here.