SGX mainboard-listed

Chasen Holdings said it has benefitted from a business recovery from the initial disruption caused by the pandemic a year ago, as well as the resumption of projects and new contract wins.

Results for the three months ended 30 June 2021 ("1QFY2022"):

•

Revenue rose 70% to S$42.3 million from S$24.9 million due to higher sales achieved by all three segments – Specialist Relocation, Third-Party Logistics ("3PL") and Technical & Engineering ("T&E").

• In line with higher revenue, gross profit more than doubled to S$7.6 million in 1QFY2022 from S$3.4 million a year ago. Gross profit margin rose

4.4 percentage points to 18.0% from 13.6%.





• Net profit after tax rose more than five-fold to S$1.6 million from SS$0.3 millio. Net profit attributable to shareholders in 1QFY2022 was S$1.0 million.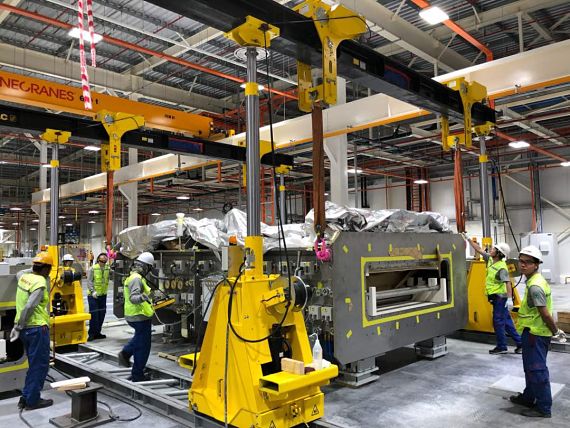 Notably, the 3PL segment's increased contribution to Group revenue arose from the continued disruptions to air and sea transportation driving demand for cross-border land transportation.

Chasen said more than half of its customers who had migrated to cross-border land transportation have indicated they intend to adopt it as their primary mode of cargo movement going forward even though the challenges faced by air and sea freight operators have eased somewhat.

Chasen has also seen sustained growth for its warehousing services amid increased e-commerce activities due to the lockdown during the pandemic.

The Specialist Relocation and T&E segments saw earlier projects delayed by COVID-19 restarting while also securing new projects.

Chasen is benefiting from cost re-structuring and streamlining of operations started amid the pandemic even as COVID-19-related government grants taper off.

On the outlook, Chasen is growing its truck fleet across Malaysia, Thailand and Indo-China from its base of 120 trucks.

In response to the strong e-commerce growth, the 3PL segment is looking for additional warehouse space to fulfill the strong demand.

As manufacturing activity in the PRC continues to recover, Specialist Relocation projects have resumed and the momentum is expected to maintain.

While the TFT LCD market is maturing, Chasen is poised to seize the emergence of OLED and market share growth for display panels with its first-mover advantage.

Singapore's construction industry is beginning to open up work sites amid various safe distancing measures.

Chasen's T&E segment, which first commenced installation work on solar panels on the roofs of public housing buildings in Singapore in FY2021, is on schedule to complete more than 50 HDB blocks in the next two to three quarters.

In addition, it has completed a commercial project for a local bank with several other solar panel installation projects in the pipeline as it strategically move towards GreenTech and renewable energy project opportunities.


"We have delivered a good set of results this quarter, and expect business momentum to continue improving in the coming months. With continued focus on our cost restructuring efforts, we hope to incrementally scale activities on a leaner cost structure to improve our cost competitiveness and bottom line. Management is closely monitoring the evolving landscapes related to regional economic activities as impacted by the pace of vaccination and COVID-19 control measures, and remains committed to adding value to our customers and shareholders."

--

Low Weng Fatt, Chasen's Managing Director and CEO.