SGX Mainboard-listed Chasen Holdings secured S$53.1 million worth of new projects in 1HFY2023 (ended 30 Sept 2022) while recording net profit before tax of S$2.1 million.

The diversified logistics group said 1HFY2023 topline declined 4% y-o-y to S$80.5 million.

Prolonged Covid-related travel restrictions in the People's Republic of China resulted in delayed project timelines for Chasen's Specialist Relocation segment and disrupted operations for the Third-Party Logistics cross-border land freight.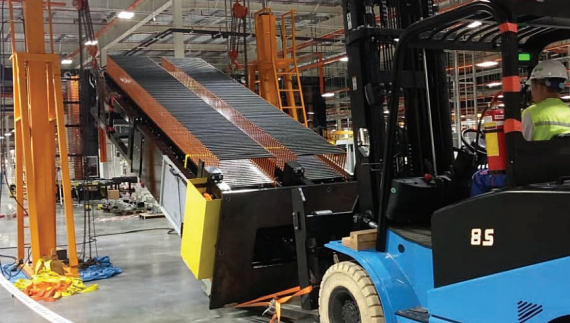 The overall decline was partially offset by higher revenue contributions from the Group's Technical & Engineering ("T&E") subsidiary, Hup Lian Engineering Pte Ltd, which secured eight new solar panel installation projects in Singapore.

This brings the Group's total number of projects to 180 public housing blocks and 19 commercial buildings.
Stock price

6.4 c

52-week
range

5.6 – 7.4 c

PE (ttm)

6.4

Market cap

S$25 m

52-week change

-15%

Dividend
yield (ttm)

--

P/B

0.38

Source: Yahoo!
Net profit after tax for 1HFY2023 declined 57% y-o-y to S$1.2 million, arising from higher operating expenses due to rising interest costs, costs of labour, energy and rental.

Net asset value per share remained relatively stable at 16.6 Singapore cents as at 30 September 2022 from 16.7 Singapore cents as at 31 March 2022. (At 6.4 cents, the stock trades at a sharp discount to the NAV.)

Even as the Group continues to secure new projects and see long-term business opportunities, Chasen said it is closely monitoring the potential impacts of a slowdown in business conditions.

For the 3PL business segment, demand for cross-border land transportation and warehousing is expected to remain robust as companies take a "just-in-case" approach to logistics, compared to "just-in-time" to counter disruptions to global supply chains. In response, Chasen has increased its trucking fleet to 165 trucks as at September 2022 from 148 trucks in March 2022.

City Zone Express Sdn Bhd, the Group's 3PL subsidiary in Malaysia, has received approval to construct a 280,000 sqft (2,600 sqm) warehouse in Batu Kawan Industrial Park ("BKIP"), a 1,151-acre industrial park located in Penang, Malaysia. The increased warehouse space, combined with the connectivity of BKIP, will enhance the Group's 3PL offerings.

On the Specialist Relocation front, the Group has expanded its customer base to include Original Equipment Manufacturers (OEMs), and will continue to pursue its diversification strategy into markets such as solar photovoltaic (PV) modules production plants, semiconductors, automotive as well as OLED display technology, which consumes lesser power and is cheaper to manufacture compared to TFT LCD.

Chasen secured a relocation project for a US-based PV solar modules MNC setting up its manufacturing facility in Chennai, Tamil Nadu, marking the Group's first foray into India.

For T&E, the Group will continue to build its pipeline of solar panel installation projects in Singapore to meet growing demand. Chasen will continue to improve production capabilities and capacities of its components and part manufacturing entity in PRC, in order to capture opportunities within emerging technologies such as 5G, Internet of Things, Automotives andMedTech, while lowering its operating costs to propel bottom line.


"Chasen recorded a resilient first half, along with a strong pipeline of fresh projects, which will cushion against increasing economic uncertainty. The relocation project in Chennai also underscores our efforts to expand our geographical footprint, diversify our revenue streams and add resilience to our business. Despite the continued travel restrictions in the PRC, we continue to seize new business opportunities, and remain committed to enhancing our service offerings and delivering value to our shareholders."
--

Mr Low Weng Fatt, Chasen's Managing Director and CEO.

For more info on the new contracts, click here.