KSH Holdings ($0.355, unchanged) announced revenue of S$153.1 million for the financial year ended 31 March 2021 ("FY2021"), a 32.3% decline yoy, due to the ongoing impact of the COVID-19 pandemic on the Group's business.

The Group incurred S$3.8 million loss for FY2021. Excluding the S$12.8 million losses and impairments relating to valuation of hotels and investment properties, the Group would have a net profit of S$9.0 million as at 31 March 2021.

The losses and impairments relating to valuation of hotels and investment properties are non-cash items which do not affect the Group's net cash flow from operating activities, which remain strong at S$21.3 million in FY2021.

Mr Choo Chee Onn, Executive Chairman and Managing Director of KSH, said, "Our financial results have been adversely affected amidst vast challenges brought on by the global pandemic. The net loss was largely due to a revaluation of hotel and investment properties under these conditions. We reported a loss of S$3.9 million for the first half of FY2021, and we managed to recover all the losses in the second half of FY2021. We would have reported a profit for the full FY2021, if not for the adjustments relating to the revaluation of properties."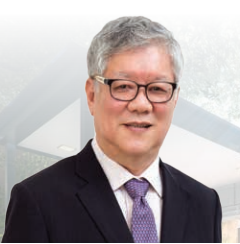 KSH co-founder, executive chairman and MD Choo Chee Onn. Photo: CompanyMr Choo added, "Our results from the construction business in FY2021 has also been adversely affected by the COVID-19 pandemic that caused the slowdown in work progress and increased the cost of construction. Nevertheless, we have confidence in our construction business, backed by our strong order book of S$620.0 million and competent project teams.

"We remain confident of the long-term prospects of our investments in hotels and investment properties, which are geographically diversified, strategically located, with stable occupancy rates. For our property segment, we have achieved good sales for our developments both in Singapore and China, with over S$416.0 million of attributable share of progress billings to be recognized as sales revenue, which will contribute to the Group's results post FY2021."

Other income increased by 45.8% from S$11.5 million in FY2020 to S$16.8 million in FY2021, mainly due to grants and aids received from the Government, offset by the decrease in interest income received due to lower interest bearing loans made to associated companies and joint venture companies.

The Group continues to maintain a healthy balance sheet and working capital position with strong cash and bank balances and fixed deposits of S$122.9 million and low gearing of 10% as at 31 March 2021.

The Group has a fully diluted loss per share of 0.67 Singapore cent in FY2021 and the net asset value per share as at 31 March 2021 was 56.86 Singapore cents. KSH will be proposing a final cash dividend of 1.00 Singapore cents per ordinary share down from 2.20 last year.

The Group started the year with a strong contract win valued at S$171.8 million, which will progressively contribute positively to KSH's financial performance.

Its construction order book remains healthy at more than S$620.0 million as at 31 March 2021, with a desirable ratio of 56:44 in terms of private and public projects. The Group's four ongoing property developments – Affinity@Serangoon, Riverfront Residences, Park Colonial and Rezi 24 – have registered good sales, having sold more than 3,180 units with positive margins as at end of 31 March 2021.

The Group's attributable share of progress billings to be recognized as sales revenue stood at more than S$416.0 million.

Sales and profits will be recognized progressively via % of completion method going ahead.

The Group's residential development project, Sino-Singapore Health City in Gaobeidian, PRC has sold more than 530 units to-date at an average selling price that is expected to earn a positive profit margin. Construction is currently ongoing progressively. Recognition of profits is expected when the units are completed and handed over to the buyers over the next few months.
At 35.5 cents, KSH is capitalized at $204 million and price to book is 0.63x. Based on our $15 million profit forecast for FY 2022, forward PE is 13.6x.

They just declared 1 cent dividend per share yields 2.8%.

We believe the better FY2022 profit coupled with its low net gearing position (10%) can allow management to raise FY 2022 dividend to 1.5-2.0 cents/ share, translating to a forward yield of 4.2% - 5.6%.

We maintain an "Accumulate" rating on KSH.

See previous article: @ KSH Holdings' AGM: Gaobeidian project to launch in Oct 2019 (finally)