When: 26 July 2019
Where: Furama Riverfront, Havelock Road


About two years ago, KSH Holdings shareholders were thrilled by the prospects of a KSH investment most had never heard of until then -- the Gaobeidian property development project in China's Hebei province.

What makes Gaobeidian attractive is that is just 40 km away from another area that Singaporeans have never heard of until then -- Xiong'an.

And what makes Xiong'an attractive is that Chinese President Xi Jinping announced, on 1 April 2017, that Xiongan would be developed (at the cost of hundreds of billions of dollars) into China's third Special Economic Zone, after Shenzhen and Pudong.

With that, the share price of KSH doubled within six months to 91 cents (Oct 2017, see chart).



The new township in Gaobeidian to be developed by a consortium which includes KSH Holdings was expected to enjoy massive profitability.

Selling prices in the region of RMB20,000 per sq m were speculated.

That was still a fraction of property prices in Beijing just about 20 minutes away by high-speed train from Gaobeidian, which lies somewhere midway between Xiongan and Beijing.

So, the logic goes, Beijing residents (and others) would snap up the Gaobeidian project.


| | |
| --- | --- |
| Singapore listco | Interest in Gaobeidian Project |
| Oxley Holdings | 27.5% |
| KSH Holdings | 22.5% |
| SLB Development | 10% |
| Heeton Holdings | 7.5% |
However, the government imposed cooling measures to curb property speculation -- which, among other things, restricted buying by Beijing residents.

Bank loans were also halted.

Then the US-China trade war heated up, affecting economic sentiment in China and further diminishing chances of the Gaobeidian project achieving super prices.

The official launch of the project, whose full name is Sino-Singapore Health City Project, scheduled for 2017 was pushed back to 2018 -- and then delayed again.

At KSH Holdings AGM last Friday, shareholders asked for updates -- and were greeted with good news.

KSH's executive chairman, Choo Chee Onn, said the government had recently approved of Beijing residents buying into the project and certain loan restrictions had been lifted.

Construction started last year and phase 1 of the project has been soft-launched. Official launch would be in October 2019.


KSH stock

43 c

52-week range

38 – 65 c

PE

33

Market cap

S$245 m

Shares outstanding

569.7 m

Dividend
yield

5.1%

One-year return

- 34%

Source: Yahoo!
And the selling price?

For the initial batch comprising 830 residential units, it is a more modest RMB8,000 per sq m (compared to expectations in 2017 of RMB20,000).

Still, it yields a very juicy margin against a cost of RMB4,000, as stated by Mr Choo, which includes all costs such as land and infrastructure costs.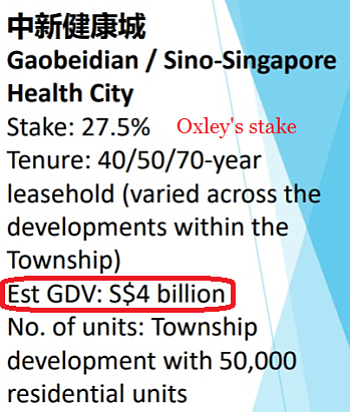 The project's gross development value is estimated to be S$4 billion. Source: Oxley Holdings presentation (14 May 2019).The inital batch (construction started in 2018) is expected to be completed next year (2020).

Upon achieving TOP, the entire revenue and profit attributable to KSH will be recognised in KSH's accounts (as will be the case for its Singapore partners).

Phase 1 comprises 5,540 residential units with a saleable area of 615,527 sqm, as stated in Oxley Holdings' annual report for FY2018.

When completed in 10 - 15 years time, the entire project will yield around 50,000 residential units.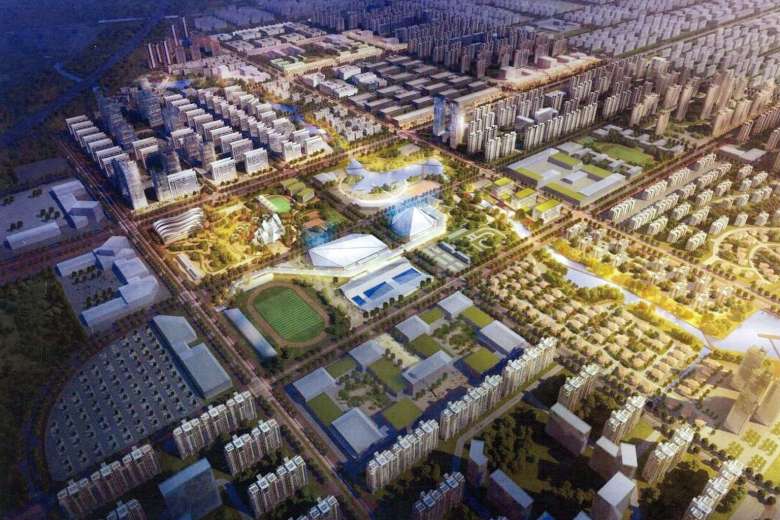 KSH and its JV partners bought the Gaobeidian land in 2014 because of its proximity to Beijing via a new high-speed rail link.
Artist's impression of township to be developed: KSH Holdings
While the low visibility of the Gaobeidian project has dampened investor enthusiasm, so have KSH's FY19 results.

Profit was down substantially -- but the keen investor will have noted that new accounting standards have caused the company to expense off -- instead of capitalise -- its share of financing interest in projects with associates and in JVs.

It's a huge amount (see KSH FY2019 results announcement).

See also: