"Dragon Descendant" contributed this article to NextInsight


China Sunsine -- gearing up for higher output and cleaner, efficient production

Most companies floundered in 2020, when the Covid-19 pandemic took its toll on the economy.


The impact on individual companies was uneven. As business activity contracted, cash-deficient companies went bust or cut back. The gap created was filled by others who had the resources to do so.

China Sunsine is an example of the latter.

In March 2019, China Sunsine secured a 680-mu (45-hectare) land for expansions. When it unveiled three capacity expansion projects for a total of RMB 480m in February 2020, investors were concerned as the pandemic in China seemed to be spinning out of control.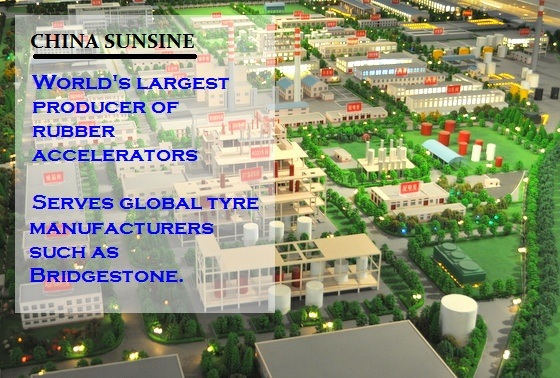 In March 2020, Sunsine chairman assured investors of the soundness of the expansion plans in the 2019 annual report:
Amid the crisis, one must identify opportunities to wait in the wings. Although China and the rest of the world are being severely impacted by the outbreak, we believe the pandemic will end eventually and the economy will recover and grow. With the economy on the ebb, expanding our capacity and taking advantage of our strong financial and market position will enable the Group to grab market share for our products when the market recovers gradually, thus setting the foundation for long-term growth of the Group.

In 2020, global tyre sales volume plunged 15% but Sunsine's rubber chemical sales volume edged up 1.5%:


Year-on-year change in sales volume

1Q20

2Q20

3Q20

4Q20

Full year

Global

-21%

-35%

-6%

-1%

-15%

Pirelli

-18%

-43%

-4%

+2%

-14%

Michelin

-12%

-33%

-7%

-5%

-14%

Goodyear

-18%

-45%

-9%

-5%

-19%
Sources: Presentations by Michelin, Goodyear, and Pirelli

More notably, Sunsine's rubber accelerator sales volume rose 3% in 2020, raising Sunsine's market shares to 22% globally and 34% in China. (Sunsine is the world's largest rubber accelerator producer).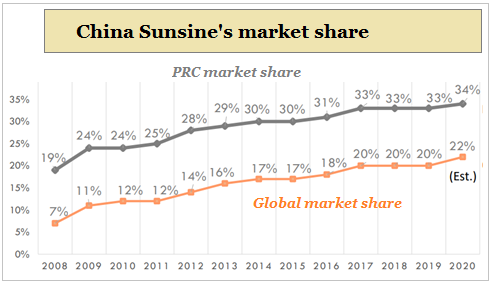 Two months ago, Sunsine chairman said in the 2020 annual report:
We are witnessing the rise of an industry consolidation. Leading manufacturers' advantages in brand and scale are becoming more prominent. Two of the three production capacity expansions that we planned for during the economic downturn last year are nearly completed, and the output from the increased capacities in the second half of this year will be in time to meet market demand. The expansion projects have also laid a solid foundation for further growth in market share and long-term sustainable development.
The industry consolidation is known to all. But funding is a hurdle.

Tianjin Kemai, China's second largest rubber accelerator producer, failed thrice to raise money from a listing on the Shanghai Stock Exchange, in 2015, 2017, and 2019.

Yanggu Huatai, China's third largest rubber accelerator producer, is seeking approval from the Shenzhen Stock Exchange to issue convertible bonds for RMB 500m. The company expects the expansion to take 18 months to complete.

Sunsine's three expansion projects are fully paid from internal funds. As at the end of 2020, cash stood at RMB 1,326m, with no borrowings.

The detailed replies to shareholders' questions in connection with the 2021 AGM revealed that all new capacity expansions adopt the "continuous production method", which is more efficient, less labour-intensive, less energy-intensive, and less pollutive. The existing facilities that are running on the "intermittent production method" will be progressively converted to the new method. (Reply to question 13)


The replies also disclosed important aspects of two capacity expansion projects as well as an important state-funded pilot study:


(a) The 30,000-tonne insoluble sulphur project comes with two 15,000-tonne lines instead of three 10,000-tonne lines. (Reply to question 7)

(b) The 30,000-tonne antioxidant TMQ project covers 30,000 tonnes of TMQ and 2,000 tonnes of HTMQ. HTMQ performs better because its 80% effective content is twice TMQ's 40%. The project will fulfill market demand for Sunsine's TMQ and enhance Sunsine's market leadership in the antioxidant segment. (Reply to question 10)

(C) As Shandong produces two-thirds of China's tyres, the provincial government wants to reduce the amounts of wastes generated from the production of MBT, which is ultimately used to make tyres, and has given Sunsine a RMB 24m grant to devise a cleaner production process for MBT. (Reply to question 11)

Sunsine also offered the reasons for lower steam consumption in the manufacture of rubber accelerator TBBS. (Reply to question 5). It is interesting to note that over the years, better processes have resulted in less steam being used to produce a unit of rubber chemical:


| | |
| --- | --- |
| Year | Steam (tonnes) |
| 2015 | 6.82 |
| 2016 | 6.63 |
| 2017 | 6.45 |
| 2018 | 5.61 |
| 2019 | 5.76 |
| 2020 | 4.74 |

And productivity rose as well:

| | | | |
| --- | --- | --- | --- |
| Year | Headcount | Rubber chemical output (tonnes) | Output per staff (tonnes) |
| 2015 | 2,084 | 114,572 | 55.0 |
| 2016 | 2,098 | 135,791 | 64.7 |
| 2017 | 2,126 | 140, 476 | 66.1 |
| 2018 | 2,220 | 151,486 | 68.2 |
| 2019 | 3,253 | 167,455 | 74.3 |
| 2020 | 2,220 | 169,876 | 76.5 |

Sunsine started producing rubber accelerators in 1994. In 2007, it raised funds from IPO in Singapore for expansions when Flexsys, the world's largest rubber accelerator producer, decided to focus on its lucrative insoluble sulphur business.

Emphasis on production processes that minimise damage to the environment, workplace safety, and prudent financial management, has enabled Sunsine to become the world largest rubber accelerator producer, while its three main rivals in China disappeared from the scene.

Sunsine will soon become a significant insoluble sulphur producer when the existing 30,000-tonne capacity doubles. It will also be sizeable in antioxidants when 30,000 tonnes of TMQ and 2,000 tonnes of HTMQ are added to its existing 45,000-tonne capacity.

In 2020, 110 domestic companies and 30 international companies became Sunsine's new clients. (Reply to question 1)

Three months ago, Emerald Polymer Additive decided to close its factory in Illinois, as the rubber accelerators and antioxidants produced cannot compete with low-cost import.

It should be noted that as they are essential to tyre manufacture, rubber accelerators TBBS, CBS, and DCBS are exempted from U.S. tariffs targeted at import from China.


1Q21 profit is 92% of 2H20's
Sunsine did reasonably well in 2020, and started 2021 with strong performance in 1Q:


1Q21*

1H20*

2H20*

Revenue (RMB m)

840

1,043

1,291

ASP (RMB per tonne)

17,447*

13,560

13,579

Sales vol (tonnes)

47,000

76,320

93,556

Gross profit (RMB m)

265

242

358

Net profit (RMB m)

125

82

136

* comparison between quarterly and half-year in the absence of a business update for 1Q20

Note: RMB 820m being the assumed rubber chemical revenue in 1Q21

ASP in 2Q21 should be higher, based on recent prices of rubber accelerator CBS and antioxidant 6PPD from the public domain.

Thus, 2021 should be a good year for Sunsine.