As the electric vehicle (EV) era dawns, opportunities and disruptions will emerge in multiple industries.



EVs have much more electronics content, translating into

a significant demand for sensors, advanced driver-assistance computing systems, power management, and automotive camera modules and more.



This has been identified by ASM Pacific Technology (ASMPT) as a key, sustained growth driver for its future.

"We are at a profound inflection point in automotive technologies," said Robin Ng, CEO of ASMPT, at an earnings call following its release of its FY20 results.

Headquartered in Singapore and listed on the Hong Kong Stock Exchange, ASMPT is a leading global supplier of hardware and software solutions for the manufacture of semiconductors and electronics.




Smartphones and PCs presently are the largest product drivers for semiconductors.

Automotive is becoming an increasingly important market for semiconductors, with average semiconductor content per vehicle set to rise rapidly.

"We stand to benefit with our range of solutions ranging from packaging and assembly to surface mount technology in the automotive application space," said Mr Ng.

In addition, ASM PT has the ability to "progressively incorporate data driven, closed loop machine learning components that will further advance the path for automotive electrification and automation."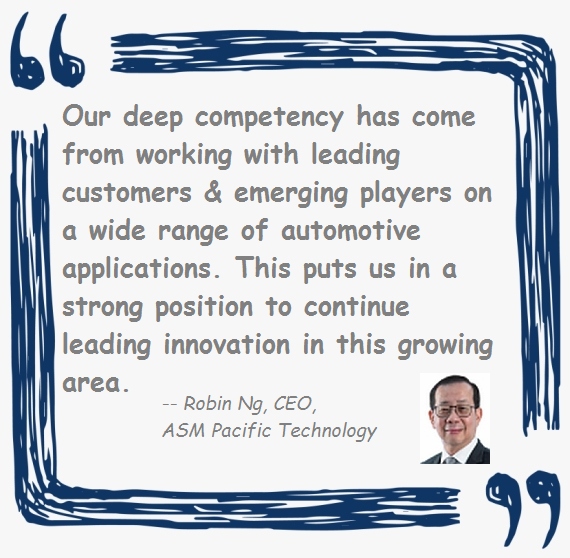 Another area of long-term growth for ASM PT was highlighted by Mr Ng : Advanced Packaging and Heterogeneous Integration.

Advanced packaging techniques have revolutionized electronics package manufacturing, rapidly evolving to extend the possibilities for chip manufacturing and innovation.

At the high-end of Advanced Packaging, customer requirements are scaling up in terms of much more complex and precise specifications for packages to meet extremely demanding computing needs.

"This is a good sign for our comprehensive product portfolio and technical know-how in this space. We are pleased to share that our comprehensive suite of Advanced Packaging tools are currently the process-of-record for advanced logic packages of various kinds for high performance computing needs across a range of industries."

ASM PT sees great opportunity to strengthen its market position in Advanced Packaging by means of "targeted and meaningful participation in key market segments."

This requires a mix of strategies blending sustained investment, the necessary deep expertise and resources, together with the right partners.

ASMPT has all these necessary qualities, and is involved in several areas in Advanced Packaging development.

"For one, we will continue co-developing new solutions with a broader base of Tier 1 lead customers in the logic and memory domains. Our thermo-compression bonder momentum is another example of how we are in the right place with regards to meeting the heterogeneous integration needs of the future.

"We will also continue investing in key enabling technologies, for example, our Joint Development Agreement with EV Group to jointly deliver state-of-the-art die-to-wafer hybrid-bonding solutions. We believe ASMPT will continue to lead in the Advanced Packaging space."
Stock price

HK$103.70

52-week range

HK$66.50 – 133.80

Market cap

HK$42.5 b

PE (ttm)

67

Dividend yield

2.6%

1-year return

13.3%

Shares outstanding

410.8 m

Source: Bloomberg
As the vaccine rollout gains momentum, economies will gradually return to normalcy, which would have further positive impact on the semiconductor industry which already has gained from trends such as working from home and e-commerce.

Industry research forecasts that 2021 will see broad-based semiconductor growth of 8%.

Investments in personal mobility and computing devices, cloud data centres and communications infrastructure are expected to be sustained.

Further, automotive and industrial markets are forecasted to rebound in 2021 from the trough experienced in 2020.


1Q2021 revenue guidance: It's a record quarter!
Mr Ng said since the beginning of 2021, ASM PT's Semiconductor Solutions Segment has experienced "order intake momentum at an unprecedented pace."

Consequently, first quarter 2021 bookings are expected to surpass US$700 million, he said.

Improving global economic conditions, together with semiconductor inventory replenishments, have resulted in the tightening of global supply chain conditions.

While ASM PT's supply chain was impacted initially, the Semiconductor Solutions Segment is still expected to deliver strong quarter-on-quarter revenue growth, he said.

That will be offset by a quarter-on-quarter seasonal decrease in the SMT Solutions Segment revenue.



Note: Forecasts exclude contributions from Materials Segment
For first quarter 2021, ASM PT's revenue is anticipated to range from 500 to 550 million US dollars - excluding revenue from the Materials Segment - which will be a first-quarter revenue record.

"We have aggressively ramped up our capacity to meet our delivery commitments to customers over the coming quarters."

For FY20 results, see Powerpoint materials here.