Excerpts from UOB KH report

Analyst: Ken Lee
Takeaways From Investor Conference Call
We recently held an investor conference call with BYD. During the call, investors' questions concentrated on the prospects of BYD's blade battery and new EV models and their niches vs competitions.


BYD

Share price:
HK$187.60

Target:
HK$220
BYD remains optimistic on its 2021 outlook on the back of a strong product line-up for EVs.

External battery sales will ramp up significantly in 2020.

The IGBT business is slated for listing in 2021.

Maintain BUY. Target price: HK$220.00.

WHAT'S NEW
• Blade battery packs, a "killer" product that redefines the safety standards of EV batteries. When compared with battery packs of competitors, BYD's new blade lithium iron phosphate (LFP) battery pack is almost equally energy efficient, but cheaper and much safer.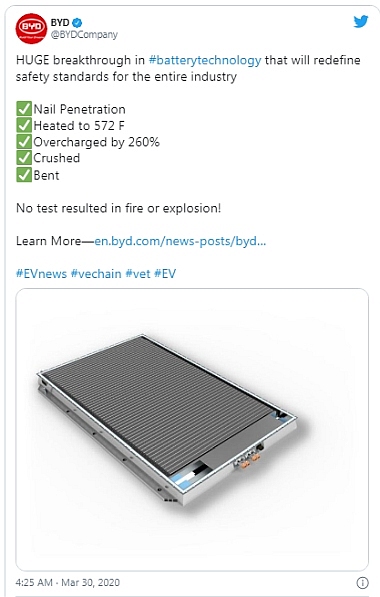 BYD's tweet on its LFP (lithium-iron-phosphate) battery.BYD's blade LFP battery pack boasts a gravimetric and volumetric energy density of 140wh/kg and 230wh/L, vs 160-190/kg and 230-270wh/L of nickel cobalt manganese (NCM) battery packs.

The cost of BYD's blade LFP battery pack is 20-30% lower than that of NCM battery packs and 10% lower than that of conventional LFP battery packs.

Last but not least, BYD's blade battery pack is ultra-safe, as it passed the nail penetration test, which is considered as the most rigorous way of testing the thermal stability of batteries, and other extreme-condition tests, such as being crushed, bent, heated in a furnace to 300°C and overcharged by 260%.

• External battery sales will ramp up by 2022. BYD started to sell electric vehicle (EV) batteries to external customers in 2020.

In Sep 20, BYD established a new sub-brand, "FinDreams", for its EV battery business.

Thus far, BYD has signed battery supply contracts with Chang'an, Ford, Toyota and Didi. BYD is currently in talks with several European OEMs on battery supplies. But it will take 2-3 years for certification, and thus the deliveries of battery products will come through only in 2022.

As such, BYD did not give the sales target for batteries for 2020-21, but guided that their battery sales volume will ramp up significantly by 2022.

• Sales volume of Han EV/DM, the first BYD EV model equipped with blade battery packs, will probably grow to 10,000 units in Nov 20, with chunk of orders on hand and gradual ramp-up of production.

Over the longer term, BYD expects annual sales volume of 50,000-60,000 units for the Han EV/Dual Mode (DM).

The target customers of Han are mainly young male professionals (aged 26-35) earning Rmb10,000-30,000/month from the IT and financial industries and other non-government entities.

• Better value-for-money vs MIC Tesla Model 3. BYD Han EV is priced at Rmb229.8- 279.5k vs the Rmb249.9-419.8k of the made-in-China (MIC) Tesla Model 3.


Bigger, Further
• BYD Han EV is a C-segment (mid- to large-sized) sedan, bigger than the MIC Tesla Model 3 which is a B-segment (mid-sized) sedan.



•

BYD Han EV delivers 550-605km in range on a single charge, vs the 468km of the entry-version MIC Model 3.
When it comes to batteries, all versions of BYD Han EV are equipped with the ultra-safe blade LFP battery packs.

For the MIC Tesla Model 3, the entry version uses CATL's cell-to-pack (CTP) LFP battery pack, and the other two versions use the less safe LG Chem NCM battery pack.

Last but not least, as with peers, BYD's new EV models are built on an open-source software platform, which allows users to access to intelligent connectivity and third-party APPs.

• BYD is switching from NCM to LFP. Except Han, all of BYD's existing EV models use NCM battery packs.

Going forward, BYD will install the blade LFP battery packs into all of its existing models and new models.

At present, BYD has 53 GWh in production capacity for EV batteries, of which 13 Gwh is for blade LFP batteries (located in Chongqing) and 40 Gwh for NCM batteries.

BYD is doubling capacity for blade LFP batteries and converting some capacity for NCM batteries into that for blade LFP batteries.

Meanwhile, BYD will keep some capacity for NCM batteries for fulfilling external sales, as the blade battery pack architecture can also be applied to the NCM cells.


• Spin-off of EV battery and IGBT divisions.
BYD has spun off the operations of its EV battery division, FinDreams, and the insulated gate bipolar transistors (IGBT) division, BYD Semiconductors (BYDSC), since 2019 and 2020 respectively.

Since then, these two divisions have started to operate independently, ie they not only sell to external customers, but also need to compete with external parts suppliers for in-house orders.

FinDreams came up with the blade battery this year and secured renowned OEMs as customers, eg Toyota and Ford, and it is expected to go for IPO after 2022.

As one of the few domestic automotive IGBT developers in China, BYDSC not only delivers on IGBTs for in-house EV production, but also sells to Bosch, Delphi, Continental AG and Denso.

BYDSC went through two rounds of financing in May-Jun 20 with over Rmb10b in valuation, and it is planning for an IPO in 1H21.

VALUATION/RECOMMENDATION
• Maintain BUY on BYD with target price of HK$220.00 based on our SOTP valuation.

Our target price implies 80x 2021F PE and 60x 2022F PE.

Full report here.