"Dragon Descendant" contributed this article to NextInsight


From 35 cents at the start of 2H2020, the share price of China Sunsine has recently risen to 49.5 cents.

UOB Kay Hian recently set a target price of 58 cents (see: CHINA SUNSINE: On recovery mode, 46% net profit growth in 2021?)
That was subsequent to China Sunsine's 3Q business update which highlighted:




•

Sales volume for 3Q2020 reached a record high of 46,000 tons.



•

The Group added 20,000-ton capacity for its TBBS product in May 2020, representing an 11.6% increase in its total capacity to 192,000 tons per annum.



•

Capacity utilisation rate for 3Q2020 was a high of 95%.



•

Gross profit margin for 3Q2020 improved to 28.3% from 23.2% in 1H2020.• With COVID-19 under control in China and on the back of the Chinese economy's strong recovery in 3Q20, the Group recorded sales revenue of RMB 600 million in 3Q2020.

China Sunsine produces rubber chemicals such as rubber accelerators, antioxidants and insoluble sulphur, which are needed for the manufacture of tyres.

Demand for such chemicals should correspond to tyre sales.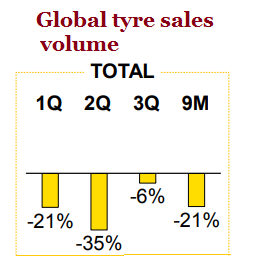 Source: PirelliSunsine is the world's No. 1 producer of rubber accelerators, capturing market share of 20% globally and 33% in China, according to the company in an April 2020 article.

Hit by the covid-19 pandemic, global tyre sales volume in 9M2020 dropped, as reported by Pirelli in its 9M results presentation.

The following table shows tyre sales volume decreases suffered by Michelin, Goodyear, Pirelli, respectively 2nd, 3rd and 5th in world rankings. These players are also customers of Sunsine.


Year-on-year change in sales volume

1Q20

2Q20

3Q20

Michelin

-12%

-33%

-7%

Goodyear

-18%

-45%

-9%

Pirelli

-18%

-43%

-4%
Sources: Presentations by Michelin and Goodyear

China Sunsine's sales volume dipped 7% year-on-year in 1H20, while global tyre sales volume dropped 21% in 1Q and plunged 35% in 2Q.

In 3Q20, Sunsine's sales volume of 46,000 tons (a new record for Sunsine) was 8.7% higher year-on-year when global tyre sales volume was down 6%.

Conclusion: Sunsine's market share must have increased.

Its new sales record was made possible by the recent addition of 20,000 tons of rubber accelerator TBBS.

Sunsine is in the process of adding another 60,000 tons of rubber chemicals.

Earlier concerns of some investors that adding 80,000 tons to its then 172,000-ton capacity is excessive may not be valid.

In 3Q20, Sunsine capacity utilisation was as high as 95%.

Sunsine chairman Xu Cheng Qiu's statement to shareholders in March 2020 amid raging Covid-19 pandemic rings true: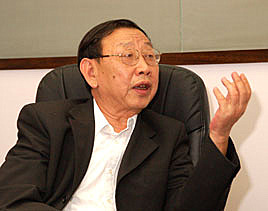 "Amid the crisis, one must identify opportunities to wait in the wings. Although China and the rest of the world are being severely impacted by the outbreak, we believe the pandemic will end eventually and the economy will recover and grow. With the economy on the ebb, expanding our capacity and taking advantage of our strong financial and market position will enable the Group to grab market share for our products when the market recovers gradually, thus setting the foundation for long-term growth of the Group."