As air and sea transport came to a halt during the pandemic, Chasen Holdings saw its cross-border land transport services in Southeast Asia and East Asia pick up.

"Significantly, the Group's 3PL (Third Party Logistics) segment was able to capture additional customers' demand from air and sea freight modes disrupted by restrictions due to COVID19. More customers turned to cross-border land transportation as an alternative," it said.

This contributed to a 4% rise in group revenue in 1HFY21 (ended 30 Sept 2020) to S$58.4 million.

And it helped offset a decline in the Technical & Engineering ("T&E") segment which was impacted by the shutdown of the Singapore construction sector in April 2020.

Revenue was also supported by its core Specialist Relocation segment which resumed services in China after lockdowns.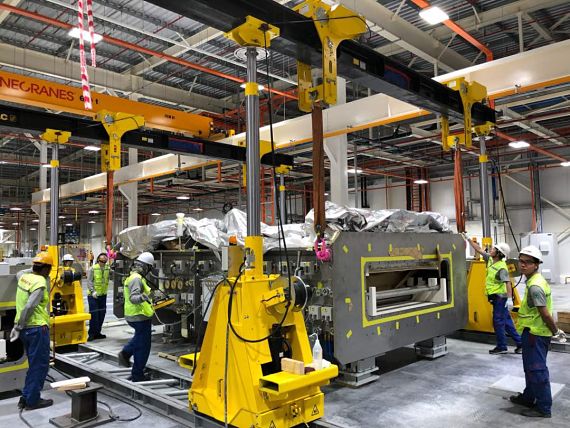 | | | | |
| --- | --- | --- | --- |
| S$'000 | 1H FY2021 | 1H FY2020 | Change |
| Revenue | 58,367 | 56,188 | 4% |
| Gross Profit | 11,614 | 10,113 | 15% |
| Gross Profit Margin | 19.9 % | 18.0 % | 11 points |
| Net profit | 2,040 | 644 | 217% |
| Net profit attributable | 1,073 | 334 | 221% |
1HFY21 Group gross profit margin rose to 20% (1HFY20: 18%), lifted by stronger gross margins of the 3PL in Malaysia and T&E segments in China while Specialist Relocation held its gross margin.

It's a significant recovery from the 13.6% in 1QFY21.

Net profit in 1HFY21 increased by 217% to S$2.0 million (1HFY20: S$0.6 million) due to a combination of the higher revenue and gross profit margin, as well as the receipt of the Government's Job Support Scheme grants.

• Specialist Relocation: Revenue increased as projects in China resumed after initial lockdowns and business disruptions. Demand for the semi-conductor, solar panel and TFT LCDs sectors remains robust.

Projects in Singapore and Malaysia have resumed, and the Group expects to see a steady pace of growth for the segment.

• 3PL business: This segment captured significant customer demand for cross-border land freight, resulting in increased demand for warehousing and transportation activities.

On 25 September 2020, shareholders approved the acquisition of a warehouse in Penang, Malaysia.

This positions the Group to capture strong growth in warehousing demand with current assets operating at above 90% occupancy rate.

The new warehouse is revenue accretive and acquisition is expected to be completed in early 2021, said Chasen.

• T&E: Revenue was affected by disruptions to the Singapore construction segment, which is gradually reopening.

In July 2020, Chasen announced that Hup Lian Engineering, the Group's T&E subsidiary, had secured a S$5 million project to fabricate and install aluminium frame structures for solar panels to be installed on the roofs of public housing flats in Singapore.

Chasen said its business outlook for 2HFY2021 and the whole of FY2021 will be supported by:

(i) gradual commencement of new contracts secured subsequent to the end of FY2020 for Specialist Relocation and T&E;

(ii) contributions of the newly acquired warehouse in Penang and continuing demand for cross-border land freight services from Southeast Asia to East Asia; and

(iii) business recovery from the impact of COVID-19.
Mr Low Weng Fatt, Chasen's Managing Director and CEO, said, "The first half of our financial year has been very encouraging, underscoring our resilience in the face of COVID-19. Our cost restructuring efforts will continue, along with the increase in revenue and improved margins as well as the Job Support Scheme grants from the government. We will continue to deliver shareholder value."
The financial statement is here.