Excerpts from CGS-CIMB report

Analyst: Cezzane See
Indo poultry and dairy beats expectations
■ Net profit jumped c.196% yoy to US$140.8m in 9M20. This was above at 105%/111.5% of our/consensus FY20F due to stronger EBIT in 3Q20.


JAPFA

Share price:
64.5 c

Target:
$1.00
■ EBIT rose 87.4% yoy to US$90.2m in 3Q20 due to better Indo poultry and dairy margins. Hence, we lift FY20-22F EPS by 1.1-24.5%.

■ We reiterate Add with a higher TP of S$1.00, on an unchanged target PER of 12x (close to 4-year average mean) but rolled-forward to FY22F EPS.


9M20 net profit up c.196%
EBIT rose 87.4% yoy to US$90.2m in 3Q20 due to higher Indo poultry and dairy margins. This beat our estimate of US$61.7m.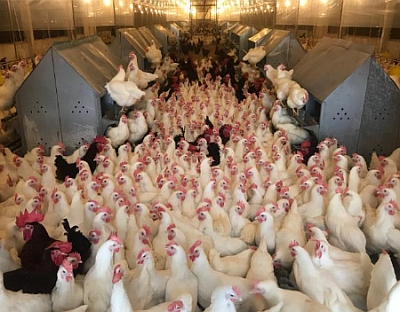 Japfa is, partly, into poultry breeding and farming.
Photo: CompanyIndo poultry saw higher feed (attributable to a good corn harvest) and day old chick (DOC) margins; while the dairy segment saw EBIT margins of 23.2% (vs. our estimated 19%).

This, along with higher other gains took 3Q20 core net profit to US$51.3m (+335% yoy).

Hence, 9M20 EBIT rose 28.4% yoy to S$236.8m while lower effective taxes and MI expenses (due to weaker Indo poultry segment in 9M20) helped 9M20 core net profit rise to US$140.8m.

Oct 20 Vietnam swine and China raw milk prices still higher yoy
Based on our channel checks, Vietnam's swine prices are at c.VND70-73k/kg in Oct 20.

As guided by Charoen Pokphand Foods (CPF TB, Add, TP: THB35.25), Vietnam's swine prices were VND54.5/kg in Oct 19.

We gather this is as swine supplies have yet to recover from the African Swine Fever (ASF) pandemic.

Average China raw milk price is at c.Rmb3.9/kg in Oct 20 vs c.Rmb3.78/kg in Oct 19 due to ongoing shortage of raw milk in China.

The elevated swine and raw milk prices bode well for the Animal Protein Other (APO) and dairy segments.

Better Oct 20 Indo poultry prices too
Our channel checks with Arboge showed average DOC price at c.Rp5.4k and broiler price at c.Rp16k in Oct 20.

This is higher than the average 3Q20 DOC and broiler prices of Rp3.3k and Rp14.6k that were guided by JAP previously.

In our view, this could imply stable EBIT in 4Q20.

Lift FY20-22F EPS forecasts
We lift FY20-21F net profit by 23.9-24.5% to reflect higher Indo poultry and dairy margins as we were previously too conservative.

However, we kept FY22F EPS largely unchanged to account for potential margin normalisation within the APO and dairy segments as the supply situation could continually improve.


Reiterate Add; diversification bears fruit
We like that the Vietnam swine and China raw milk segments mitigate the near-term weakness of Indo poultry.

We lift our TP to S$1.00, still based on 12x PER (close to JAP's 4-year average mean) but roll over our valuation year to CY22F.

Re-rating catalysts are better operating metrics for all segments. Downside risks are vice versa.

• Full CIMB report here.
• DBS report says: "Counter looks like a steal at 5x EV/EBITDA, 6.4x PE; BUY with TP raised to S$1.03."