Excerpts from UOBKH report

Analyst: Adrian Loh


2nd Largest Order In Its Operating History
• YZJ received a US$1.15b order for 10 dual-fuel 14,000TEU containerships, of which two are firm and eight are options.


Yangzijiang

Share price:
81 c

Target:
$1.25
Based on its historical track record, 90% of its options are exercised and we note that its client may be using this order to strategically re-enter the container market.

We maintain BUY with a slightly lower target price of S$1.25 and note that the company's current P/B is only 5% away from its -2SD level of 0.43x.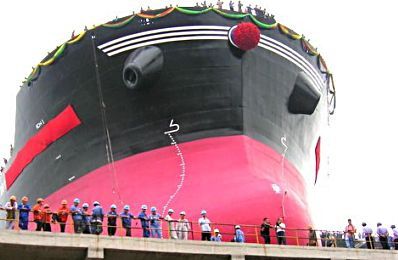 WHAT'S NEW
• A large and significant order at last. Yangzijiang (YZJ) announced yesterday after the market close that it had received new order worth US$1.15b (including options), representing the second largest order that it has received in its operating history.

While this order had been reported by industry publication Tradewinds at the beginning of Mar 20, the company had yet to receive the initial 10% downpayment and thus the order was not confirmed at that time.

With the announcement, the US$1.15b order is now "official" with the vessels expected to be delivered from mid-2022 onwards.

• YZJ's total new order wins for 2020 stands at US$1.25b, assuming that the eight options are exercised.
Speaking to the company, it noted that its clients will exercise the options 90% of the time.

In addition, we understand that the options price each ship at US$115m and this price expires at the end of 2020; should its client exercise the options in 2021, the price per vessel will need to be renegotiated.

Excluding the eight options, YZJ's orderbook for this year stands at US$334m while our forecast assumes US$1.5b, which is below the company's own target of US$2b.

• Dual-fuel containership order should attract higher-than-average profit margins. The US$1.15b order comprises of ten 14,000 TEU dual-fuel containerships at US$115m each, ie the vessels will be able to use both LNG and fuel oil/marine diesel, instead of the more traditional vessels which solely use fuel oil or marine diesel.

Note that two vessels are firm orders and eight are options.

Apart from being an endorsement of YZJ's capability in building large-sized, LNG-fuelled vessels, we believe that this order would attract higher-than-average profit margins given that such dual-fuel vessels are more sophisticated than normal ships and YZJ is one of the few shipyards capable of building such vessels.

YZJ typically budgets a very conservative 8% gross profit margin for its tenders, however, we note that its shipbuilding margin in 2019 was 14.9% and has never been in single-digits since its IPO in 2007.

For 2020, we forecast a gross profit margin of 14% for the company's shipbuilding segment.

STOCK IMPACT
• Who is Tiger Group? The shipping company that placed yesterday's order is China's Tiger Group whose co-founder is an industry veteran and used to be a senior executive of Seaspan, a long-term customer of YZJ.

According to one of the founders of Tiger Group, the shipping business in the long term is very uncertain due to the regulatory changes around the issue of decarbonisation with key negative impacts coming from potential imposition of unilateral fuel restrictions and carbon taxes.

Thus, it is no surprise that the company has placed such a large order for dual-fuel containerships. It is also notable that Tiger Group, via its subsidiary Greathorse Shipping, disposed of all of its containerships in 2017.


50% back
"We understand that at present, around 50% of its workers are back at the shipyard and YZJ is slowly but surely getting its production back on track."

-- UOB KH

• Slowly but surely getting its shipyards back to full working capacity. During the post-results investor call on 28 Feb 20, YZJ's management stated that its biggest problem was getting its workforce from a myriad of provinces back to its shipyards as the local government was restricting workers' movements.

In addition, it disclosed at that time that it had c.30% of its workers back and needed to see at least 80% by end-Mar 20 in order to hit its production and profit targets for 2020.

• Impact of weaker oil prices on YZJ. In the past two weeks, oil prices have plummeted to the US$30/bbl levels as a result of the Russian-OPEC oil-price war.

A weaker oil price generally benefits shipowners (and thus YZJ's clients) as their input costs decrease, but negatively impacts the oil and gas industry as activity levels decline due to cuts in exploration spending.

However the latter issue does not affect YZJ as its oil and chemical tanker orders comprise less than 3% of its current orderbook of US$3.354b (excluding the eight containership options).


VALUATION/RECOMMENDATION


• Maintain BUY with slightly lower target price. Our new target P/B multiple of 0.72x incorporates a 10% discount to take into account short- to medium-term risk-off market sentiment – as a result, our new target price has been lowered by 11% to S$1.25 from S$1.40 previously.

• Trough valuation levels breached. We highlight that prior to last week's share price decline, YZJ's trough P/B level since its IPO in 2007 was 0.52x; however, last week saw a new P/B low of 0.45x. As seen from the P/B chart on the right, this is only 5% away from the -2SD level of 0.43x.

SHARE PRICE CATALYST
• New order flow for the company's shipbuilding segment
• China's continued recovery in the aftermath of COVID-19 and the resumption of normal working capacity at the company's shipyards


Full report here.