Peter Chen contributed this article to NextInsight


While the Hong Kong Exchanges and Clearing Corp (HKEx) has exhibited its ambitions in going global, the local business is still the bread and butter. The return of listing of Alibaba to Hong Kong in the fourth quarter has emerged as a god-sent that helped HKEx rescue its status as the world's largest IPO market for the year.


Following its failed bid for the London Stock Exchange, HKEx is rumoured to be contemplating an acquisition for Bolsa de Madrid in Spain. Yet to the disappointment of many market observers, HKEx is still quite novice in doing its housekeeping job properly to embrace this broader globalization initiative. It has been enacting its rules to the extreme that makes listed issuers, many of which are originated in Singapore, concerned that their interests are not adequately protected.

Take China Ding Yi Feng Holdings Limited (stock code; 0612) as an example. The Company was forced by the Hong Kong Securities and Futures Commission ("SFC") to suspend trading in its stock in the middle of the trading day on March 2019 without being given proper reasons. The SFC issued a restrictive notice to nine securities brokerages to freeze assets in their clients' accounts which were alleged to have participated in manipulating the market for shares of the Company. Yet in otherwise proper cases of suspected market manipulations, only assets of the alleged participating clients' accounts are frozen. Suspension of trading in the shares is not necessary. The SFC's move was an abrupt negligence of small shareholders' interests.

With trading in China Ding Yi Feng shares being suspended for almost eight months, it came as a surprise to the market that the SFC maintained in writing that share trading will not be resumed unless "it (the SFC) has not instituted legal proceedings against China Ding Yi Feng or any of its officers before 17 October 2020". This is a straightforward contraction to the mechanism announced earlier this year, under which the HKEx can initiate procedures for delisting a company 18 month after trading has been suspended.

This eight-month share trading suspension, coupled with the 12-month legal proceedings institution moratorium for the Company and its officers, effectively deprived of small shareholders the right to trade China Ding Yi Feng shares for 20 months in aggregate. If China Ding Yi Feng agrees to this requirement for share trading resumption, it will become the first Hong Kong-listed company that will be automatically delisted by the HKEx before it meets the requirement for trading resumption. The ruling by the SFC is therefore insistent and in contradiction with the existing HKEx provisions.

It is imperative that the SFC applied this discretion for delisting companies properly, or it will become a double-edged sword that eventually kills the innocent.

The SFC boasts a 1,000-member team and paid out as much as HK$1.282 billion in salaries in 2018. This is equivalent to a per-head package of HK$1.29 million a year, making the SFC officials the best-paid corporate executives in Hong Kong. They are also given overwhelming regulatory and supervisory jurisdictions. Whether or not these jurisdictions are being exercised properly will define the value of Hong Kong as an important financial centre for the region.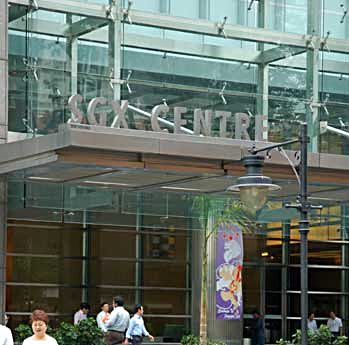 The Singapore Exchange. NextInsight file photoIt is equally imperative to alert companies originated in Singapore of whether it is still worthwhile to pursue share listings on the Hong Kong Stock Exchange, given the inconvenient precedence outlined above.

There have also been suggestions that the Singapore Stock Exchange can consider introducing a market-making mechanism to help boost share trading liquidity, as part of the SGX's efforts to attract listings of small- and medium-cap companies to list here. This will put the SGX a viable alternative share listing destinations for small and medium companies.


(Peter Chen is a seasoned journalist who served South China Morning Post, and the Standard, for over 10 years.)