Thrill seekers are just weeks away from being able to slide down the world's longest water slide currently nearing completion in Penang by Singapore-listed Sim Leisure Group.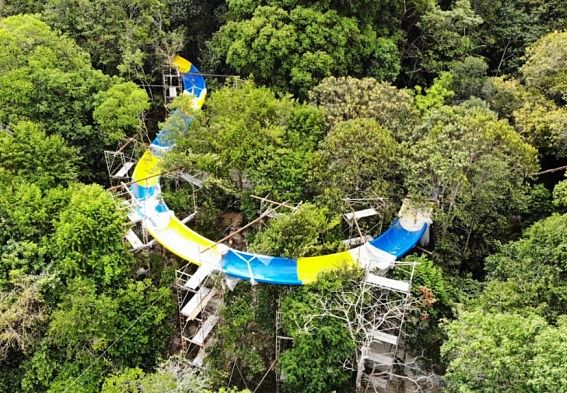 The world's longest water slide by Sim Leisure Group which listed in March 2019 on the Catalist on the Singapore Exchange. Photo: CompanyA cable car chairlift, the only chairlift of its kind in Malaysia, is being built to transport customers from the foot of the hill in the Sim Leisure's theme park to the top.

At 1,140 metres the water slide is an oh-so-long joy ride compared to the typical length of a water park slide of less than 200 metres. (The existing water slides at the ESCAPE theme park of Sim Leisure ranges between 250 metres and 300 metres).

Scheduled to be completed end-July, it will be a four-minute downhill joyride which zigzags and criss-crosses through natural forest and tree canopies before crossing the Teluk Bahang Road and into ESCAPE Waterplay on the opposite tract of land.





"I'm always baffled by how rides are made so short and quick. I wanted to build rides that last a good few minutes, with non-stop smiles and giggles as visitors fly through the rainforest – something never done before!

"We then realised the 70-meter elevation at the hilltop would mean that the water slide would become a recordbreaking feat.

"We thought, what the heck, if we can put the extra smiles on our customers' faces, it would all be worthwhile. Afterall, ESCAPE is in the business of selling FUN, where success is measured in smiles per hour."The CEO of Sim Leisure, Mr Sim Choo Kheng, who has more than 28 years of experience in the theme park industry, said, "Breaking the world record was never our intention.
The Group's ESCAPE theme park in Penang, already rated the number one theme park in Malaysia and number one thing to do in Penang by TripAdvisor, continues to see rising numbers of visitors with approximately 185,000 visitors in 2018.

Mr Yeoh Soon Hin, Penang Tourism Development, Heritage, Culture and Arts Committee Chairman, recently visited ESCAPE, commenting, "From the introduction of their water park to the launching of an international high dive show at ESCAPE, ESCAPE consistently introduces new attractions and products to keep visitors interested and to keep them coming back for more.


Stock price

23 c

52-week range

16.1– 23 c

Market cap

S$31 m

PE (based on FY2018 results)

12

Dividend yield

--

IPO price
(Mar 2019)

22 c

Shares outstanding

134 m
"Now, we are about to be part of another extraordinary achievement by ESCAPE as ESCAPE is creating history by building the longest waterslide in the world and setting a new Guinness World Record.

"I am certain that with this world record setting attraction, more tourists and visitors from all over the world will come to Penang. Penang needs more world-class tourism products such as ESCAPE in order to place Penang on the global map."

See press release here.
See New Straits Times report here.
Watch video here.