Sim Choo Kheng,

CEO of Sim Leisure Group,

feels good when he scrolls through the TripAdvisor page on his Penang theme park, ESCAPE.

There are over 1,200 reviews, an overwhelming 78% of which rate it "excellent" and 16%, "very good".



Forget Disneyland-style, or Universal Studios-style, theme parks.

Mr Sim's ESCAPE theme parks do not feature roller coaster rides and other highly technical set-ups.

Instead, they feature climbing zones, obstacle courses, zip lines, and waterslides, etc.

You tap into your agility, physical strength, courage -- and you learn teamwork and you bond with family.
Put aside electronic gadgets and reconnect with the child in you, and with nature and reality -- says Mr Sim.




Sim Leisure Group has just listed (1 Mar) on the Catalist on the Singapore Exchange.

While it attracted investors to subscribe for 26.4 million shares (gross proceeds totalling S$5.8 m), Mr Sim isn't thrilled with how the stock price has performed.

It recently traded at 17 cents, down from the IPO price of 22 cents.

The company's market cap is about S$22.8 million (134,225,000 shares x 17 cents), translating into a deceptively expensive PE ratio of about 29X (based on 2H2017 and 1H2018 earnings).


2017

1H2018

2018

Revenue*
RM'000

9,683

8,448

?

Net profit*
attributable to owners of parent

1,288

2,048

?

No. of visitors*

112,000

72,000

185,000

* Figures disclosed in IPO prospectus
The PE ratio should drop significantly based on yet-to-be-announced 2018 full-year results.

Reason: It would reflect the first full-year of earnings of its second theme park, ESCAPE Waterplay which opened in Nov 2017.

The revenue and profit of the group can be reasonably estimated because the 2018 visitorship number and other figures (see table) are given in the IPO prospectus.


Simple math workings will yield the following estimates:

♦ 2018 revenue of roughly RM21.7 million (ie 185K visitors/72K visitors X RM8.448 m)

♦ 2018 net profit of roughly RM 5.26 million (ie 185K visitors/72K visitors X RM2.048 m).

Based on RM5.26 million, the PE ratio (at 17 cents stock price) works out to about 13X.

But the actual PE ratio may be lower because the 2018 profit figure may be higher than RM5.26 m.

This is because the profit margin in 2H should be higher than in 1H, assuming that 2H operating expenses were largely stable when visitorships surged 57% (2H versus 1H). Offsetting this should be some IPO expenses and what not.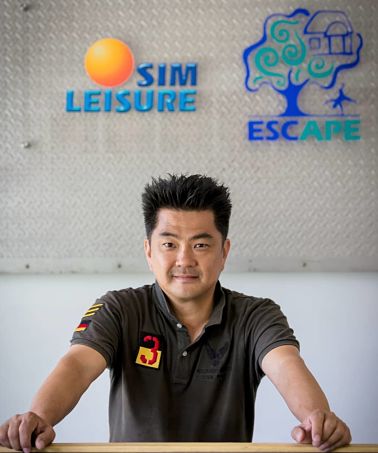 Sim Choo Kheng, founder and CEO of Sim Leisure Group. Photo: CompanyAnd the full-year 2019?

Revenue (and earnings perhaps) for 2019 should rise because the soon-to-open ESCAPE Gravityplay, the third park, is expected to attract higher visitor numbers at higher ticket prices.

Already, ESCAPE has proven that its low-capex attractions are far more financially viable than the likes of Hong Kong Disneyland Resort theme park.

The latter, for all its marketing firepower and its brand name, remained in the red in 2018 for the fourth straight year. (See report)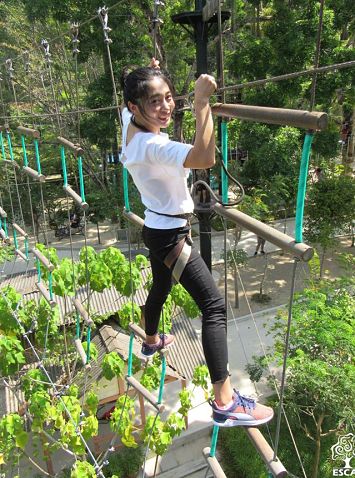 ESCAPE Adventureplay (launched in Nov 2012) has been awarded:
♦ TripAdvisor Certificate of Excellence from 2014 to 2018;
♦ Winner in the category of Best Tourist Attraction (Man-Made Attraction/Theme Park) at the 20th Malaysia Tourism Awards for 2016/2017.
Photo: ESCAPE Facebook page Not only was ESCAPE built on low capex but also run on low, very low, marketing costs.

ESCAPE spends less than 2% of revenue on advertising and promotion, said Mr Sim.

It relies on digital influencers, and promotion on Facebook, Instagram, etc, and word of mouth, of course.

Its photographers snap photos of visitors engaged in fun, and regularly upload hundreds of photos on ESCAPE's Facebook page and Instagram.

Visitors check out the photos, "like" them, which attract their friends to check out the photos -- and perhaps get excited about visiting ESCAPE.

TripAdvisor reviews by visitors have probably a big sway over potential visitors, says Mr Sim.

Individuals aside, about 40% of visitors are corporate entities and schools.

(Ticket prices are multi-tiered. Check them out at ESCAPE's website. About 80% of ticket sales are done through that website, while the remaining 20% are to walk-in visitors)


♦ Spreading the fun in China


There's ample room for visitor growth at ESCAPE.

Its theme parks, located side by side on a 29-acre site out of 44 acres of leased land, can accommodate comfortably 1 million visitors a year, or about 5X the current volume, said Mr Sim.

While it has scope for many years of growth in Penang, Sim Leisure Group intends to quickly expand to cities with sizable populations in China and ASEAN.

The Group has entered into a non-binding memorandum of understanding for the design and operation of a theme park in China's Linyi City in Shandong Province.



Sim Leisure Group

will design and build the park at its own cost and thereafter manage and operate the ESCAPE Theme Park for 40 years.

The land will be provided by Fei County Wonder Stone, a subsidiary of Singapore-listed Imperium Crown (See announcement).

Mr Sim said: "While we have succeeded in Penang Island with a population of just 0.8 million, one can only imagine how we can perform in cities we are targeting with population sizes of over 10 million people. This is just the beginning of our global aspirations."