Excerpts from UOB Kay Hian report

Analyst: John Cheong


Japfa (JAP SP)




An Arbitrage Too Cheap To Ignore


Japfa's 52.4% stake in the IDX-listed PT Japfa TBK alone is equivalent to 93% market cap of Japfa, stub value of the other segments is only at 1.9x 2018F P/E.


JAPFA

Share price:
61 c

Target:
90 c
Japfa's integrated agri-food business model, backed by more than 40 years of track record, enables it to ride on rising protein consumption among Asia's growing middle class.

After a perfect storm in 2017 due to adverse regulations, Japfa is on a strong turnaround path and we expect 2018 net profit to increase by more than 500% yoy.

Initiate coverage with BUY and an SOTP-based target price of S$0.90, which implies 12.2x 2018F P/E, a 10.3% discount to peers' 13.6x.


INVESTMENT HIGHLIGHTS
♦ BUY for a free ride on segments that generate at least US$30m net profit a year. Our SOTP-based target price provides 47.5% upside and implies 12.2x 2018F P/E, a 10.3% discount to peers' 13.6x. Japfa Ltd (Japfa) is deeply undervalued.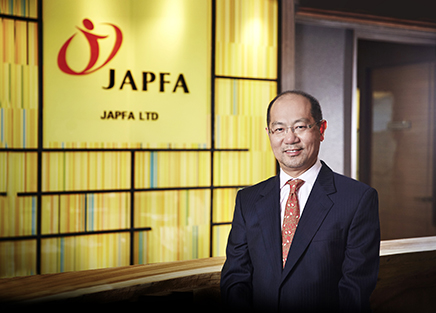 Japfa CEO Tan Yong Nang. Photo: CompanyJapfa's 52.4% stake in the IDX-listed PT Japfa TBK alone is equivalent to 93% market cap of Japfa.

It implies that Japfa's three other business segments, which could generate at least US$30m net profit per year for 2018-20, are trading at 1.9x 2018F P/E.

Japfa is currently trading at 8.3x 2018F P/E, at a significant discount of 39% to peers in the market and a 17% discount to its 52.4%-owned subsidiary. This valuation gap should narrow as concerns over the earnings drag from other businesses eases.

♦ Proxy to rising protein consumption from growing middle class. Japfa operates in some of the most populous emerging economies in Asia that cumulatively house around three billion people or 40% of the world's population.

According to the Organisation for Economic Co-operation and Development (OECD), levels of meat consumption in these markets, while growing fast, are still far below levels in developed markets and global averages. For example, Indonesia's annual meat consumption in 2016 was at only 11kg/capita vs the global average of 34kg/capita.

♦ On a strong turnaround path from 2018 onwards. 2017 saw a perfect storm with a weak poultry performance in Indonesia due to sluggish consumption and China's ban on pork imports from Vietnam.

The likelihood of multiple adverse factors across countries occurring simultaneously again seems remote. We expect 2018 to be a mean reversion year with core profit growing >500% yoy, back to 2015-16 levels.

♦ Established and diversified business model not fully appreciated. We think the market does not fully understand Japfa's established business model, as:

a) the business is complex with multiple proteins and countries;
b) the stock is "thinly" covered; and
c) it has a short listing history, since Aug 2014.
To better understand the business, we performed detailed studies on PT Japfa TBK, which contributes 69% of our 2018F profit forecast and has been listed on the IDX since 1989. Its financial performance for the past 15 years shows that the business is resilient.

Full report here.