Excerpts from CGS-CIMB report

Analyst: William Tng, CFA


Chasen Holdings Ltd
Record-high revenue in FY18
Stock price

7.7 c

52-week range

6.0 - 9.9 c

PE (ttm)

4.5

Market cap

S$30 m

Shares outstanding

387 m

Dividend
yield (ttm)

3.95%

Source: Bloomberg
■ Chasen achieved record-high revenue of S$127.8m in FY3/18. Management is guiding for higher revenue in FY19.

■ The company expects to benefit from the relocation of factories outside of China and on-shoring of manufacturing in the US.

■ Chasen trades at a historical FY18 P/BV of 0.40x with dividend yield of 4.1%.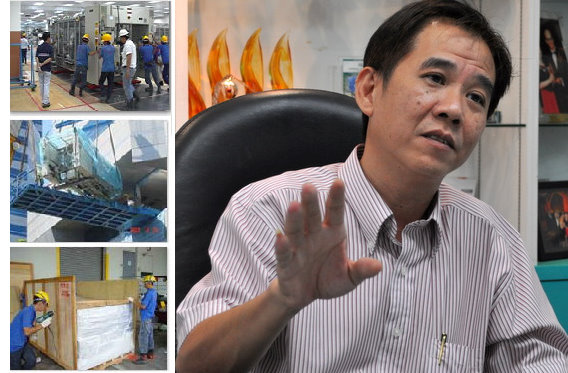 Justin Low, MD of Chasen Holdings. NextInsight file photo.
FY18 revenue breakdown
In FY18, Specialist Relocation Solutions accounted for 58.7% of Chasen's revenue, the Technical & Engineering (T&E) segment accounted for 23.4%, while the Third-Party Logistics segment accounted for the remaining 17.9%.

By geography, Chasen's major markets are China (42.8% of FY18 sales), Singapore (27.8%), Malaysia (13.6%) and the US (10.3%). The remaining 5.5% of FY18 sales were derived from Vietnam and Thailand.

FY18 financial performance
Revenue grew 20% yoy to S$127.9m in FY18, the highest in Chasen's history. Net profit more than doubled to S$5.5m in FY18 (the highest in the past six years).


Historical valuations
Chasen trades at a historical FY18 P/E of 5.7x, and P/BV of 0.40x versus ROE of 7.1%.

FY18 dividend yield was 4.1% and the company has been paying dividends in the past five years. Its net gearing at end-Mar 2018 was 0.35x.



-- William Tng, CFA (photo),




Analyst, CGS-CIMB
The improvement in FY18 earnings performance was due to strong demand for its Specialist Relocation Solutions and for cross-border land freight services in Southeast Asia, according to the company.

Chasen commented that it is seeing a trend of factories moving out of China due to rising labour costs and the economic policies of US President, Donald Trump.

Strategic initiatives
In a Jul 2018 public update, Chasen highlighted that it had three years from 5 Jun 2017 to meet the SGX's minimum trading price requirement and the group is actively exploring opportunities to do so.

In FY19, Chasen expects to deliver higher revenue yoy and positive net profit, driven by:
1) growing momentum of relocation activities,
2) growth of cross-border trucking activities, and
3) cost savings from restructuring its T&E segment.

Full CGS-CIMB report here.






-- Eric Ng, non-executive chairman, Chasen Holdings




(Source: FY18 annual report)

"If the revenue targets for this financial year are achieved, and barring unforeseen circumstances, the Group would be expected to be well on its way to achieve its target of $200 million in revenue by 2020."

Check out also readers' posts on Chasen in our forum