Bet you have never seen a property project being done this way!

Rooms & floors being stacked up to create this hotel in Christchurch, NZ




The project: the 88-room, 5-storey, 3.5-star hotel called Cosa.

A

fter civil groundwork was completed, the rooms and floors were stacked on top of one another like Lego sets.




SHS HOLDINGS

Share price:
22 c

Target:
29 c

Source: Phillip Securities
The rooms had been pre-assembled -- including mechanical and plumbing work and even internal electrical wiring -- in SHS Holdings' factory in Vietnam (which we visited four months ago; watch video below).

Cosa Hotel recently became

the first modular pre-fabricated high-rise building in New Zealand.

A technical description: The design and construction system enabled the building to transform from Podium to Level 4 with a program of just 5 days lifting 48 Modules and the balance of the lift core. The integrated facade system allowed pre-installation of the external cladding, which improves the subsequent rain screen stage. This system also assists passive fire and HVAC as the modules have all service risers now ready to commission and waterproof.


TLC is a leader in the field of modular construction and has worked on a number of projects over the last 10 years in Vietnam and abroad.

This includes the supply of more than 630 bathroom modules for the Lendlease project, Paya Lebar Quarter, in Singapore.

All modules are completed and fabricated under strict quality management in TLC's Vung Tau factory and in compliance with Australian and New Zealand building codes.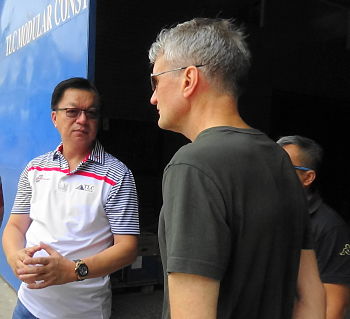 Henry Ng, CEO of SHS Holdings, with substantial shareholder Robert Stone during a visit to TLC Modular's factory in Vietnam.
NextInsight file photo.
The hotel marks SHS's initial foray into the NZ property market, as announced in June 2016.

"We had to convince skeptics to adopt our new technology in construction, as well as secure the building permits for our type of unconventional building methods," said CEO Henry Ng in an earlier article.

The design of the modules and production were executed by TLC Modular, a 60%-subsidiary of SHS which is in the midst of acquiring the remaining 40% stake.

TLC Modular clinched the NZ$11.2 million (US$8.2 million) contract from a local hotel developer.

TLC Modular says its construction method offers a significantly lower per square metre price compared to traditional construction methods, and a far shorter completion time for projects.


TLC Modular's factory operations

SHS stock

22.5 c

52-week range

20 – 25 c

PE (ttm)

--

Market cap

S$154 m

Shares outstanding

685 m

Dividend
yield (ttm)

0.9%

1-year return

-1%

Source: Bloomberg
Given its cost and speed proposition, TLC Modular has won more jobs in New Zealand, which faces an acute shortage of labour, homes and tourist accommodation.

In May 2018, TLC Modular secured two contracts amounting to NZ$30 million (approximately S$28.1 million) to build a serviced apartment and a hotel.

The 79-key service apartment project in the holiday resort of Queenstown comprises 217 modules and is targeted to be completed in 2019.

The developer is Remarkables Residences Limited, a subsidiary of Singapore-listed Global Yellow Pages.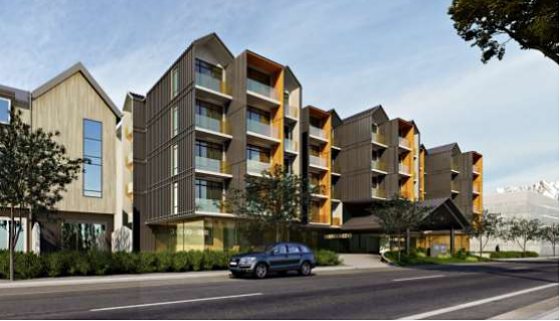 In Queenstown: Artist's impression of the Global Yellow Pages serviced apartment project which will be built by modular construction.
The other contract is to supply modular units for the first phase of the refurbishment of Godley Hotel in Tekapo. This was signed with Coldwater Properties Limited.