Excerpts from Phillip Securities report

Analysts: Paul Chew & Alvin Chia


♦ Expect a surge in modular business sourced from New Zealand

SHS HOLDINGS

Share price:
23.5 c

Target:
29 c
♦

Upcoming recurring revenue from a solar project in Bangladesh



♦

Recovery in marine and construction sector to support legacy businesses



♦

Initiate coverage with BUY rating with TP of S$0.29, based on FY19e EPS of 2.9 SCents and 10x PE multiple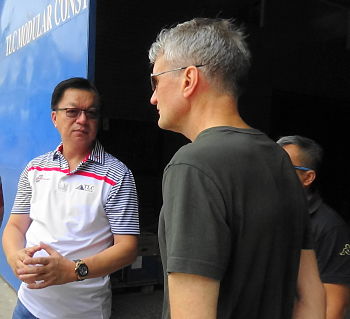 Henry Ng, CEO of SHS Holdings, with substantial shareholder Robert Stone during a visit to TLC Modular's factory in Vietnam. NextInsight file photo.SHS Holdings Ltd (SHS) generates revenue from two existing business segments:
(i) Corrosion prevention of marine vessels and other steel structures;
(ii) Structural steel for buildings.

We expect future growth will come from two new segments:
(i) Modular construction under its Vietnam based subsidiary, TLC Modular. It manufactures steel prefabricated prefinished volumetric construction (PPVC) and prefabricated bathroom unit (PBU).
(ii) A solar project in Bangladesh under subsidiary Sinenergy.

Investment Merits
1. Modular business boosted by strong demand in New Zealand. There is a huge shortage of housing in New Zealand – demand for new houses is around 18,000 p.a. while supply is struggling at 10,000.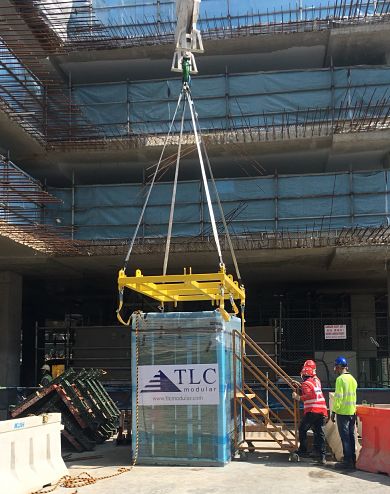 SHS' subsidiary, TLC Modular, manufactures bathroom units in Vietnam and ships them over to a Lendlease project in Singapore -- the Paya Lebar Quarter. Photo: CompanySince 2009, there has been a cumulative shortfall of nearly 44,700 units.

We believe this gives TLC Modular an opportunity to penetrate the market by exporting its PPVC products to New Zealand.

The speed and cost advantage make it a compelling product, in our opinion. TLC recently announced two projects worth S$28m in New Zealand. Another project running is the Cosa hotel, estimated to complete in 2H18.

2. Recurring revenue from solar projects. SHS has secured a solar farm project under its subsidiary Sinenergy with the Bangladesh government, to provide 20 years of electricity.

The 50 MW project was designed, constructed, financed, owned and operated by Sinenergy. We expect the project to generate a net profit of around S$4mn from FY19e.

3. Recovery of construction and oil & gas sectors will contribute to SHS core revenues. The group's Structural Steel and Corrosion Prevention businesses are heavily correlated to the construction and oil & gas sectors.

The recent protracted downturn of the marine, oil and gas sector has affected the group's overall profitability. With crude oil prices starting to recover and the increase in construction activities, these segments are poised for a slow turnaround.


We initiate coverage on SHS with a BUY rating and a target price of S$0.29. We are pegging SHS to other construction companies with prefabricated and structural steel business in Singapore.

Our target price is based on 10X FY19e PE. We gave a 10% discount on SHS to its peers as we take a more conservative approach in SHS's valuation.
What modular construction is: Watch video of our recent visit to TLC Modular's factory in Ho Chi Minh City



Full report here.