Following HSBC's report on Yangzijiang with a "reduce" rating published on May 24, Yangzijiang's share price dropped by 12% in two trading days, to 95 Singapore cents.

However, Yangzijiang's fundamentals are robust.

It has an outstanding order book of USD4.5 billion, which gives it a stable revenue stream for the next 2.5 years. Enquiry levels from ship owners remain healthy. Its management has said that it is not taking low-margin orders.

Yet the stock price has come down by more than 35% year-to-date. Is this an over-reaction? Is it a good opportunity to accumulate Yangzijiang shares, given that it is now trading around its 52-week low?

To find out, I spoke with CFO Liu Hua, who highlighted that Yangzijiang's shipbuilding business is running stable, with yard utilization of around 90%.

It has been a long practice for Yangzijiang to be very prudent in accepting new orders. It was mentioned in several analyst briefings that Yangzijiang certainly won't take any new order that could lead to a loss, unlike state-owned enterprises which have a track record of losses on new orders.

In assessing orders, Yangzijiang always takes into account the shipowner's profile, potential profit margin, cost of production, payment schedule and other factors.

For instance, currently, as the RMB has appreciated against USD and raw material (primarily steel) prices have increased compared to last year, Yangzijiang will take into account all these factors in the calculation of the breakeven level.

On top of that, it will require a certain profit margin.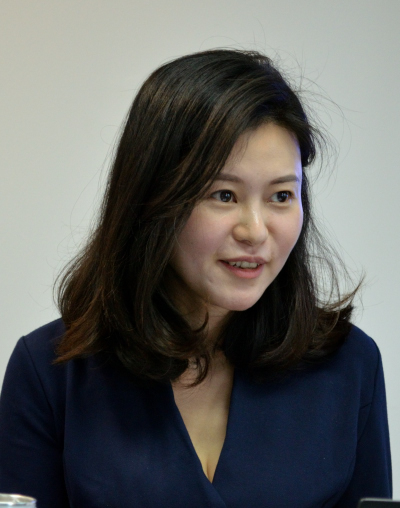 "We are in talks with potential partners for collaboration in LNG-related businesses."


- Liu Hua
CFO
(NextInsight file photo)
In Yangzijiang's 1QFY2018 analyst briefing, its management commented that several vessels in its current order book, including some large-size containerships and dry bulkers, are expected to bring in decent profit margins, due to the timing of the order taking, contract value and the relatively cheaper steel prices at the time of construction.

These vessels are scheduled to be delivered in the next few quarters, supporting Group's gross margin.

In FY2017, when the RMB strengthened against the USD and steel price increased, the company took a stringent review on the profitability of its order book. Based on a stress test of USD/RMB exchange rate of 6.15 and steel price of RMB4,800/ton to break even, the company made a provision of RMB1.2 billion on 70 vessels in its order book.
Stock price

95c

52-week range

93c - S$1.74

Market cap

S$3.8 billion

PE (ttm)

6.2 x

Dividend yield

4.7%

Gross Gearing

14.3%

Source: Bloomberg / Company
Profitability to be lifted when USD strengthens and steel prices recede

In the event that RMB is not as strong as 6.15 per USD, or steel price is lower than RMB4,800/ton, these vessels would be able to make a profit.

As such, in 1QFY2018, Yangzijiang wrote back RMB53 million from the 2017 provision in line with the less severe impact of foreign exchange and raw material prices as assumed in the stress test.

Ms Liu said that it is Yangzijiang's long-term strategy to build up its LNG-related vessel business.

"Yangzijiang is in talks with potential business partners for collaboration and will update the market through official announcements when any agreement is reached," she said.