When a S-chip company reports its 1Q2018 results this Wednesday (25 Apr), there could be no shortage of people -- specifically, those who have

not

been tracking this company -- who will be in awe.



The 1Q2018 profit of China Sunsine could top RMB100 m, which is almost double

the RMB57 m achieved a year earlier.



The other thing that has doubled -- 113%, to be exact -- is its stock price, from 71 cents last April to $1.51 yesterday.

All this comes as a relief amid the deep disappointment -- and even disgust -- searing the market following the recent implosion of Midas Holdings (which effectively was an S-chip brought down by its Chinese chairman, Chen Wei Ping).
China Sunsine's profit guidance dated 19 April 2018.

"The expected profit growth is mainly due to the increase in both average selling price ("ASP") and sales volume of the Group's products.
"As disclosed in several of our prior results announcements, the Chinese government has been placing more emphasis on

environmental protection

, and more frequent environmental protection inspections were conducted.
"Some players in the rubber chemicals industry which failed to meet the relevant environmental regulations were forced to

suspend their production

.
"This had resulted in the short supply in the market. In 1Q2018, the short supply continued, and accordingly, the Group was able to sell more products at a higher ASP."
The 1Q18 profit expectation assumes that factors underpinning the 1Q2018 performance of China Sunsine continued to be as good as those in recent quarters.

In 4Q2017, China Sunsine achieved RMB132 million profit.

These factors are explained in the accompanying box by China Sunsine in a profit guidance posted on SGX website.

Looking back, China Sunsine may well have appeared to be in the business of producing commodity-like chemicals, which did not appeal to many investors, but it has proven skeptics wrong.

Its products are, arguably, specialty chemicals (which aid in the production of tyres by customers such as Bridgestone, Michelin, Goodyear and Pirelli).

And China Sunsine has invested heavily in pollution-control measures and thus created a very strong competitive edge.

In recent years, the market has come around to appreciating it, especially in the light of its strong profitability performance.

The stock price of China Sunsine, the world's largest producer of rubber accelerators, has gone on to set several new highs.

From around 35 cents in April 2016, China Sunsine closed at $1.51 yesterday.

It's a 4.3x jump -- or 331% -- in just 2 years, making it a dream stock for investors who got in just as the stock took off.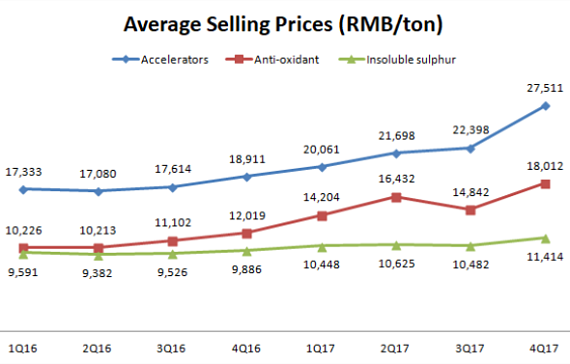 Here's why China Sunsine's profits have been going up: Rising prices of the various types of rubber chemicals it produces.

RMB m

2018F*

2017

2016

Operating cashflow

337.3

386.5

202.9

Free cashflow

226

177.5

120.3

Cash & cash equivalents (year-end)

655

499.6

275.9

Debt

0

0

0

*2018F by CIMB
China Sunsine is a standout when it comes to its cashflow and balance sheet (see table).

Its cashpile is rising, and so is the dividend payout. For FY2017, it is 3.0 SG cent/share, up from 1.5 SG cent/share in FY2016.

Valuation-wise, it is trading at just below 10X this year's RMB377 m earnings, as forecasted by CGS-CIMB.

That's by no means expensive but what are the industry dynamics at work and how durable is China Sunsine's competitive edge? See recent story: CHINA SUNSINE: Record profit (RMB 341m), record stock price ($1.36)