Excerpts from CGS-CIMB report

Analyst: Colin Tan


Continued high product prices amid tight supplies
■ Competitor Yanggu Huatai forecasts over 163% yoy growth in 1Q18F net profit, citing continued high product prices amid tight supplies of rubber chemicals.

■ Yanggu Huatai revealed that customers have moved away from pursuing low prices blindly to securing steady supplies of rubber auxiliaries.

■ We expect Sunsine's record 4Q17 net margins of c.15% likely sustained in 1Q18F.



Rubber chemical prices remain high amid tight supplies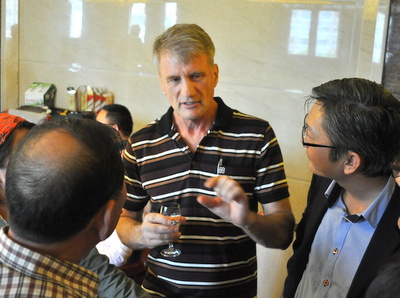 Robert Stone, one of Sunsine's top 20 shareholders, speaks with management during a visit to the company. NextInsight file photo● Sunsine's closest peer, Yanggu Huatai (300121 CH; Not Rated), released its 1Q18F guidance on 4 Apr 2018, forecasting 163%-178% yoy growth in net profit as high product prices of rubber chemicals have sustained.

● Yanggu revealed that supplies of rubber chemicals – accelerators, insoluble sulphur and anti-oxidant – remained tight amid increasing environmental regulations in China.

● We expect product prices to remain stable in 1H18F, which likely led to continued earnings growth (c.90% yoy) and sustained net margins of c.15% in 1Q18F for Sunsine.


● We reiterate our Add call and target price of S$1.62, based on 9.8x CY19F P/E. Further increases in ASPs and strong earnings guidance are potential re-rating catalysts. Downside risks are delays in capacity expansion and a drop in ASPs.

-- Colin Tan,
Analyst, CGS-CIMB
Better payment terms from customers ahead
● In its 2017 annual report, Yanggu revealed that tyre companies have moved away from blindly pursuing low prices to placing more emphasis on securing steady supplies of rubber auxiliaries.

● We think this could lead to Sunsine also getting better payment terms from customers as smaller customers may need to make advance payments to secure stocks of rubber chemicals, thus improving Sunsine's cash cycle.

● Sunsine's receivable days in 4Q17 showed a marked improvement to 75 days, down from a 3-year average of 102 days. This likely further improved in 1Q18F. On track to add 20,000 tonnes to production capacity

● Sunsine is slated to add a 10,000-tonne TBBS rubber accelerator production line and a 10,000-tonne insoluble sulphur line this year, expanding its capacity to capture future growth as utilisation rates are already at 100%.

● We expect commercial production to start in 2H18F, expanding its production output to a conservative 148K tonnes in FY18F from 140K tonnes in FY17, based on our estimates.


China Sunsine

Share price:
$1.25

Target:
$1.62
Reiterate Add and target price of S$1.62
● Sunsine's valuation remains relatively cheap at 8x FY19F P/E, representing a 33% discount to peers' average of 12x.

● Share price is down c.10% from the high of S$1.49 on 16 Mar 18 and we think this represents a buying opportunity.


Price

(lcl curr)

Target price

(lcl curr)

Market Cap

(US$ m)

PE

P/B

ROE

Div yield

CY18F

CY19F

CY18F

CY18F

CY18F

China Sunsine

1.34

1.62

503

8.4

8.0

1.54

19.5

2.3%

Shandong Yanggu Huatai Che-A

14.50

na

865

15.2

11.8

4.50

29.0

2.6%

Eastman Chemical

103.0

na

14,698

12.2

11.3

2.56

22.3

2.2%

Lanxess Ag

62.0

na

6,969

15.4

12.7

2.08

14.4

1.6%

Simple Average

14.3

12.0

3.05

21.9

2.1%