Oxley Holdings, over the next few months, stands to reap results from its early acquisitions of landbank in 2017 as Singapore's property cycle turns up.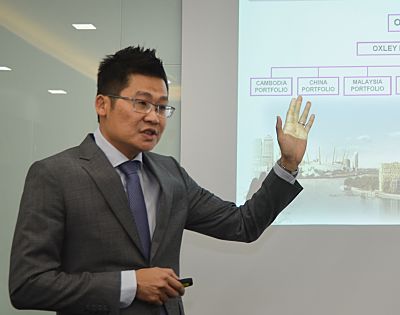 Eric Low, deputy CEO of Oxley Holdings.
NextInsight file photo.After CityDev, Oxley has the second largest landbank in Singapore.

Oxley has been moving fast to secure approvals to launch its projects in 1H2018, in order to be ahead of other developers.

Oxley's deputy CEO, Eric Low, gave a firmer timeline at last Thursday's 1HFY18 briefing when he said "by August", Oxley would hopefully have launched all its projects.


Stock price

69 cents

52-week range

42-70 cents

PE (ttm)

8.9

Market cap

S$2.25 billion

Shares outstanding

3.24 billion

Dividend yield
(ttm)

0.9%

1-yr return

65%

Source: Bloomberg
The first batch -- including East Coast and Pasir Panjang projects -- would be launched in March.

Oxley's portfolio of to-be-launched Singapore projects -- including JVs -- have a gross development value (GDV) of about S$5 billion, of which S$3 billion is attributable to Oxley.

This will be a key revenue driver for Oxley over the next few years, on top of the S$1.8 billion of presales achieved in ongoing projects, mainly overseas.

(S$1.3 billion is attributable to its very successful Royal Wharf project in London. See Oxley's 1HFY18 Powerpoint presentation material.)


Property

Stake

Tenure

GFA
(sqft)

GDV

GDV attributable

494 Upper East Coast

100%

FH

19,472

$32m

$32m

Lotus @ Pasir Panjang

100%

FH

128,159

$217m

$217m

Serangoon Ville

40%

LH

831,350

$1.35 b

$540 m

Rio Casa

35%

LH

1,109,447

$1.44 b

$504 m

Vista Park

100%

LH

446,939

$827 m

$827 m

Mayfair Gardens

100%

LH

342,647

$720 m

$720 m

3 Tessensohn Road

100%

FH

54,497

$105 m

$105 m

Apartment 8

100%

FH

20,303

$37.5 m

$37.5 m

208YCK

100%

FH

19,784

$28.4 m

$28.4 m

Total

$4.76 billion

$3.0 billion

According to Oxley, "most" of its sites are enjoying an uplift in land value as neighbouring plots were acquired later by other developers at higher per sq ft per plot ratios.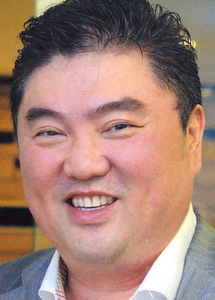 Ching Chiat Kwong, chairman of Oxley.
NextInsight file photo.For example, through an en-bloc sale, Oxley bought Mayfair Gardens in Rifle Range Road at 1,244 psf ppr while Allgreen later paid an average of $1,800 psf ppr for three developments (Royalville, Crystal Tower and a 4th Avenue government land sale).

See pages 15 & 16 of Oxley's presentation material.

"Oxley will launch ahead of other developers and when the others launch at higher prices, our projects will sell further," said Oxley chairman Ching Chiat Kwong.

UOB Kayhian, in a report in Oct 2017, said: "Oxley is a key beneficiary of the property upcycle in Singapore."