Excerpts from RHB report

Analyst: Jarick Seet


Full Accretion Of Aquatico
Moya reported a strong set of 3Q17 numbers following the full accretion of Aquatico's numbers. Revenue/NPAT surged 845% YoY to SGD45.8m and 134% YoY to SGD5.54m respectively despite one-off acquisition costs of SGD0.54m.


Moya Holdings

Share price:
10c

Target:
17c
With a SGD100m cash hoard, it may likely continue to acquire and consolidate private Indonesian water treatment players.

Due to its further cost-saving initiatives, increased capacity and higher financing costs, we tweak FY17F-18F NPAT by +14% and -5% respectively. BUY, with an unchanged DCF-backed TP of SGD0.17 (68% upside).
Full accretion of Aquatico. In 3Q17, Moya's books reflected the full accretion of its latest acquisition, Aquatico. It recorded superb YoY topline & NPAT growth of 845% to SGD45.8m and 134% YoY to SGD5.54m respectively despite one-off costs related to acquisitions totalling SGD0.54m.



-- Jarick Seet (photo),




Analyst,




RHB Research
Consolidating the Indonesia water sector. With over SGD100m of cash on its balance sheet, it could likely engage in potential acquisitions in the pipeline in the near term.

It may continue to acquire and consolidate Indonesia's private water treatment players, which would further boost its explosive growth going forward. The company may also use part of the cash hoard to pare down its debt and ultimately lower its financing costs of SGD6.9m per quarter.

Non-revenue water (NRW) is a key growth driver. With only 59% of Aquatico's water reaching the masses, the remaining 41% of leakages can actually boost Moya's NPAT substantially. This is if more of this NRW can be recovered and sold, which can be done through refurbishing or replacing rusty, leaking pipes as well as other methods.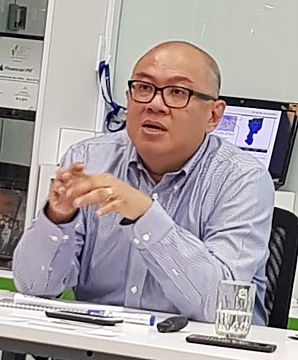 Moya managing director Irwan Dinata. NextInsight file photo Management may initiate a plan to cut its NRW by 50% gradually by 2023, which would be very beneficial for Moya.

A reduction in NRW would further boost its topline and margins extensively as the majority of gross profit from the incremental sales of NRW would likely flow down to PBT directly, as well as improve its prospects related to the renewal of its concessions.

More acquisitions to come; maintain BUY. The planned capacity expansion for two of its existing water plants, Bekasi and Tangerang, coupled with additional capex to reduce its NRW in the next five years would help to ensure strong organic growth for the company. It is now the largest water treatment player in terms of capacity, and management aims to increase this to 20,000 litres/s from its existing 13,000litres/s by 2018.

This would also give it an advantage – especially when negotiating terms concerning the buyout of existing smaller players. In addition, the IRR for a water project in Indonesia is attractive – typically around 15%, ie double that of a similar project in China.

The further cost savings, volume expansion and the recovery of its NRW providing strong organic growth, coupled with additional acquisitions in the pipeline to further boost NPAT, leads us to believe Moya's outlook is bright.

Thus, we adjust our FY17F-18F NPAT by +14% and -5% due to lower acquisition costs in FY17F and higher financing costs in FY18F. Maintain BUY, with an unchanged DCF-backed TP of SGD0.17.