In June 2017, Indonesian water company Moya Holdings Asia acquired a major water player, and the latter's contribution has made a big impact this year.

Moya's 1H2018 revenue increased by S$60.3 million to S$93.6 million, mainly attributable to the acquired Acuatico Group.

Acuatico's contribution of S$73.0 million represented 78.0% of the total revenue in 1H2018 of

Moya, which is listed on the Singapore Exchange

.
The groups' net profit jumped 542% to S$16.0 million in 1H2018.

On an annualised basis of S$32 million, Moya 2018 earnings translates into a PE ratio of about 12X its current market cap of S$387 million (stock price: 9.2 c).



Moya is also the only listed water business from all of Indonesia, the 4th most populous country in the world.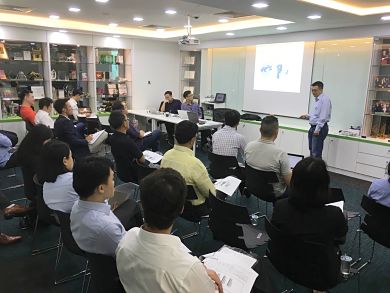 CFO Darmasen Anwar presenting at a 2Q results briefing last Friday. Photo by Ngo Yit SungNotably, operating cashflow was about S$25 million in 1H2018.

(The reported cashflow was S$9.4 million but that's after deducting S$14.7 million for construction costs relating to its build-operate-transfer water projects.)

Moya's gross profit margin points to a business with robust strength: Margin improved from 36.0% in 1H2017 to 45.1% in 1H2018.

Ebitda margin too has been on an uptrend, rising from 35.4% in 2Q17 to 46.5% in 2Q18. (see table).


| | | | | | | |
| --- | --- | --- | --- | --- | --- | --- |
| S$ 'm | 1Q17 | 2Q17 | 3Q17 | 4Q17 | 1Q18 | 2Q18 |
| EBITDA | 0.17 | 4.32 | 15.91 | 20.92 | 16.52 | 17.92 |
| EBITDA margin | 7.4% | 35.4% | 42.9% | 52.0% | 46.2% | 46.5% |
• Full consolidation of Acuatico took place from 3Q17.
• There is seasonality in the water business, with 4Q being the best.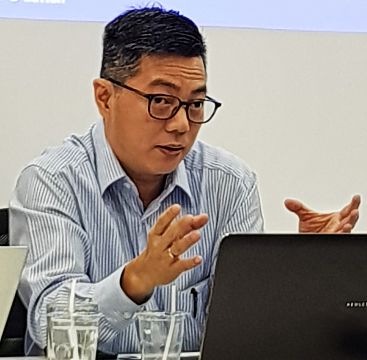 Moya CFO Darmasen Anwar.
Photo by Leong Chan TeikMoya, now the largest private water player in Indonesia with a production capacity of 14,000 litres per second (lps), is set to increase its sales volume.

It is investing a total of S$110 million in its PT Moya Tangerang project, with expansion in the following areas:

♦ Production capacity at this build-operate-transfer project will go up from 950 lps to 2,000 lps by 2024.

♦ Installed pipe network from the water treatment plant to end-users will go up from an initial target of 631 km to 1,200 km.

At its PT Moya Bekasi Jaya, also a build-operate-transfer project, a pipeline network from the plant to end-users is being extended, which will allow for more water sales.

Commenting on the Group's results, managing director Irwan A. Dinata said: "Indonesia's water sector presents huge growth potential as the government aims to achieve universal access to water supply and sanitation. The Group has benefited from the accretive acquisition of the Acuatico Group and we believe that there are more opportunities in the sector awaiting us."

If there is one negative, it is the finance cost that Moya bears for its S$354.4 million borrowings as at end-June 2018.

Finance cost increased by S$17.2 million, from S$1.8 million in 1H2017 to S$19.0 million in 1H2018, mainly due to interest expenses of a bank loan in connection with the Acuatico acquisition.