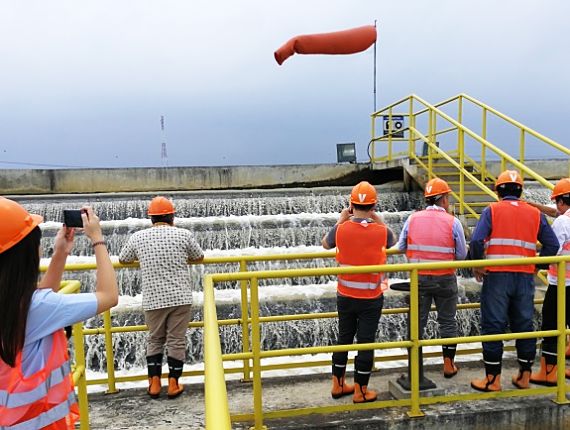 Water from West Tarum Canal is aerated as a first step at the Aetra Air Jakarta water treatment plant. NextInsight file photo. Moya Asia welcomes investors to visit its operations in Jakarta in order to better understand the business.

You will get to hear from operational staff how raw water is drawn and treated and then piped to users.

Moya supplies water to large swathes of Jakarta and its outskirts, and is the largest water player in Indonesia with a total treatment capacity at 14,000 litres per second.


Tentative programme

13 Sept


Fly: Singapore to Jakarta (Jetstar)

Visit PT Aetra Air Jakarta

14 Sept



Visit either PT Aetra Air Tangerang or Moya Tangerang

Fly: Jakarta to Singapore
Investors pay S$300 to cover airfare and 5-star hotel accomodation for a night. Any excess will be reimbursed.

Moya will cover the cost of local transport and meals.

Group size is limited, so register your interest as soon as possible -- by Tuesday, Aug 28 -- by emailing your full name and contact number to This email address is being protected from spambots. You need JavaScript enabled to view it. or This email address is being protected from spambots. You need JavaScript enabled to view it.