In a follow-up to an article by "Money Plant" (INNOTEK: Turnaround story under a new management), Waterflow, an InnoTek shareholder, contributed this article to NextInsight.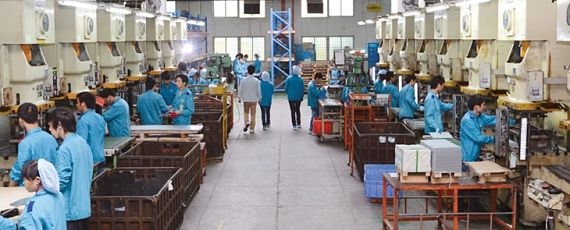 InnoTek is a leading metal specialist with extensive experience in metal stamping and die fabrication industry. Photo: Company"Money Plant" has done an incredible job to explain the turnaround of InnoTek.

As a shareholder, I am grateful and comforted to know that Innotek's management is working hard to improve the business. I will share more on the qualitative aspects as I feel Money Plant wrote about the quantitative.
Here are some pointers to add on to why I believe InnoTek is on the right path.


As automation replaces more and more functions in the company, I expect to see higher margins along with other initiatives. InnoTek had 3,228 employees in Q4 FY2016 and significantly fewer (2,832) in Q1 FY2017. It was a drop of 12.5%. I see it as a bold step to move up the operating profits of the company.


The management shared, during the recent AGM, that the capex for the Thailand plant should be around HK $30 million which is equivalent to S$5.32 million.


Mr Lou Yiliang and Mr Kuang Yubin are paid reasonably. As of last financial report, Mr Lou was paid $643,367 which is a modest sum given how much effort he has put in. Mr Kuang remuneration comprised 53% salary, 35% bonus and 12% others. This shows his pay is performance-based.


Mr Lou and Mr Kuang are professionals with deep domain expertise and wide industry networks. In my opinion, the most underrated star in the company is actually Mr Kuang. He was previously with Konka Group for more than 14 years and was instrumental in bringing Konka to a dominant position in China. Later on, he went to Skyworth Overseas Development where he transformed the business. He has been widely quoted in the media and has demonstrated strategic thinking. Do search his Chinese name ("

匡宇斌

") and you will come across more articles. You'll feel confident of Mr Kuang.


InnoTek has two segments [1] precision components and [2] precision sub-assembly. The profit margin before tax were 1.6% and 19.7% respectively in FY16. This means that under precision components, the Company put in 12 times (19.7%/1.6%) the effort in order to make the money generated by precision sub-assembly.

This is where readers should see immense potential from management's focus on the higher margin segment. From FY15 to FY16, this segment grew by 51%. While I guess precision components business is facing some headwinds, I expect it to be offset by precision sub-assembly's growth and the overall margin improvements.



InnoTek's Top 20 shareholders include:
16

Tan Kah Boh Robert @ Tan Kah Boo

1,235,000

0.55

17

Lew Wing Kit

1,232,000

0.55

18

Lim Ho Kee

1,153,000

0.51

19

See Beng Lian Janice

1,042,000

0.47

Source: annual report
[16] Tan Kah Boh Robert is an independent non-executive director of the Hour Glass.
[17] Lew Wing Kit -- Chairman of the Medical Board of Tan Tock Seng Hospital?
[18] Lim Ho Kee – former independent director of Singpost.
[19] See Beng Lian Janice, remisier from UOB Kay Hian.
Did they see something they like in InnoTek?