Excerpts from UOB KH report

Analyst: John Cheong
Gaining Traction In EV, Healthcare And Consumer Industries

We are confident Innotek can achieve 28% yoy earnings growth for 2021, on the back of robust revenue growth in the auto segment of 45% yoy for 1H21.


InnoTek

Share price:
84 c

Target:
$1.20
Also, winning new business in EV, healthcare equipment and gaming consoles should boost growth.

Innotek's solid 1H21 earnings of S$7.2m (+94% yoy) was in line with our expectation, meeting 41% of our full-year estimate. Innotek currently trades at only 5x ex-cash 2022F PE.

Maintain BUY and target price of S$1.20 (12x 2022 EPS).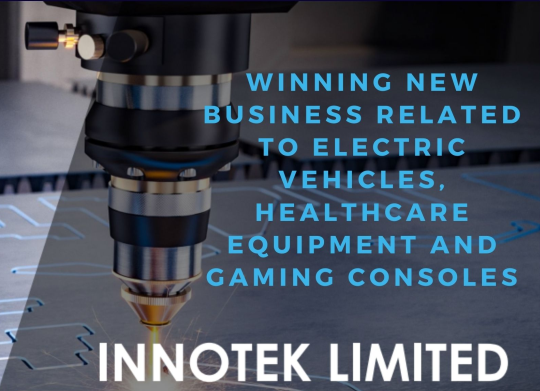 WHAT'S NEW
• Won new business in the attractive EV, healthcare equipment and consumer industries. We are positive on the recent company update post 1H21 results as Innotek revealed that it has secured new businesses in three sectors that have higher growth potential and margin.

Firstly, Innotek's EV-related customer is growing at a quick pace and is now contributing around 5% of the group's revenue. Secondly, Innotek has also secured new customers for healthcare imaging equipment.

Finally, Innotek has also won a new contract in the manufacturing of gaming consoles.

• New Vietnam plant, expected to start in 2022, could drive further growth. On 18 Aug 21, Innotek announced that it will be venturing into Vietnam via the incorporation of a new subsidiary, Mansfield Vietnam. Innotek is confident that it will achieve profitability in the first year of operations as it has already secured several customers when the plant commenced operations.

This will be the second overseas plant for Innotek after expanding into Thailand in late-18. • Results in line, robust revenue growth for auto segment. 1H21 earnings of S$7.2m (+94% yoy) were in line, meeting 41% of our full-year estimate.

1H21 revenue increased 6% yoy, reflecting business recovery from a year ago when the group shut down its factories for two weeks from 27 Jan 20 in compliance with lockdown measures in China. Revenue for the auto segment increased significantly yoy, with a 45% yoy growth in 1H21 and is now its largest revenue contributor (44% of total revenue in 1H21 vs 32% in 1H20).

On the other hand, office automation (OA) revenue increased yoy and revenue for TV and display products declined. Gross margin remained stable at around 21%.

STOCK IMPACT
• Strong cash generating ability and high net cash balance underappreciated. InnoTek has a net cash position of S$90m as of 1H21, up from S$35.0m (+157%) as of end-15, forming around 50% of its current market cap. InnoTek has been paying out a DPS of 0.5 S cents since 2016, and gradually increased this to 2.0 S cents in 2020.

EARNINGS REVISION/RISK
• We maintain our earnings forecast.


VALUATION/RECOMMENDATION


• Maintain BUY and PE-based target price of S$1.20, based on a 12x 2022F PE, pegged to the average peers' PE.

• InnoTek is trading at 9x 2022F PE (ex-cash PE of 5x), which is unjustified based on its resilient business model, high net cash position and high margins as compared with its peers.

Thus, we believe InnoTek should trade nearer to its peers' multiple of 12x 2022F PE.

Risks include demand disruption from COVID-19, competition and adverse regulatory changes.

SHARE PRICE CATALYST
• Better-than-expected demand from automobile segments and winning of more EV customers.

• Potential takeover target given its attractive ex-cash PE multiple.

• Better-than-expected dividend.

Full report here.