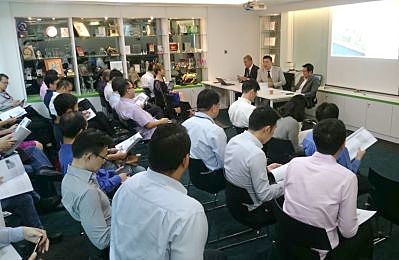 Oxley is optimistic about its financial results in the quarters ahead. Photo by El Lee. Oxley Holdings recognised $605.7 million of revenue and net profit of $123.7 million in 2QFY2017, thanks largely to the project Oxley Tower achieving T.O.P.

These results are a massive 241% and 103% jump y-o-y, respectively.

It's no mean feat that, as Deputy CEO Eric Low highlighted, Oxley sold about $570 million of properties worldwide in 1HFY17 and about $1 billion in full-year FY16.

Based on, say, 33% gross margin, Oxley thus has S$1 billion of gross profit it can recognise on its S$3 billion of revenue which is yet to be booked, probably over the next 2-3 years.
He also pointed out that gross margins have stayed buoyant: 34% in 1H17 compared to 30% in FY16 and 29% in FY15.

The table below gives you an idea of the possible profits of Oxley in 3Q and 4Q of FY17, based on RHB's full-year forecast of $325 m profit.
Net profit $S

PE (FY17F)

1QFY17

2QFY17

Full year FY17
(RHB forecast)

PE (based on 47.5 cent share price

$15.3 m

$123.7 m

$325 m

4.3x

The other 7 takeaways from the 1HFY17 results briefing:


Project Name

Quarter Estimated to achieve TOP * / Completion * (based on calendar year)

The Flow

1Q2017

Floraville / Floraview/ Floravista

2Q2017

71 & 73 Oxley Rise

4Q2017

Royal Wharf
- Phase 1A
- Phase 1B

3Q2016 - 3Q2017 #

3Q2016 - 3Q2017 #

* subject to approval granted by the relevant authorities.

# Some plots are expected to obtain TOP after the next 12 months

The above projects which are expected to obtain TOP in the next 12 months have a cumulative unbilled contract value of S$1.05 billion, of which S$0.25 billion relates to Singapore projects and S$0.80 billion, the Royal Wharf project.
1. Strong future: Oxley is expecting strong quarters ahead with the completion of some projects.

For example, The Flow, a commercial project on East Coast Road which is 73% sold, is expected to achieve T.O.P in the current quarter.

Overall, Oxley has S$2.6 billion of unbilled revenue that it can recognise in the next 2-3 years. Add to that the deposits already paid by buyers, Oxley said it has about S$3 billion to recognise as revenue.


2. Australian foray: Oxley is entering the Australian property development market via a 40% stake in Perth-based construction company Pindan Group.

Oxley paid A$32 million for the stake on 22 Dec 2016. The cash injection into Pindan is expected to assist Pindan in securing new development projects.

Oxley is looking forward to good contributions from Pindan, which has annual turnover in excess of A$500 million with more than A$1 billion of work on hand.

Reflecting its growth prospects, Pindan has recently expanded to other states in Australia, including New South Wales and Queensland. (More info in press release here).

With the mineral and resource industries turning up, Mr Low reckons that Oxley's investment in Pindan "is secure on the downside and we have gone in at the right time."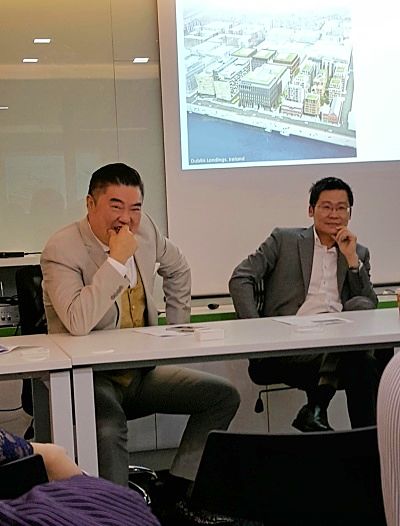 Executive chairman Ching Chiat Kwong and deputy CEO Eric Low. Photo by Leong Chan Teik Explaining the benefits of this partnership, he said Pindan's projects are targeted at locals mainly.

The settlement risk by local buyers is minimal since builders have strong rights vis-a-vis locals who reside in Australia, he said.

3. Local demand: Oxley prefers to develop projects that are envisaged to have local demand, rather than try to attract foreign investors.

Aside from the Pindan's projects, a recent example is the Oxley Convention City in Batam, which was launched in Dec 2016.

About 45% of the units launched have been sold. The project will be marketed in other cities in Indonesia, only after which it will be done in Singapore.

4. London still: Brexit has not diminished Oxley's interest in developing projects in London. Look out for future projects.

5. China bonanza: In Gaobeidian in Hebei province, Oxley is pleased with how selling prices of other projects nearby have soared.
That augurs well for the launch of Oxley JV project's first phase (about 3,000 residential units), which is 82km south-west of Beijing and is awaiting the approval of authorities.

Oxley has the highest stake of 27.5% in the JV, whose other partners are KSH Holdings, Lian Beng Group, Heeton Holdings, Beijing Jia Hua Hong Yuan Investment, and Zap Piling.

6. Local partners: Is Oxley over-stretched in developing properties in various parts of the world, asked an investor.

Oxley executive chairman and CEO Ching Chiat Kwong said the company is partnering local players, a strategy which requires fewer of Oxley's resources and ensures greater chances of success in execution.

Oxley has spent a lot of time searching for suitable partners.

As for doing business in various countries and continents, he said that helps Oxley smoothen the impact of economic cycles and foreign currency fluctuations.


Oxley Holdings

Share price:


47.5 c

Target:


85 c




Source: RHB
7. Less reliance on debt: An investor asked: Will Oxley raise more debt going forward as it expands its business?

"We will try not to do so because we have been working very hard for our bondholders. It's painful to pay $70 million interest every year," replied Mr Ching.

"We will try to be asset-light. When we get a piece of land, hopefully, it can be a development rights land. Or we can structure it so it can be paid for at the end of the deal."

Meantime, Oxley's gearing has come down from 2.75x at end-June 2016 to 2.2X at end-Dec 2016.

For more info, see Oxley's 1H17 press release and Powerpoint presentation.