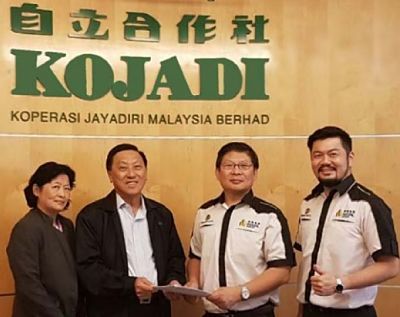 (L-R): Ms Katty Tan, GM of KOJADI; Datuk Ng Peng Hay, Chairman of KOJADI; Mr Dominic Su, Chairman and CEO of Regal, and Mr Nicholas Wong, Executive Director of Regal, after agreement signing at KOJADI in Kuala Lumpur. Photo: Company Regal International Group, through its wholly-owned subsidiary Temasek Regal Capital Sdn Bhd ("TRC"), signed an agreement on 11 Jan 2017 with Koperasi Jayadiri Malaysia Berhad ("KOJADI") for the issuance of RM 15 million worth of Redeemable Preference Shares with a guaranteed cumulative dividend for the whole tenure of 3.5 years.

KOJADI is a Malaysian co-operative set up to provide education and business loans. KOJADI has no voting rights or sharing of profits and distribution of capital in TRC or Regal.


The Group welcomes KOJADI's investment and support. In times of economic uncertainty, this agreement clearly denotes KOJADI's confidence in our expertise and track record as a quality property developer. Our partnership with KOJADI is a significant step forward in our renewed focus on building up our property development and related investment gateway businesses."

-- Dominic Su, Chairman and CEO of Regal
TRC will have the rights to redeem the preference shares upon maturity, or such earlier time as provided in the agreement, after the first year of issuance.

KOJADI's investment into Regal is an affirmation of the latter's strategic initiatives to build complementary business ventures around its core property business.

Regal said it is on the constant lookout to enhance its property development business by adding value to its development projects, innovating new applications of real estate and emerging as a builder developer that integrates real estate products into complementary ventures.


Oxley Holdings: Its wholly-owned subsidiary, Oxley Docklands Quay Limited, has entered into a lease agreement with National Treasury Management Agency ("NTMA") of Ireland.

NTMA will lease Levels 3 to 8 of Block D1, Dublin Landings for 25 years.


"We are honoured to have NTMA, a major government agency, as our first anchor tenant for Dublin Landings. It's an endorsement on its prime location in the central business district, and we are hopeful that NTMA, and the Central Bank of Ireland nearby, will attract other financial institutions to Dublin Landings and stimulate the leasing process.'



-- Oxley's Executive Chairman and CEO, Ching Chiat Kwong




The aggregate floor area (excluding the car parking spaces) under the lease is estimated at 7,700 sq m. The lease will commence from the handover of the premises, expected to be in Feb 2018.

Dublin Landings, Oxley's first development project in Ireland, was launched in Oct 2016.

The 2.35 hectare site is situated along Dublin's North Wall Quay, in the same block as Central Bank of Ireland's New Headquarters.

The project will consist of 65,000 sqm of flexible Grade A office and retail space, and 273 luxury residential apartments. The five new office buildings are expected to be delivered by 2020, and the construction of the first two buildings has started.