Excerpts from analyst's report
KGI Securities analyst: Joel Ng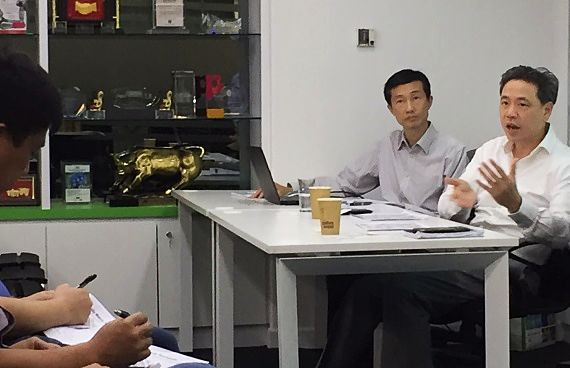 @ briefing: AEM chairman Loke Wai San (right) with CFO Soh Wai Kong.
Photo by Colin LumPositive momentum on new product commercialization
AEM Holdings (AEM) reported a 329% YoY rise in 3Q16 net profit, mainly due to increasing demand for its flagship high-density semiconductor test handlers. In an analyst and investors meeting last week, management shared about the industry and plans it has for 2017.


Stock price

75 cents

52-week range

25 – 77 c

PE

(ttm)

3.95

Market cap

S$32 million

Shares outstanding

42.9 million

Dividend yield


(ttm)

2%

Year-to-date return

169%

Source: Bloomberg
Although still in the early phase of ramping up production of its flagship product, we believe its growth prospects are positive from our understanding of the indicative orders from a leading major chip maker for the next five years. AEM's valuations are attractive, trading at less than half of comparable peers. We believe AEM's share price may have the potential to double over the next 6-12 months if it keeps up its latest performance.

Production of machines requires years of close working collaboration with customers
AEM designs and builds high-density semiconductor test handlers used by the world's leading chip manufacturers. According to the company, its machines allow significant quality and cost savings for customers.

Its machines are the product of 5 years of research and development investments, and it is now in the commercialization phase, where it expects to achieve substantial growth in 2017. We note that the customisation of its machines – requiring years of close collaboration with customers - makes it difficult for competitors to penetrate the same segment.


Improvement in financial performance over the last quarters.
The focus on
commercialising its high-density test handlers to customers is expected to see
improved profitability in 2017. AEM has already posted two consecutive quarters
of net profit growth. Trailing twelve months net profit is the highest in more than
ten years.

Order book has almost doubled within the last nine months, increasing
to S$45.5m as at 8 November 2016 from S$24.5m in March 2016.

AEM has a
healthy financial position (net cash position of S$8m as at end 3Q16), low capital
expenditure requirement, and is expected to generate positive cash flows from
operations.

Attractive valuations compared to peers.
AEM is currently trading at 3.9x historical P/E compared to peers' 67x historical average P/E and 13x forward average P/E.

AEM would be trading at 3.5x forward P/E, assuming an annualised 3Q16 net profit, representing an upside of >100% if it were to re-rate upwards as it continues to show bottom line improvement in subsequent quarters.

See our earlier report: AEM HOLDINGS: Bullish about sales of revolutionary chip-testing equipment