I'm an R&D engineer by training, and I've spent time in Silicon Valley investing in technology. When I met AEM a few years ago, they had one very good customer: Intel. In my experience with Intel, to become an Intel supplier, from an engineering perspective, you have to be of Olympics standard, you have to be world class."
-- Loke Wai San,
Non-Executive chairman,
AEM Holdings
(Photo by Leong Chan Teik)
AEM Holdings' share price has shot up 185% (from 26 cents to 74 cents) since the start of the year, buoyed mainly by the company's share buyback.

Is this also a business turnaround story?

That is the case, going by the management's presentation to investors last Friday, as AEM has started delivering to its key customer its revolutionary chip-testing equipment.

(AEM, which listed on the SGX in 2000, is in the business of designing and manufacturing equipment for the semiconductor industry. It does some other things but that is the core where the exciting story is).

With a proof of concept in 2008 for a project and co-developing it since 2013 with long-time customer Intel Corp, AEM has come up with what CEO Charles Cher, 54, said "is state-of-the-art technology, and like nothing that I've ever seen in my 25 years in the industry."

(His has been a long career, which included years as CEO of Singapore-listed semiconductor companies ASTI Holdings and Advanced Systems Automation.)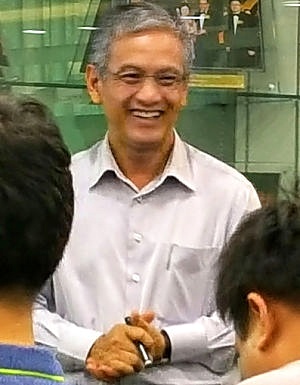 AEM Holdings CEO Charles Cher: He had retired as CEO of ASTI Holdings when he was asked to helm AEM in 2014.
Photo by Leong Chan TeikIn essence, all semiconductor chips are tested electrically before they are assembled into electronic devices such as computers, mobile phones and refrigerators.

Instead of testing one chip at a time with a single equipment, AEM's new platform has 30 testers.

Instead of being tested in three stages -- burn-in test, class test, system level test -- by three different types of equipment, the chips can be tested on one platform.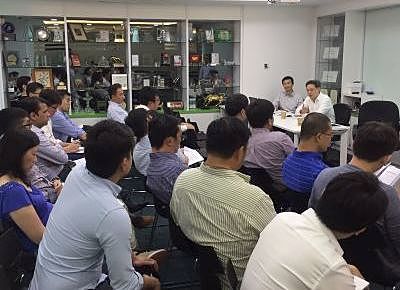 @ briefing: Chairman Loke Wai San with Finance Director Soh Wai Kong. Photo by Colin Lum Instead of different machines for testing chips for use in different types of products, AEM's platform can handle them all.

To test chips, the AEM machines can simulate extreme cold (-40 degrees), extreme heat (140 degrees) and ambient temperatures.

The upshot of all this is, testing cost becomes a fraction of what it is today, said Mr Cher.

AEM, which has discontinued the sale of its previous generation of testers, started delivering the new ones to Intel in 2015.

"We are trailblazing with our customer," said Mr Loke Wai San, the non-executive chairman of AEM and founder and MD of private equity firm, Novo Tellus Capital.

(Mr Loke is a Director of New Earth Group which manages Novo Tellus PE Fund 1, L.P., the sole member of Orion Phoenix which is the No.1 shareholder of AEM with a 27.3% stake.)

Each of the AEM machines - technical name: "high-density test handlers" -- sells for several million dollars. The one-off sale of capital equipment aside, in subsequent years there will be recurring income from selling consumables used with these machines.

Can the machines be copied? Unlikely, as there are lots of skills sets that go into developing them and the development time is several years, replied Mr Cher. In addition, the customer's (ie, Intel or any chip producer) input is vital for the development of the machine.

AEM owns the intellectual property rights, and has the right to sell such machines to other customers. But AEM is too busy building for Intel currently.


AEM is expanding its production capacity and increasing engineer headcount, which currently allow it to build "several machines per quarter".

Over the next 8-10 years, the new AEM machines potentially could replace the existing ones -- AEM's and competitors' -- in use globally.

AEM has sold about 700 tester machines over the past 10 years, with about 400 still in use.


Reflecting the rise in sales of the new AEM machines:

• For 9M2016, revenue from "equipment system sales" (which includes consumables for its previous generations of testers) increased by 65.9% to S$46.2 million.
• A

s of 8 Nov 2016, AEM had an order book of S$45.5 million, or nearly double the $24.5 million on 18 March 2016.


(P/S: On 9 Dec AEM updated that its orderbook had reached S$66.7 million.)
Asked about working capital needs, Mr Loke said the company had sufficient working capital (cash stood at $8.6 million
as at end-Sept 2016
) to support business growth.

And it has low borrowings (merely $106,000 as at end-Sept 2016).


♦ For the Powerpoint materials, click here.
♦ See also our recent article: AEM HOLDINGS: Frequent buyback sends stock up 129% YTD