The latter amounted to S$245,000 in 1H2016.

Why? More importantly, does this portend a turnaround to profitability soon?

Insiders appear to think so, judging by their buying of the stock in the past 12 months or so.



The fundamentals of Sitra's wood furniture business have improved, as shared by the management i

n an investor briefing:

1. Revenue has been growing, thanks mainly to new products sold to Europe and Asia.

2. Utilisation of Sitra's factory in Surabaya has improved substantially after Sitra began producing for Indonesian partners who, incidentally, supply the raw materials and thus do not impact Sitra's cashflow.

(In previous years, Sitra's cashflow was tied up in producing for its own export business, which crimped Sitra's ability to do what it has long been good at -- trading of wood products).

This 100%-owned factory on 2.8-hectares of land, which Sitra set up in 2008, suffered millions of dollars in losses a year, while Sitra's trading business was profitable.

3. Profits have finally come to the factory, in 1H2016. It continues to produce high-margin wood products for Sitra to export while Sitra relies on sub-contractors in Indonesia and Vietnam to produce lower-margin products.

4. What's special about the factory is it holds a licence for sawmill operations. Indonesia no longer issues such licences. The factory processes logs and goes on to produce semi-finished or finished wood products. These are the only types of exports allowed by Indonesia after it banned the export of raw timber.

5. Starting this year, Sitra has sourced for logs from Europe for sale to China which produces finished products for sale in Europe, where factory operations have become costlier.

From about 55% in the past, Europe accounted for about 70% of revenue in 1H2016.



About 90% of Sitra's revenue is denominated in USD, thus the appreciating USD vis-a-vis SGD is positive for Sitra.


Over the last three half-year periods, Sitra Holdings' revenue has been climbing, operating costs have come down and net losses have dwindled.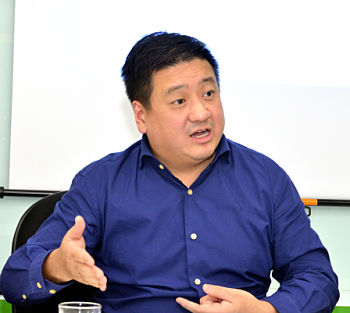 Steven Chew, executive director and deputy CEO, Sitra. Photo by Sim KihWith its factory and furniture trading business in good shape, Sitra is venturing into a new area for further topline and bottomline growth.

In July 2016, it announced it would venture into the trading of agricultural products through a 24-76% JV with an Indonesian partner.

The products include coffee beans, corn, sugar and wheat, sourced from overseas and sold to Indonesian customers.

It's a back-to-back trading arrangement without inventory risks.


During the downturn years, Sitra insiders bought the company's stock as it slid. From 2.6 cents at the start of 2014, the stock sank to as low as 0.8 cent in Aug 2015.


Stock price

1.8 c

52-week range

0.7 - 2.0 c

Market cap

$13.5 m

Price Earnings (ttm)

-

Year-to-date return

39%

Dividend yield

-

Source: Bloomberg
One good way to understand the insiders' confidence is to consider the valuation of the two main assets of Sitra:

• The Surabaya factory is valued at about S$4 million,

• Sitra's 10% equity stake in World Furnishing Hub in Sg Kadut, which recently achieved T.O.P, is valued at S$10 million. (For background on the project, see announcement)

In aggregate, the two assets are worth S$14 million, or 1.78 cents per Sitra share. That's about where the stock recently traded at.

Thus, an investor buying Sitra's shares would be getting the hard assets while the business -- which has been whipped into shape and is expected to turn profitable -- comes free.