Nordic Group 3Q2016 results: Revenue was flat but profits and gross margins were up by 10% and 3.0 percentage points, respectively.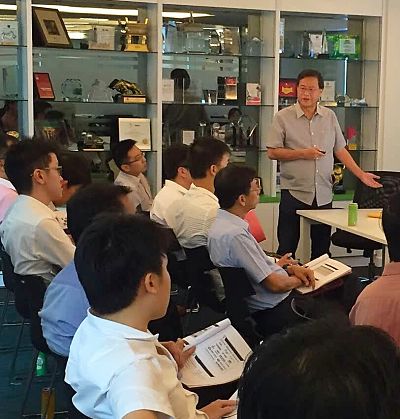 Chang Yeh Hong, executive chairman of Nordic Group @ a 3Q16 briefing.
Photo by Colin LumIn 3Q2016, revenue dipped by 1% to $21.4mn but profit increased by 10% to $3.5mn. For 9M2016, net profit increased by 23% to $8.9mn, outpacing the 6% revenue increase to $63mn.

The downturn in the marine, oil & gas industry has hit Nordic as partially reflected in the 12% fall in revenue in the project services segment. This segment includes system integration work for shipbuilders and shipowners which accounted for 43% of the revenue of the group in FY2015 but fell to 22% in 9M2016.

But that has been mitigated by projects undertaken by subsidiaries MultiHeight Scaffolding and Austin Energy for oil majors, resulting in only a 12% fall in the project services segment.

The bright spot is the maintenance services segment, whose 3Q revenue jumped 50%. This is recurring business: Subsidiaries MultiHeight Scaffolding and Austin Energy provide scaffolding and insulation services, respectively, for the assets of some oil majors in Singapore.

The results, including improved margins, reflect the contribution of Austin Energy, which was acquired in June 2015.

Balance sheet: Thanks to its strong cashflow, in the first nine months of the year, Nordic paid off around $7mn bank borrowings out of the $20 million taken last year to help pay for the Austin Energy acquisition.
Stock price

23 c

52-week range

16.5c-28 c

Market cap

$91 m

Price Earnings (ttm)

7.4 x

Year-to-date return
22%

Dividend yield

5.16%

Source: Bloomberg
The company, said Executive Chairman Chang Yeh Hong, has made it a point to ensure that the cash reserves ($34.6mn, as at end-Sept 2016) match its borrowings ($33.4mn).

Asked if Nordic has collection challenges with clients in the marine, oil and gas industry, Mr Chang said the company had taken steps early to ensure full collection, and thus expects minimal impairment risks for its receivables.

Going forward, Nordic's outstanding order book has drastically reduced from $39.2mn as at end-2015 to $26mn as at end-Sept 2016 due to the slump in the marine, oil & gas industry.

Note that the order book does not include the value of maintenance contracts from scaffolding and insulation services as they are contracted at unit rates and do not have contract values upfront.

"I don't see any benefit from that. Nordic is too undervalued for you to buy me out now. The funds would like to pay a certain premium to the current market price but would shareholders be happy with that? I don't think so."

-- Chang Yeh Hong, on why he has declined takeover suggestions so far.


(NextInsight file photo)
The total number of newbuild orders globally has substantially reduced from approximately 500 vessels per month in 2014 to 43 vessels per month.

Reacting to the slump, Nordic plans to right-size its systems integration business while looking for expansion beyond marine to "general industries" and the petrochemical industry – using the same skill sets. Stay tuned for some progress reports, said Mr Chang optimistically.

Though the share price of Nordic has risen about 22% year-to-date, Mr Chang confidently pointed out that it continues to be undervalued.

"We are very undervalued. The P/E today is 7-8 times, for a company growing every year at 20%. It should be in the mid-teens....It's too bad we are in the oil & gas sector, we are pulled down by the rest."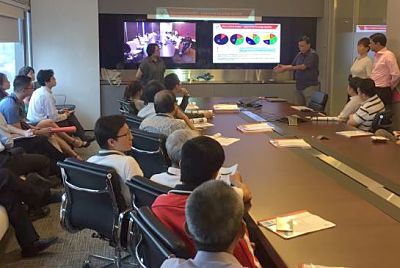 Chang Yeh Hong, executive chairman of Nordic Group, and Dorcas Teo, CEO of Nordic Flow Control, @ another 3Q16 briefing.
Photo by Colin LumMr Chang revealed that several funds in Singapore and from overseas had broached the idea of buying out Nordic but were declined.

Reflecting the undervaluation of the stock, Nordic and some of its directors have been buying back its shares since September 2014.

The total shareholding of the three executive directors has increased from 68.25% in 2010 when the IPO came up to 72.75% as on 31st October 2016.

For more info, see the Powerpoint materials.