Mervyn Sim, a vice-president of equity sales at Maybank Kim Eng, contributed this article to NextInsight.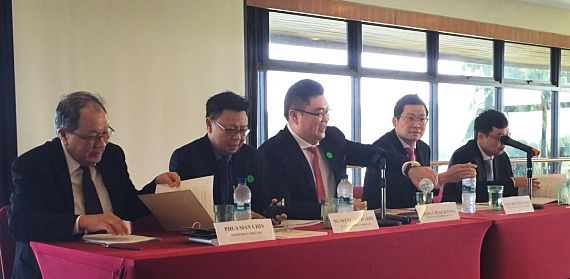 L-R: Phua Sian Chin (Independent Director) | Harry Ng (ID) | Ching Chiat Kwong (Executive Chairman & CEO) | Eric Low (Deputy CEO) | Lim Yeow Hua (ID). Photo by Romil Singh


Time & date: 10 am, 28 Oct 2016.
Venue: Raffles Country Club, 450 Jalan Ahmad Ibrahim.

Oxley Holdings is expected to report record profit (see RHB report) in the current FY2017, due to the completion of two commercial projects, Oxley Tower and The Flow, and also due to contribution from Royal Wharf Phase 1.

In the latter project, several townhouses have already been handed over to buyers and a major handover is scheduled after the year-end holiday season.

I decided to attend Oxley's FY2016 AGM to gain further insights from Executive Chairman & CEO Ching Chiat Kwong and Deputy CEO Eric Low.


Here are six takeaways from the AGM: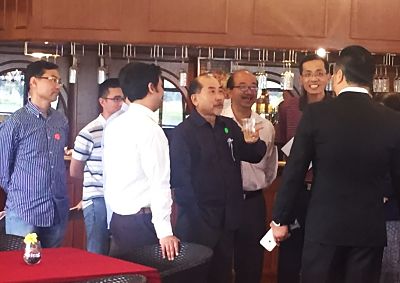 Executive chairman Ching Chiat Kwong fields questions from shareholders. (Ditto pic below)
Photo by Reyna Mei1. A shareholder was concerned that Oxley was overextending itself with its many huge projects, citing the potential 3 million sqft Chongqing Medical Hub project where Oxley had entered into a Strategic Cooperation Framework Agreement.

Mr Ching responded that Oxley is actually not a big risk taker and has a strategy of cooperating with local partners. Oxley will work with landowners and take charge of conceptualization and marketing, which reduces its capital outlay. This model is adopted in Dublin, Myanmar, Batam and some Malaysian projects. Oxley will not undertake the Chongqing project alone, other partners will contribute funding.

2. Responding to a question on whether Oxley will face problems should bond market conditions be unfavorable for future fund raising, Mr Ching said that there are many ways to raise financing for projects. It is now concentrating on execution and paying down existing bonds.

Mr Low remarked that they were lucky to issue bonds 2 to 3 years ago to fund the Royal Wharf project. Now, several big projects in Singapore are approaching TOP and cash will flow in to pay for the bonds.

Cashflow from Royal Wharf will also be strong and can cover any payment needs. In addition, Oxley has many unencumbered land parcels in Cambodia and Malaysia. Space@Tampines could be further pledged as collateral and the Japan property is unencumbered too. $100m to $200m could be raised from these collateral if required.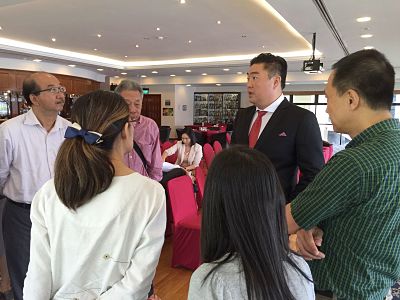 Photo by Mervyn Sim
3. Oxley recently launched Dublin Landings, comprising 700,000 sqft of office/retail space and 273 apartments. The first two out of five office buildings should be completed by end 2018 with the entire project completed by 2020.

Mr Low expects this project to contribute significantly over the next few years. The office buildings may be sold to funds which will allow Oxley to recycle its capital.

4. The next launch, in Batam at end November, is Oxley Convention City, which comprises office, hotel, retail, residential and convention space. Mr Low estimates that about 500 of the 1635 residential units will sell at the initial launch primarily to Indonesians, with pricing at S$180 to $200 psf. Buyers in Indonesia, Cambodia and Myanmar typically pay in cash as interest rates are high.


Oxley Holdings

Share price:
46.5 c
Target:
85 c


Source: RHB
5. On Oxley's plans in Australia, Mr Low said that Australian projects takes up more capital as buyers pay only 10% (which the developer cannot touch), with the balance paid at completion. To mitigate risk, Oxley prefers to undertake projects up to 20 storeys rather than high-rise skyscrapers, for a quicker turnaround. Mr Ching said that Australia is a good market and Oxley will issue an update soon.

6. A shareholder lamented that the location of Oxley's AGM was akin to "Siberia" or "Timbuktu"! Oxley had been holding its AGMs at Raffles Country Club since its listing. Mr Ching replied that next year's AGM will be held at Oxley's new hotel, currently under construction, in Stevens Road at the site of the former Pines Country Club (click here for pictures and text).