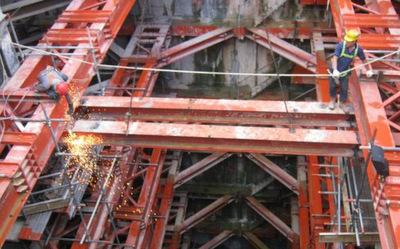 Yongam's strut systems are its key assets. Their high replacement cost are major barriers to entry by competitors. YONGNAM HOLDINGS is proposing a rights issue of 1 for 2 at $0.21 per rights.

Without giving a specific purpose, the company said that the proceeds will strengthen its balance sheet and use the proceeds for working capital.

The share price gapped down yesterday. Obviously, market is unhappy with the rights offering.

At the current share price, its theoretical ex-rights price is $0.27. The rights issue will dilute its NAV per share from $0.94 to about $0.70.

In FY2014, the company incurred a loss of $8.5 million. In FY2015, the company made a profit of $6.4 million or 2 cents a share.

For Q1 2016, its reported profit was $1.2 million.

Going forward, prospects may be a challenge and whether the company's profit can be on par with that achieved in FY2015 is questionable.

Borrowings total $129 million and, most likely, the rights proceeds are to repay part of the $69 million of borrowings maturing within a year.

In this case, if a call for cash is not utilised to fund any specific expansion that will generate additional profits, the market would not react well to its share price and a selldown will occur once the announcement is made.



Prior to his retirement, Chan Kit Whye (left) worked more than 30 years as Regional Finance Director, Financial Controller and Manager in a multinational specialty chemical business. He has played an active role in CPA (Australia) Singapore Branch, taking up positions in its Continuing Professional Development and Social Committees. Kit Whye is a Fellow of CPA Australia, CA of Institute of Singapore Chartered Accountants and CA of the Malaysian Institute of Accountants. He holds a BBus(Transport) Degree from RMIT, MAcc Degree from Charles Sturt University and MBA from Durham Business School.