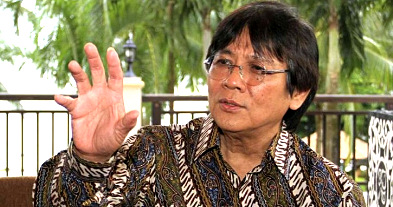 Multi-billionaire Anthoni Salim.
Photo: Profilbos.comChinese water treatment companies have emerged as market darlings on SGX.

Now there is a small water play based in Indonesia -- Moya Holdings Asia -- which a big Indonesian tycoon has taken control of.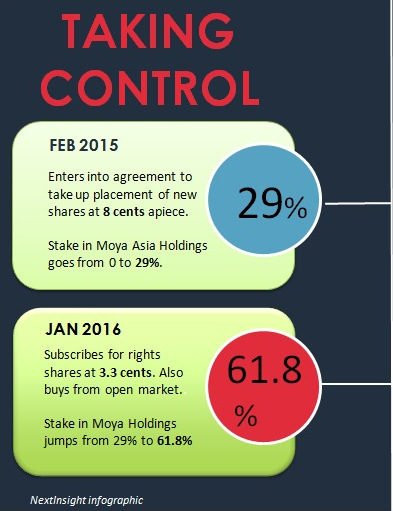 In less than a year, Anthoni Salim has taken control of Moya Holdings using S$74 million cash -- through a subscription of new shares and through a rights issue (see infographic).

That works out to a cost per share of 4.3 cents, while the stock price recently was 3.9 cents (translating into a market cap of S$109 million).

The share price has shot up recently from a 52-week low of 3.0 cents.

Mr Salim's involvment is through a series of companies. Firstly, he is the controlling shareholder of PT Tritunggal Intipermata which, in turn, is a controlling shareholder of another company.

And so it goes for another six companies until we reach Tamaris Infrastructure, in whose name the Moya Holdings shares are held.

So in the space of less than a year Moya Holdings finds itself with loads of cash in hand from, mainly, a change of controlling shareholders.

The proceeds were earmarked mainly to be deployed to Build-Operate-Transfer (BOT) waters supply projects which Moya Holdings is developing in Indonesia.


Moya Holdings has three 25-year BOT projects in Bekasi Regency, Tangerang and Makassar, which were secured in August 2011, February 2012 and August 2013, respectively.

The Salim connection already has an interest in this industry.

In an announcement on the share placement, Moya Holdings said Tamaris Infrastructure is part of an Indonesian-based group which is presently principally engaged in the investment, development, construction and operation of hydroelectric power plants.


The Flip Side
1. Previous controlling shareholder Moya Holding Company B.S.C. did not subscribe for its rights entitlement. The Bahrain-based shareholder's stake in Moya Holdings Asia was consequently diluted from 38.4% to 17.4%.
2. Moya Holdings Asia's revenue sharply declined in 2012-2014, resulting in losses. In 2015, revenue inched up 7% to $9.82 million, with a small net profit of $625,000.
3. From 2015, Moya's business comprises 3 BOT water projects in Indonesia – nothing else.
4. BOT projects are capital intensive. The payback is not quick but steady over a long period.
5. Any new BOT projects clinched by Moya Holdings could require fund-raising from shareholders.
"The Indonesian-based group considers that the subscription would be in line with its desire to become a utilities company and would complement its existing business which involves the production of electricity from water resources."

Moya Holdings added that it expected Tamaris Infrastructure "will add value in improving the Group's execution of its projects and to secure new projects."

Secure new projects? If this materialises, Moya Holdings might start to look interesting to stock market investors who have chased up Chinese water plays such as China Everbright Water and Citic Envirotech.