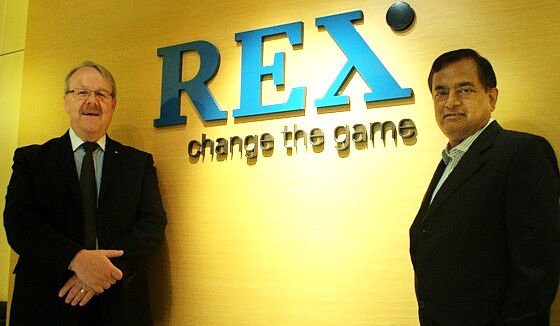 Rex International plans an aggressive oil drilling exploration program with technology years ahead of its peers'. It has well-known experts on board like co-founder Hans Lidgren (left) and geo-scientist Dr Rabi Bastia.
Photos by Leong Chan Teik

Lower oil prices have resulted in lower exploration costs, as demand for offshore vessels and supporting logistical services decreased.
The cost of some exploration items this year is only half of what it was last year, thanks to a fall in vessel and rig charter rates and other related expenses.
With crude oil prices half of what they were a year ago, Rex International has decided to focus on exploration instead of production or sale of oil reserves.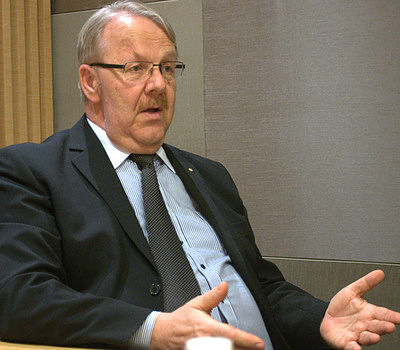 Rex co-founder Hans Lidgren is an oil exploration expert who paved the way for major findings such as the Haltenbanken area in Norway and the Bukha field in Oman. He developed Rex Technologies, comprising Rex Gravity, Rex Seepage and Rex Virtual Drilling.
"The current environment of low oil price is a window of opportunity for exploration work at a much lower price to fill up our well discoveries," said Rex International co-founder and major shareholder Hans Lidgren.
Mr Lidgren was speaking at a media conference at the Group's office in Singapore on Tuesday.
"With the money we currently have, we can do twice as much as what we could have done before the oil price slump," he said.
The Group has roped in distinguished seismic geo-scientist Dr Rabi Bastia to head a task force to search for giant oil fields that could be its future drilling pipeline.
An oil and gas field is considered giant if it contains at least 500 million barrels of ultimately recoverable oil & gas or equivalent.
Geo-scientists believe that these giants account for 40% of the world's petroleum reserves.
"We believe, with a high degree of confidence, that we can find, much more easily, these large oil fields," said Kristofer Skantze, Rex International's Chief Operating Officer at the briefing.
Dr Bastia received India's Padma Shree award for discovering one of the nation's largest gas reserves (at Krishna Godavari Basin).
With Dr Bastia on board, the Group adds top level competence in its continuous efforts to marry the merits of traditional seismic geology with Rex International's breakthrough technology in its exploration ventures.
"If oil prices go up again in the short term, we expect to have more oil reserves in our portfolio to sell," said Mr Lidgren.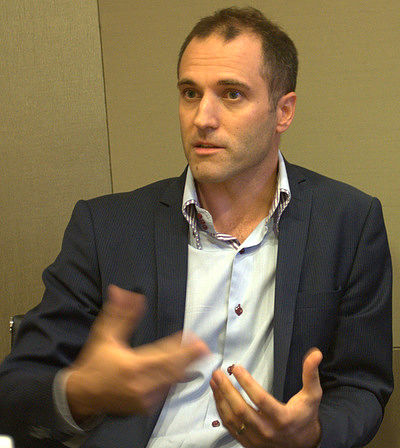 Kristofer Skantze, Chief Operating Officer, Rex International.
Ambitious programme to drill up to 10 wells this year

"We have many exploration activities in Norway in 2015 and this is the result of the pre-qualification approval (of our jointly controlled entity in Norway) by the government and subsequent high-grading work using Rex Virtual Drilling on assets we've been looking at," said Mr Lidgren.

"The drilling technology there is very mature, so it is comparatively safe ground to be in," said Mr Skantze.

"This is a very good opportunity for us to demonstrate the capability of Rex Virtual Drilling and our other proprietary exploration technologies.

"Norway's a very favourable region to be in because of a 78% tax subsidy from the government on your expenses in oil exploration, regardless of whether you make a discovery or not.

"But you have to be a pre-qualified company, which we are."
Over 2015, the Group intends to participate in exploration drilling of 6 Norwegian concessions with gross unrisked prospective resources of about a billion barrels of oil.
Of this, about 100 million barrels are net attributable to Rex International (in proportion to its equity stakes).
These concessions were chosen as they met strict criteria in the probability of oil recovery, after the Group analyzed over 100 concessions.
"Our exploration programme to drill up to 10 wells this year, focusing on identifying and proving up new prospects, is extremely ambitious," said the COO.
"To put this in perspective, we are on par in terms of activity level with companies 10 times our size," he said.
"In addition to Norwegian concessions, we will also be drilling in Trinidad and Oman where we are still working on identifying how much oil there is.
"We are in this with very reputable companies and we have entered on very favorable terms. They want us to be in on it because we have the technology that can add value to the consortium.
"In general, we don't participate in drilling prospects unless there is potential for at least 50 million barrels of recoverable oil."
He added that Rex has sufficient funds to support its drilling programmes through 2015 and next year.