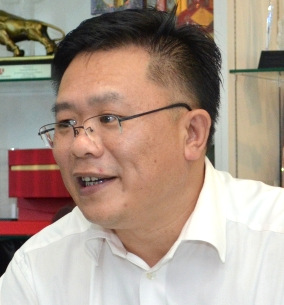 CITIC Environment Protection Investment President Webber Hao will be appointed as UEL's non-executive chairman post merger.
Photo by Ngo Yit SungCHINA'S LARGEST conglomerate CITIC is committed to making United Envirotech (UEL) a PRC bellwether in water and wastewater treatment, riding on government policy to develop the sector and improve water quality in the country.

By market capitalisation, UEL currently is not up there yet with its S$1.6 billion value, compared with about S$2.5 billion for China Everbright Water and about S$10 billion for Hong Kong-listed Beijing Enterprises Water Group.

CITIC'S commitment to grow UEL is evidenced by its capital injection of more than S$800 million into CITIC Environment Investment Group this year, according to CITIC spokesman Webber Hao.

Mr Hao, who is President of CITIC'S water and wastewater business platform, CITIC Environment Investment Group, was speaking at a media briefing in Singapore on Wednesday.

CITIC Environment Investment Group became UEL's controlling shareholder on 1 April, with an interest of 60.24% in UEL jointly held with KKR China Water Investment Holdings.


With CITIC'S financial muscle as backing, UEL has committed to a spate of projects with total investment cost amounting to over half a billion Singapore dollars (Rmb 2.4 billion) in the past half a year.

» Wastewater treatment in textile hub

On 8 April, it announced it had secured TOT cum BOT projects in a major textile hub in Hebei (Gaoyang county) valued at Rmb 800 million.

Known as Bishui Lantian, the latest project enables the Group to penetrate the wastewater treatment market in the Hebei region.

The TOT project will be acquired for Rmb 500 million and add daily capacity of 200,000 cubic meters of industrial wastewater treatment and 20,000 cubic meters of recycled water.

The BOT project is estimated to cost Rmb 300 million and will add daily capacity of 60,000 cubic meters using MBR technology and 40,000 cubic meters using CMF and RO technology.

The Group inked two major deals on 26 March when CITIC'S takeover offer was made unconditional: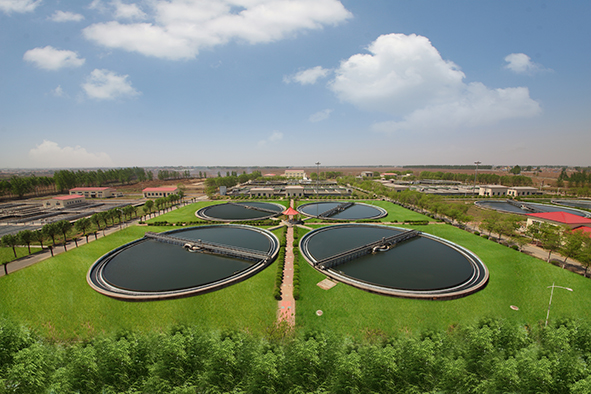 UEL's MBR project for treating municipal wastewater in Liaoyang, China. Photo: Company

» CNOOC petrochemical hub

A framework agreement was signed with CNOOC where UEL will invest 49% in a Rmb 1 billion integrated wastewater treatment facility for CNOOC's petrochemical hub in Guangdong.

» Industrial wastewater treatment in Xinjiang

On the same day, UEL also signed an agreement to undertake a BOT project for an industrial wastewater treatment plant in Xinjiang at an investment cost of Rmb 300 million.

» Membrane module facility

On 24 November last year, it signed a JV agreement with Beijing Drainage Group where UEL will invest 49% in a manufacturing facility for assembly of membrane modules. The factory will be set up with an initial investment cost of Rmb 120 million.

» Penetrating western China

On 10 October, it signed a framework agreement with Chengdu Xingrong Investment where UEL will invest 49% in a JV in Sichuan to provide EPC services using UEL's proprietary MBR and CMF technology as well as invest in water treatment projects in western China.

The total value of the first block of projects in the JV has been estimated to exceed Rmb 1.5 billion, involving the expansion and upgrading of wastewater treatment plants and recycling of treated wastewater with a combined daily capacity of one million cubic meters.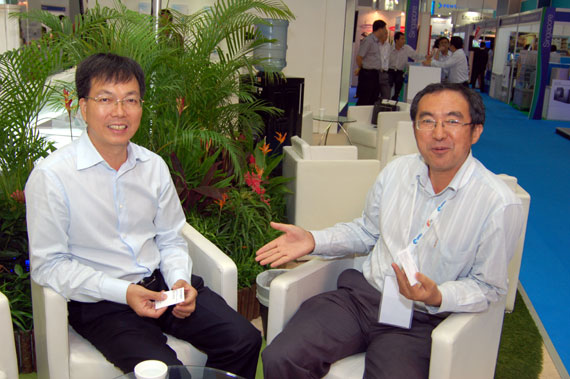 UEL founder Dr Lin Yu Cheng (left) and Memstar founder Dr Ge Hailin (right), are membrane technology experts in the UEL group that made the industrial wastewater treatment specialist very attractive to CITIC as an acquisition target.
NextInsight file photo CITIC intends to retain UEL's SGX listing status and management continuity. UEL founder, Dr Lin Yucheng, will remain on board as CEO.

On Thursday, Maybank Kim Eng analyst Wei Bin maintained his 'Buy' call on UEL with a target price of S$1.93.

This translates into a 17% upside based on the stock's closing price of S$1.65 on Thursday.

Mr Wei believes UEL can enjoy synergies from CITIC's other businesses and the new parent company will lower its funding costs.

CITIC'S general offer to acquire UEL shares at S$1.65 each closes next Thursday (16 April).