Excerpts from analyst's report


Maybank Kim Eng analyst: Wei Bin

√ 3QFY3/15 beat on higher engineering revenue & external membrane sales. 9M EPS at 79% of our FY15E.

√ CITIC's involvement could be game changer, providing catalysts.

√ Maintain BUY & SGD1.93 TP, at 27x FY3/16E PER, a 10% discount to peers.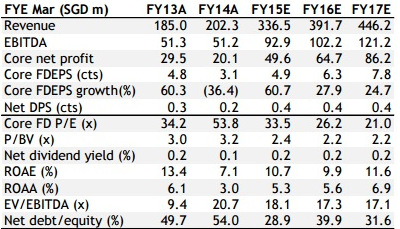 Broad-based growth beat expectations
3QFY3/15 results beat market and our expectations on higher engineering revenue. Revenue grew by 81% YoY and core net profit grew 37% YoY.

9MFY3/15 EPS formed 79% of our FY15E. Growth was broad-based. Engineering revenue leapt 74% YoY to SGD77m, much higher than our estimate of SGD50m.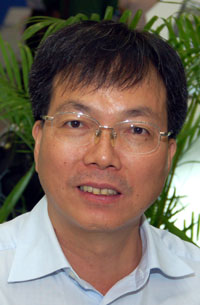 Dr Lin Yucheng, CEO of United Envirotech. Water-treatment revenue grew 37% YoY from newly-acquired concessions and Memstar contributions. 9M external membrane sales of SGD24m also beat our expectation.

BUY on game-changing CITIC deal
We continue to believe CITIC's involvement will be a game changer for the company. UENV might change its business model, harness CITIC's connections to secure more engineering projects and acquire more water assets.

Balance-sheet strength after the deal could also help to lower its finance costs.

As the surprise in the results was mainly from the engineering division, which tends to be volatile on a QoQ basis, we leave our EPS alone for the next three years.

And as we have not factored in any potential positive impact from CITIC yet, our FY3/17 number has potential for upgrading when CITIC clarifies its plans for UENV.

Maintain BUY and SGD1.93 TP, at 27x FY3/16E PER. This represents a 10% discount to peers for its current smaller recurring income base.