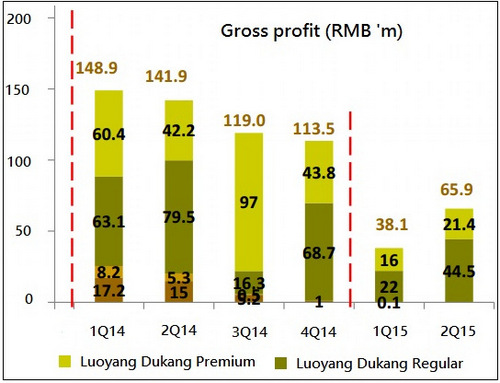 Sales of Dukang's baijiu, like those of other baijiu producers, have been hit by the government's austerity drive.
THIS CHART captures some of the essence of baijiu producer Dukang Distillers' recent business performance:

1. Gross profit in 2QFY15 (the Oct-Dec 2014 period) soared 73% quarter-on-quarter -- but it was way below the 2Q figure of a year earlier.

Somewhat similarly, revenue in 2QFY15 showed a positive improvement -- rising 11.6% quarter-on-quarter to RMB231.6 million. But it was 42.5% lower year-on-year.

2. Contribution from Dukang's Siwu series of baijiu (in brown, in the chart) virtually disappeared in the past two quarters as Dukang stopped production of this brand, diverting its grain alcohol and production capacity and advertising dollars to the Dukang series.

Bottomline: Dukang returned to profitability -- from a RMB29.5 million net loss for 1Q2015 to a RMB3.7 million profit attributable to shareholders in 2QFY15.

Dukang cut its advertising & promotion (A&P) expenses in the past two quarters to 17.8% and 14.2% of sales, respectively. In comparison, the figure for the entire FY2014 was 22.6%.

The A&P dollars were spent in its home market of Henan province while it reduced its television commercials on state broadcaster China Central Television.

Dukang generated positive cashflow, particularly in the 2QFY15, resulting in a RMB21.7 million increase in 1HFY15 in its cash balance to RMB412.9 million.

And this was after repaying RMB42.3 million in bank borrowings.

The management gave the following take on the state of the business as follows: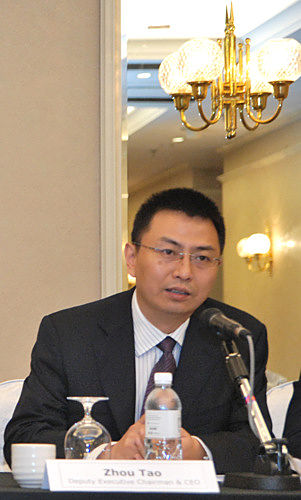 "The baijiu industry remains challenging due to the impact of the continuous austerity measures in China. Despite a slight reversal in the sales trend for 2Q2015, which typically is our peak sales period, it is still too early to tell if the entire industry will pick up this year.

"The baijiu industry is still in the adjustment phase, where the sector will continue to see volume and profit decline. Apart from streamlining the product mix to target the mid-end market, some industry players also resorted to protect selling price by not growing their volume.

"The consequence of these attempts is still unclear, we will need more time to assess the situation. In the mean time, the Group will continue to focus and protect our home market while expanding our grain alcohol production capacity cautiously."

-- Zhou Tao (right), Chairman and CEO of Dukang Distillers. File photo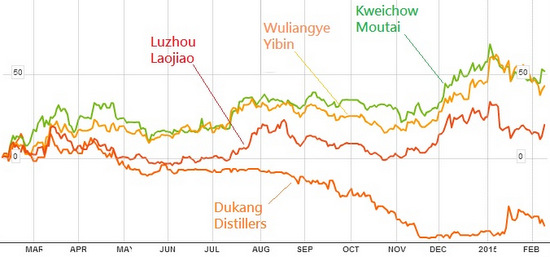 Chart compares the stock price performance of Dukang and its China-listed peers in the past 12 months. Chart: Bloomberg

The chart shows that Kweichow Moutai and Wuliangye Yibin have strongly recovered in their share price performance in the past 12 months. These are the leading baijiu brands in China and are multi-billion dollar companies.

A closer comparable to Dukang, in terms of product pricing, is Luzhou Laojiao, which has a market cap of about S$5 billion -- way above Dukang's S$106 million.

Luzhou Laojiao's share price also has enjoyed some recovery -- though relatively less significant -- since 4Q2014.

These three China-listed companies were buoyed by the surge in Chinese stock indexes in 4Q2014 with the launch of the Stock Connect scheme allowing foreigners anywhere in the world to buy Shanghai-listed shares for the first time.

The trio trade currently at a trailing PE of about 14X. Dukang, in comparison, has no PE as it was loss-making in the past year.


For more details on Dukang's 2QFY15 results, see its Powerpoint resentation material.

Recent story: @ DUKANG DISTILLERS' AGM: What happened to the baijiu market?