Time & date: 2.30 pm, 28 Oct 2015.
Venue: Pan Pacific Hotel.



DUKANG DISTILLERS recognised a non-cash impairment loss of RMB471.7 million on its property, plant and equipment in FY2015 (ended June).

It's a massive figure which contributed to the bottomline loss of RMB561.4 million attributable to shareholders.

Not surprisingly, some shareholders queried the directors on this.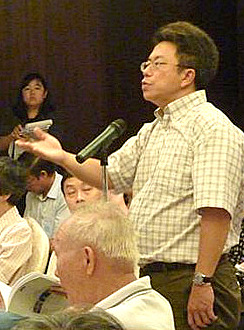 Shareholder Ng Kwong Chong. NextInsight file photo"If goods have fallen in market price or have turned bad, they can be written down. But leasehold buildings and plant and machinery can be useful for a long time -- yet you have written down about half of your production assets. Why the severity of the impairment?" asked shareholder Ng Kwong Chong.

The Q&A on this topic provides accounting insights which will be useful when investors encounter other companies which recognise impairment on their assets.

The backdrop to the impairment is the sharp fall in Dukang's baijiu sales owing to the government clampdown on conspicuous consumption in the civil service, and due to the economic slowdown in China.

(Dukang's revenue fell 40.5% to RMB863.4 million in FY2015).

Financial controller Ho Hin Yip said management had to carry out an impairment assessment of the company's non-current assets, which is in accordance with accounting standards. Dukang also engaged an international independent surveyor for this purpose.

The poor performance translated into poor economic value of the assets -- mainly property, plant and equipment -- of Dukang.

"When the recoverable amount of non-current assets is lower than the carrying amount, an impairment loss has to be recognised," said Mr Ho.

Shareholder John Chan asked incredulously why RMB30 million of machinery was purchased in FY14, yet the impairment has resulted in Dukang's entire plant and machinery being accorded a net carrying amount of only RMB15.7 million as at end-FY15.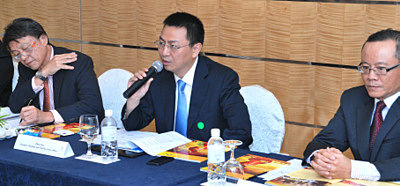 L-R: Calvin Tan (lead independent director), Zhou Tao (Executive Chairman/ CEO) and Jack Chia (Independent Director).
NextInsight file photoCalvin Tan, lead independent director, replied that machinery is depreciated and, if it cannot deliver the expected economic value because of an industry slump, its market value will be marked down.

Shareholder John Chan further questioned why Dukang's leasehold buildings -- which suffered the brunt of the PPE impairment -- was written down from RMB802 million to RMB351.7 million.


| | |
| --- | --- |
| Stock price | 9.6 cents |
| 52-week range | 8 – 19.1 cents |
| PE (ttm) | - |
| Market cap | S$79.8 million |
| Net asset value | S$317 million |
| Price/book | 0.25 |
| Dividend yield | - |
This far exceeded the 'normal' 10-20% fall in property prices in China. He asked: Did property prices in Henan province (which is Dukang's key area of sales and operation) crashed 50% in FY15?

Calvin Tan replied that "it's a timing issue" as Dukang has moved to a new production site and the new site did not contribute to the economic value as yet.


people generally know the extent of the fall in residential property prices but Dukang's leasehold buildings on its balance sheet are niche assets for Dukang's production of baijiu -- and they take a larger hit when the industry suffers a downturn or when they do not contribute sufficient economic value. Andrew Lam (photo), a director from auditor firm BDO Hong Kong, pointed out that
Mr Lam added that a "more general item such as land" would not require a huge impairment -- as can be see in the value of Dukang's land use rights.
Shareholder Ng Kwong Chong asked the auditor if a reversal of impairment would be recognised if the baijiu market recovers in the future. The answer, most reassuringly, is yes.