PSL HOLDINGS is sitting on about S$44 m cash, including a US$6 million deposit already paid for the purchase of a stake in an Indonesian business.

In comparison, its market cap stands at S$24 million (based on a recent stock price of 6.1 cents).


After two years as chief investment officer at Geo Energy Resources, Mark Zhou, 32, (photo) was appointed an executive director of PSL Holdings in Jan 2015.
He is the only executive director in PSL, which effectively makes him the CEO -- a position he is expected to be appointed to after the completion of the purchase of a 49% stake in PT Momentum Indonesia Investama.

He and his team have been working on structuring a deal to buy into Investama.
This is to reflate PSL's business performance from next year, reversing two consecutive years of losses (assuming FY15 will end in the red).

PSL has shed a few subsidiaries from its legacy business in the construction sector and now operates a scaled down operation which the group intends to hold on to.
US$11.5 million of the cash pile will be put to good use if shareholder approval is secured next Wednesday (Nov 18) at an EGM.

PSL intends to purchase a 49% stake in an Indonesian marine logistics business, PT Momentum Indonesia Investama, which has net tangible assets as at March 2015 of US$10 million.

Its relatively young fleet (average age: 3 years) of 12 sets of tugs and barges have been independently assessed to be worth US$47.4 million as at Aug 2015.

Compared to their book value, there is scope for a revaluation surplus of about US$17 million.

Investama will come with a personal guarantee (by the two Investama vendors) of US$3.0 million in annualised net profit attributable to PSL Holdings for two 12-month periods following the completion of the sale and purchase of the 49% stake.

The guarantee implies that Investama is expected to achieve at least US$6 million a year in net profit.

This looks daunting considering that Investama reported only US$254,425 in profit for FY2014 and US$384,114 in FY2013.

However, following the completion of PSL's purchase, there will be substantial finance cost savings (US$1.5 million in FY2014) for Investama as its entire debt will be paid down via the following ways:

* Of the US$11.5 million payable to the two Investama vendors, US$8.5 million will be used to pay down the company's debt; ie, the vendors extend a shareholder loan to their company;

* PSL will also extend a shareholder loan of US$11.5 million to Investama for clearing the remaining debt.

What should be clear now is that Investama is over-leveraged but has a positive cashflow business. PSL, on the other hand, has a diminishing operating business but loads of cash. The two are coming together to ride an expected wave of business in Indonesia.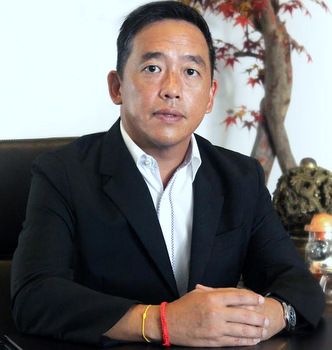 Sudirman Kurniawan, 47, will run the daily operations of Investama. Photo: CompanyGiven the US$3 million a year profit guarantee, the return on PSL's US$23 m purchase consideration and shareholder loan can be said to be 13% p.a., according to Mark Zhou, an executive director of PSL Holdings.

Aside from finance cost savings, Investama's profitability will get a boost from Janauary 2016 as it has secured a five-year freight charter agreement with Geo Coal International Pte. Ltd. with a contract value of US$33 million.

Asked about the impact of the current weakness in coal prices, Mr Zhou told NextInsight that domestic demand has actually been strong, so coal prices for domestic sale have fetched better prices than coal for export.

At any rate, coal prices have little direct impact on Investama, as it makes money from providing transport for coal and this is largely done from a jetty to a power plant or to a mother vessel.

Going forward, Investama's financial performance will be fully consolidated into PSL Holdings, which will have day-to-day control of the operations.

Investama's operations will be headed by one of the share vendors, Mr Sudirman Kurniawan, 47, whose stake in Investama will be reduced to 10.20%.

He will become an executive officer of PSL where, interestingly, he is the No.1 shareholder with a 7.03% stake -- a stake which largely came from share purchases he made in 2014.

The financial adviser to PSL, Tata Capital Markets, said in a circular to PSL shareholders that it is of the view that the proposed acquisition "is on normal commercial terms and is not prejudicial to the interest of the company and its shareholders."
Growth prospects of Indonesian marine logistics business

Investama operates in Indonesian waters, transporting coal for its customers who are from the coal mining industry.
The volume of coal for domestic transportation looks set to rise. PSL's circular to shareholders cites the following factors:
1) The Energy and Mineral Resources Ministry (ESDM) of Indonesia expects the country's coal consumption by the industrial sector to recover in 2015.
2) Domestic coal consumption was targeted at 95.55 million tons in 2014. Of these, 85% were to meet the demand of the state electricity company while 15% was allocated to industrial sector.
The government will reduce coal export allocation while coal domestic obligation will be increased from 22% in the current year to 60% of coal production in 2019.
3) President Joko Widodo has launched an initiative to build power plants in Indonesia with an aggregate output of 35,000 MW within his five-year term. This is an 87.5% growth in Indonesia's current power production capacity of 40,000 MW per annum.
The initiative will result in a corresponding increase in domestic coal consumption.
4) Complementary industries such as the cement industry, which are heavily reliant on coal for power in its production processes, will continue to spur demand for coal.