This is part 3 of our coverage of our visit (with analysts) to Sino Grandness' production plant in Hubei last weekend and, subsequently, a F&B trade fair in Nanjing. For links to parts 1 & 2, see the bottom of the page.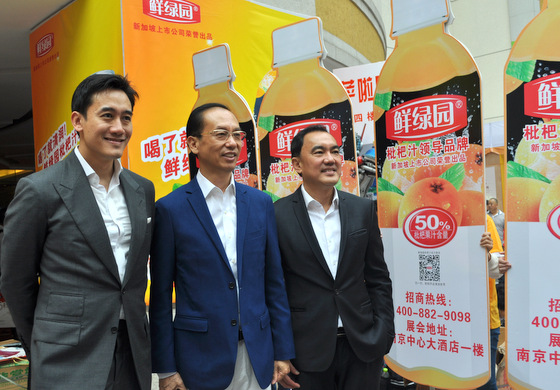 @ Nanjing trade fair (L-R): Kamolsut Dabbaransi, Executive VP, Head of Food & Beverage, at Thoresen Thai Agencies (TTA) | Huang Yupeng, CEO of Sino Grandness | Joseph Chia, a director of TTA. Photo by Leong Chan Teik

SINO GRANDNESS takes part in two F&B trade fairs annually, the one in Chengdu in 1H of the year being the bigger one by far.

The second one, whose venue changes every year and is on a smaller scale, was held in Nanjing last weekend. (In Oct 2014, Sino Grandness took part in the F&B trade fair in Chongqing where it achieved about RMB300 m in orders).

These trade fairs have proven to be a productive platform for Sino Grandness with significant orders for its beverages.

In 2014, for example, the orders received at two trade fairs amounted to RMB690 m, or 37% of Sino Grandness' beverage sales that year.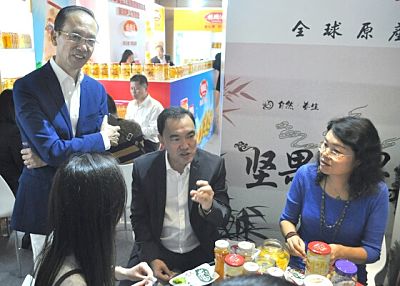 L-R: CEO Huang Yupeng, Joseph Chia, director of Thoresen Thai Agencies, Huang Yushan, executive director of Sino Grandness (and sister of CEO Huang). Photo by Leong Chan Teik.Aside from placing orders for established products, its existing and new distributors from all over China converge on the trade fairs to sample and enquire about new products that Sino Grandness has produced,

NextInsight and several Singapore analysts visited the Nanjing trade fair after checking out the company's production plant in Hubei.

Visiting at the same time were Joseph Chia, a director of Thoresen Thai Agencies (TTA), which became a substantial shareholder of Sino Grandness about a year ago.

He was accompanied by Kamolsut Dabbaransi, the son-in-law of Prayudh Mahagitsiri, the controlling shareholder of TTA. Mr Dabbaransi is Executive Vice President, Head of Food & Beverage, at TTA. (For more, see: SINO GRANDNESS: Attracts two quality investors from Thailand)

Check out our video (1 minute 50 seconds long) below to get a sense of the place and the atmosphere at Sino Grandness' booth:

Part 1: SINO GRANDNESS visit: Video of loquat juice production

Part 2: SINO GRANDNESS: Video on production of bottled oranges