Photos courtesy of nEbO unless otherwise indicated

SGX-listed Best World International has a corporate social responsibility initiative, World Learner program.

The direct selling company for health and lifestyle products is behind a programme that gives out annual exchange scholarships that sponsor students from Sichuan for a 9-day learning journey in Singapore which include immersions in Peichun Public School and Nanyang Primary School.

Asiatravel.com and Serial System are two other listed companies that sponsor the program.

Best World took up the challenge of sponsoring the World Learner Student Exchange Scholarship after it was proposed by Minister in

Prime Minister's Office

and NTUC Secretary-General Lim Swee Say in 2010.

Over the last five years, 151 exchange scholarships were awarded to 19 schools in Sichuan, of which 7 were Sino-Singapore Friendship Schools and 12 were Project Hope Primary Schools.

Sino-Singapore Friendship Schools were built with the help of funds raised at the Sichuan Earthquake Charity Show while Project Hope is a Chinese public service project that builds schools in poverty-stricken rural areas of China and funds elementary school education in poor families.

This year, the organizers roped in nEbO, which is the youth membership arm of NTUC Club and one of Singapore's largest youth groups, to send volunteers to organize a 3-day camp for the exchange scholars.

"We've always wanted more young people to be involved in this meaningful exchange of culture and education,' said Best World's Group CEO, Dr Dora Hoan.

"Our collaboration with nEbO means we are able to share this wonderful experience with our youth ambassadors," she added.

Best World, which has a regional direct selling network and a retail network in China, is highly dependent on the personal networks of its sales personnel for top line growth.

The company completed on 26 February 2014 the acquisition of a manufacturer of dietary supplements in China and renamed it Best World (Zhejiang) Pharmaceutical Co Ltd (BWZ).

BZW posted revenue of Rmb 33.4 million and net profit of Rmb 2.3 million in FY2013. It has a retail distribution network comprising of 153 agents and distributors in 31 PRC provinces.

Revenue from China contributed 17.7% to Best World's top line in 1H2014.

"Direct selling is potentially a multi-billion dollar industry in China and it is our goal to become a licensed direct seller there," said Dr Hoan.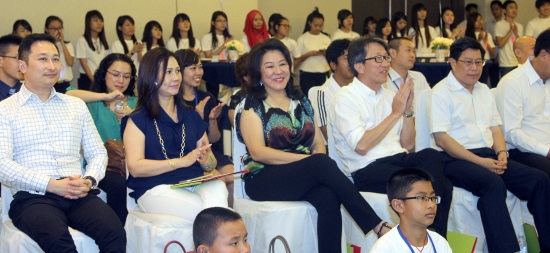 L-R: Huang Ban Chin (Best World executive director), Dr Doreen Tan (Best World Co-Chairman and executive director), Dr Dora Hoan, Lim Swee Say, Yeo Guat Kwang (Assistant Secretary-General of NTUC). Photo by Marliana, Best World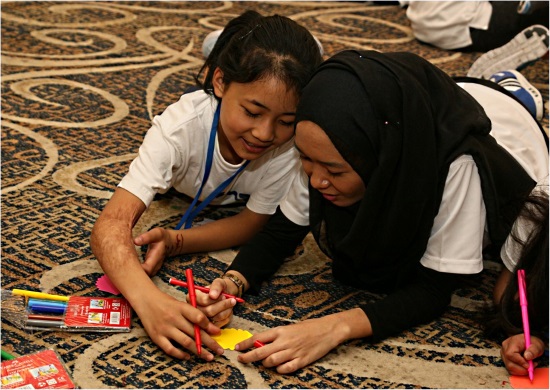 A Malay student (right) learns to communicate with a Chinese speaking cultural exchange scholar.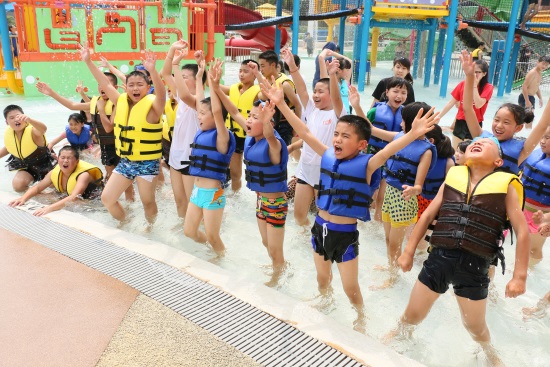 Fun time at Wet and Wild

Related story: BEST WORLD: Insider Buying Spurs Investor Expectation Of Turnaround