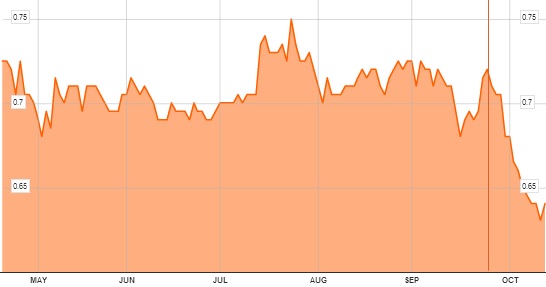 Lian Beng's share price has taken a dip of close to 15% since 24 September to close at 62 cents yesterday (15 October). Bloomberg data

THE SLIDE in Lian Beng Group's stock price over the past month was stemmed on Tuesday (14 October) by the first transaction under its new share buyback mandate.

The company repurchased 2.24 million shares at 64 to 64.5 cents, resulting in the close price inching up by 1 cent overnight to 64 cents, after sliding from its recent peak of 72 cents on 24 September.

Yesterday, Lian Beng bought another 1,588,000 shares at 61.5-64.5 cents each.

In total, the shares bought back accounted for 51% of the volume of shares traded in the past two days.

Given the recent weakness in market sentiment, the shareholder approval for a share buyback mandate at its AGM on 26 September came just in time.

OSK-DMG maintained its 'Buy' call on the stock with target price at S$1.17 after the leading construction / property player posted strong 1QFY2015 results on Monday after market close.

>> Net profit attributable to shareholders rose 58.5% year-on-year to S$12.0 million.

>> Revenue was up 10.8% at S$1676.6 million


Sarah Wong, OSK-DMG analyst, says:
"Its construction segment and workers' dormitory business continued to book a robust performance, leading the growth in revenues and offsetting the revenue dip from the ready-mixed concrete segment.

"The surge in PATMI is largely attributable to the recognition of profits from property development projects such as NEWest, KAP and The Midtown – which amount to S$5.1 million under its share of results from associates and JVs.

"Going forward, we expect the continued recognition of profits from these property development projects to drive earnings for the group.

"A steady orderbook of about S$1.0bn would also provide earnings visibility for the company until FY2017F."

According to the OSK-DMG analyst, near-term earnings catalysts include the following:

1. Sale of its 32% stake in Prudential Tower: In May, Lian Beng, KOP, KSH and Centurion had formed a consortium to acquire a 92.8% stake in Prudential Tower, a 30-year old strata-titled building, from a REIT.

2. Its upcoming granite supply business in Ipoh, Malaysia, which is expected to start earnings contribution early next year.

Here is a summary of questions raised at its results briefing on Tuesday, and the replies provided by executive director Ong Lay Koon.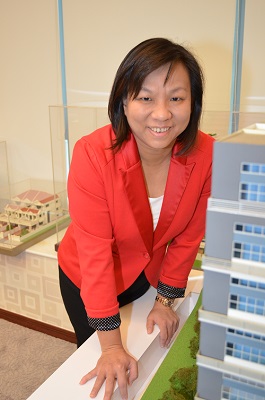 Executive director and CFO Ong Lay Koon. NextInsight file photoQ: Who is championing the Prudential Tower project?

Lian Beng has the largest share of 32%. KSH has 28%, KOP 25%, and Centurion 15%. Lian Beng is mainly responsible for finance and banking, accounting, such as collection of monthly rental and deposits.

The consortium uses a marketing agent to launch sales. We will try to sell all the units to recoup our investment as soon as possible. Rental revenue provides a steady cashflow but that is a secondary option for us.

Q: Do you intend to keep your 5% stake in Centurion?

We acquired the Centurion shares at about 57 cents in March. Its current stock price of about 50 cents is relatively low compared to our purchase price. Thus, we are not selling yet.

Q: Do you agree with the recent media report that there is an oversupply of dormitories?

Tenant occupancy for our dormitories are still at 100% and we have not reduced our bed rental rates. Tenancy agreements normally range from one to 3 years.

I don't have to worry about operating expense. It is relatively low because the facilities are new.

Q: Can you provide an update on your granite supply business?

Our machinery is under installation at our new quarry, which is much bigger than our old one. We hope to commence operations at the beginning of next year. We have ordered 10 sets of tugs & barges. These are coming in progressively as the equipment is being installed at the quarry. We do not want to take delivery of a vessel and leave it docked.

Q: When will your asphalt business start contributing to earnings?

Construction of our facility located between Lok Yang and International Road has been completed and machinery has been installed. We are also looking at building an extension for recycling.

Recent story: LIAN BENG: One-Off $8.45 m Boost From Sale Of Midlink Plaza