Posted by 'mervynsim" in NextInsight forum

According to Oxley's 2014 annual report, Ching's remuneration this year is above $18.5m! This will likely make him Singapore's highest paid CEO this year!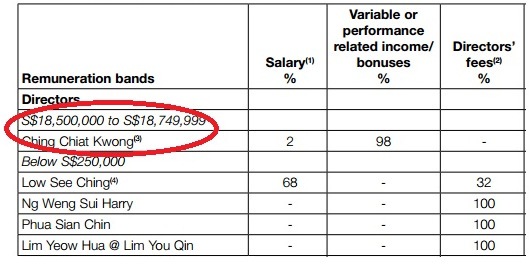 Meanwhile, a look at the top 20 shareholder list as of 19 Sep 2014 versus 11 Sep 2013 shows that Koh Wee Meng has dropped out of the list. His wife, Lim Wan Looi, has reduced her stake from 33m shares to 9.9m shares.

Posted by 'Sumer' in NextInsight forum:


Ching Chiat Kwong, Chairman & CEO of Oxley.Yes, Mervyn, I am surprised by the high figure, which could make some retail investors uneasy.

I wrote in another thread (2nd liner prop counters) earlier about Oxley and had exited my remainder holding in the stock after the company cancelled its stock split proposal, which had been a hoped-for catalyst.

The bulk of Oxley's RNAV is in unlaunched projects, and hence this prop stock is riskier than several other prop developer counters.

Meanwhile, poor sentiment seemed to be pervading the whole market and there is a risk all and sundry will be dragged down the slope. For prudence, I am keeping cash above 30% of total investment.

Oxley Holdings reported net profit of S$306.9 million for FY2014 (ended June 2014) up 195% y-o-y. Its FY2014 results presentation slides are here.

Top CEO pay in Singapore in 2013 (Source: Business Insider Singapore) :
1. Piyush Gupta, DBS Group Holdings –S$9.2 m; company net profit S$3.5 billion.
2. Wee Ee Cheong, United Overseas Bank – S$9.2 m; company net profit S$3 billion
3. Kwek Leng Beng, City Developments – S$9 m; company net profit S$683 million.
4. Lim Kok Thay, Genting Singapore – S$9 m ; company net profit S$707 million.
5. Samuel Tsien, Oversea-Chinese Banking Corporation – S$8.8 m; company net profit S$2.8 billion.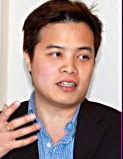 Recent story: Terence Wong: I am buying OXLEY @ 49% discount to RNAV