Excerpts from analysts' reports

OSK-DMG says: "Bintan Buzz Snowballing As Expected"
Analysts:
Edison Chen & Terence Wong, CFA
Buy (maintained). Target price: 57 cents.

Gallant Venture's land sales have been snowballing as the buzz surrounding Bintan grows. Channel checks show new resorts are opening as scheduled and existing operator Banyan Tree has raised its bets on the island by introducing serviced apartments.

Management expects to reach critical mass of 5,000 room keys by 2015, and may hold international events to showcase Bintan on the global stage.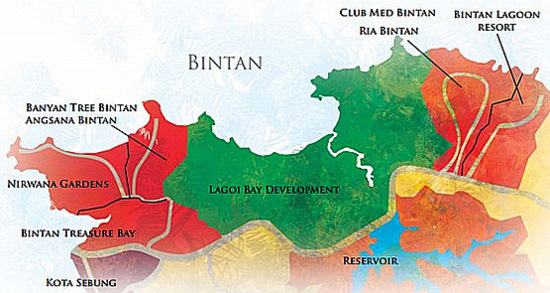  New resorts opening on track.
Our recent channel checks confirm that the new resorts will be opening as scheduled. On 13 June, trade publication/portal TTG Asia reported that Phase 1 of Treasure Bay Bintan will open in 4Q14 with 1,500 room keys.

Meanwhile, the Sanchaya Bintan will start accepting reservations via third party hotel booking website Small Luxury Hotels Of The World from 1 Aug.

 Existing operators up the ante on Bintan. Banyan Tree, the existing operator, has upped the ante on the island by introducing serviced apartments under the Cassia brand. Even though the project does not provide any rental guarantee, some 45% of the units have been sold.

We believe that what prompted Banyan Tree to act now – after having waited for years – is the fact that it is finally reaching critical mass with the opening of Lagoi Bay.

 5,000 keys by 2015, Bintan to be showcased on the global stage. In the short run, the opening of new resorts will generate captive customers for Gallant Venture's Bintan businesses such as utilities.

Over the long term, this may enhance the island's reputation and, hence, the value of land there. According to management, there are currently 1,400 room keys at Bintan Resort and it estimates this number is expected to hit around 2,400 by the end of the year.

Gallant Venture said that, when the company reaches 5,000 keys by the end of 2015, management may look to the possibility of hosting global events such as the Miss Universe pageant and PGA golf tournaments that will place Bintan in the spotlight on the international stage.