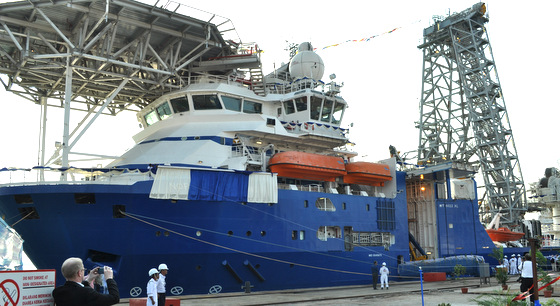 Norshore Atlantic anchored off Otto Marine's PT Batamec shipyard in Batam for its naming ceremony. The vessel is able to replace drilling units in the initial phases of drilling operations, resulting in significant cost savings for oil majors which charter the vessel.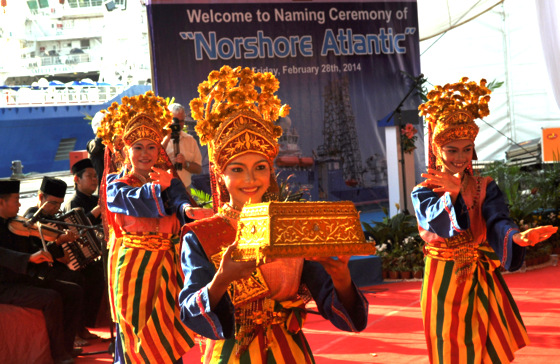 Indonesian dance and music to entertain hundreds of guests.

Photos by Leong Chan Teik unless otherwise captioned

IN THE cool of a large tent at Otto Marine's yard in Batam, the CEO of Norshore told a few hundred guests: "The drillship Atlantic in front of us is, in my opinion, the most advanced vessel ever built in Indonesia and, taking its compactness into consideration, the complexity is absolutely comparable to anything built in Singapore, Korea or China.

"I mean it ranks at the very top of the technical achievement list also on a more global perspective."

President and CEO Petter Tomren was speaking at naming ceremony on Feb 28 of Norshore Atlantic, which was built for Norshore by Singapore-listed shipbuilder and charterer Otto Marine.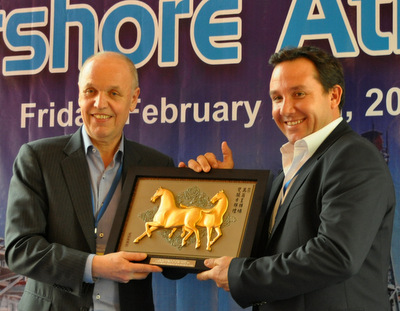 Norshore CEO Petter Tomren (left) receives a memento from Otto Marine CEO Garrick Stanley.Many other parties contributed to the success, including vessel designer Marine Teknik, drilling equipment supplier National Oilwell Varco, integrated power management and control suppliers Kongsberg, Rolls Royse, Sebastian and MAK, and local vendors in Batam.

And Otto Marine CEO Garrick Stanley thanked his "highly talented shipbuilding team, led by Mr. Mok Kim Whang and Mr. Lum Kin Wah.

"Without their dedication and determination to see the project through, Otto Marine would not today have marked such a significant milestone in our corporate history."
About the vessel:

It is equipped with DP3 and has DNV drilling unit classification and Norwegian flag.

It can perform topside drilling up to a depth of 450 meters and operate anywhere in the world, including the harsh North Sea.

It has most of the equipment and capabilities of a drilling rig, yet has similarities to a well intervention ship.

"The big difference, especially compared to a deepwater drilling rig, is that the investment is less than 50 per cent, which again means that the design is very competitive, both for top hole drilling and well intervention operations," said Mr Tomren.

"In this respect, the Atlantic is unique and is the first vessel with these fit-for-purpose capabilities ever built."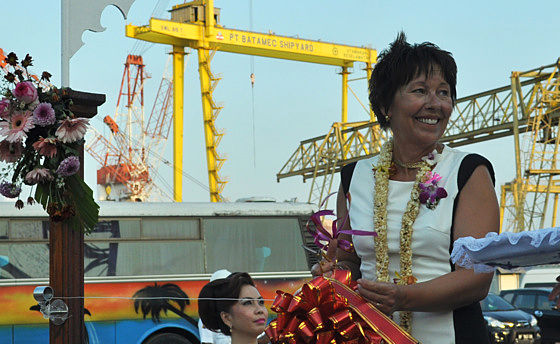 The 'godmother' of Norshore Atlantic: Mrs Hanne Marie Nordahl-Pedersen, wife of Norshore Chairman Geir Nordahl-Pedersen.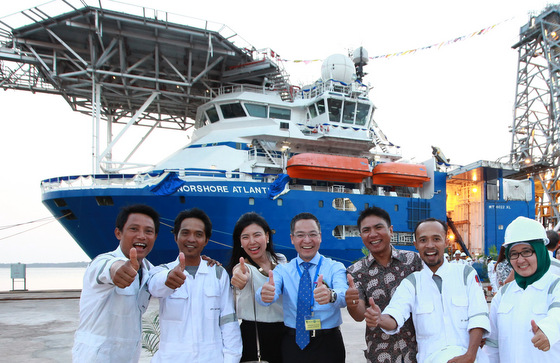 Otto Marine chairman Yaw Chee Siew and wife with PT Batamec shipyard workers.
Photo: Company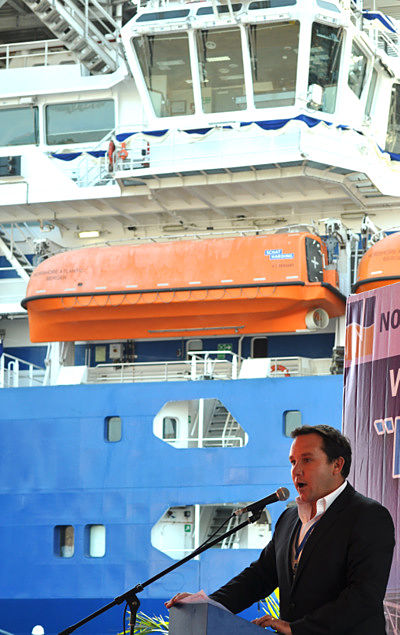 Otto Marine CEO Garrick Stanley: "The vessel you see behind me is the first of its kind to be built in Asia.....Through Norshore Atlantic and the recently delivered Go Phoenix, we have demonstrated that our yard is capable of constructing ultra-large, highly sophisticated vessels."Oil majors have indeed shown keen interest in the Atlantic and spurred a Norshore competitor to place an order for a similar vessel at a Japanese shipyard.

For its part, Norshore is expanding its fleet of such vessels, targeting to have a minimum of 5.

In the meantime, the vessel Norshore Atlantic will soon be working in Indonesian waters for a few months for its maiden project.

Subsequently, it will be engaged by an oil major on a three-year program.

"For something like Atlantic to happen, it takes somebody with a sound idea and a clear strategy on how to make things happen.

In addition, of course, it takes a lot of money and partners who have the skills to actually build what we want," said Mr Tomren.

He cited Otto Marine chairman Yaw Chee Siew along with one of the founders of Norshore, Olav Lie, Norshore Chairman Geir Nordahl-Pedersen, and Norshore shareholders, in particular Ocean Champion.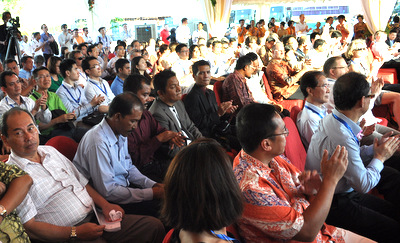 Over 100 guests took the 1-hour ferry ride from Singapore to Batam for the naming ceremony."Throughout this project, I personally have discussed many issues with Mr. Yaw, and between us we have always managed to find solutions and stay focused on completing the Atlantic according to the agreed specifications and quality Norshore has requested.

"There is no doubt that without the personal involvement and support from Mr. Yaw, the Atlantic would most likely not have been finished."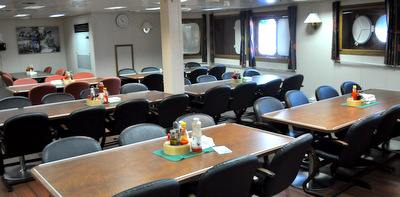 On board Norshore Atlantic: The mess room, which can seat 55 people.Mr Tomren added: "I think that breaking new ground, bringing something new into a very demanding offshore market is never easy under any circumstances but today, with Atlantic completed in front of us, it is proof of what can be achieved with engineering skills and detailed knowledge of rules and regulations, and what is even more important, a high degree of dedication and cooperation."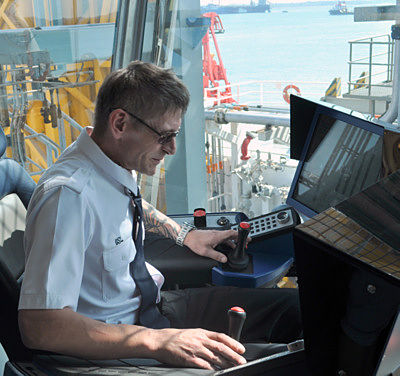 On board Norshore Atlantic: At the controls of drilling operations.Otto Marine CEO Garrick Stanley acknowledged the learning curve encountered in the construction of such complex vessels, adding that the experience shall be put to good use as the Group embarks on an expansion plan for its chartering services.

"Our enhanced technical capability will also serve us well in securing third party contracts to construct offshore support vessels, particularly for the buoyant cabotage Indonesian market."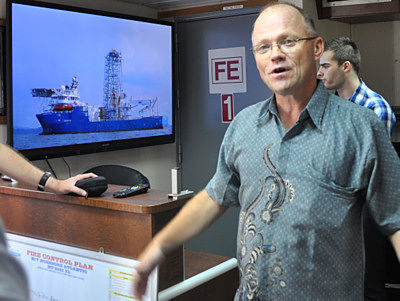 One of the founders of Norshore, Olav Lie.From its PT Batamec yard, one of the largest in Batam, "the Group looks forward to more successful deliveries of ultra-large offshore support vessels in the near term," said Mr Stanley.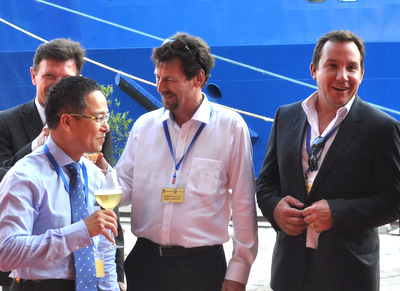 Otto Marine Executive Chairman Yaw Chee Siew (left), Norshore Chairman Geir Nordahl-Pedersen and Otto Marine Group CEO Garrick Stanley.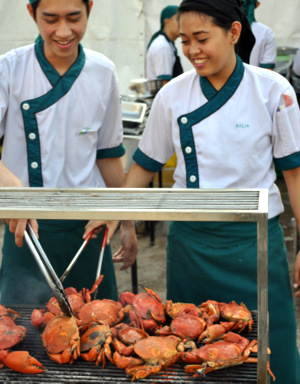 Crabs being barbequed for a sumptious dinner which included barbequed squid, fish and prawns -- and free flow of champagne and wine.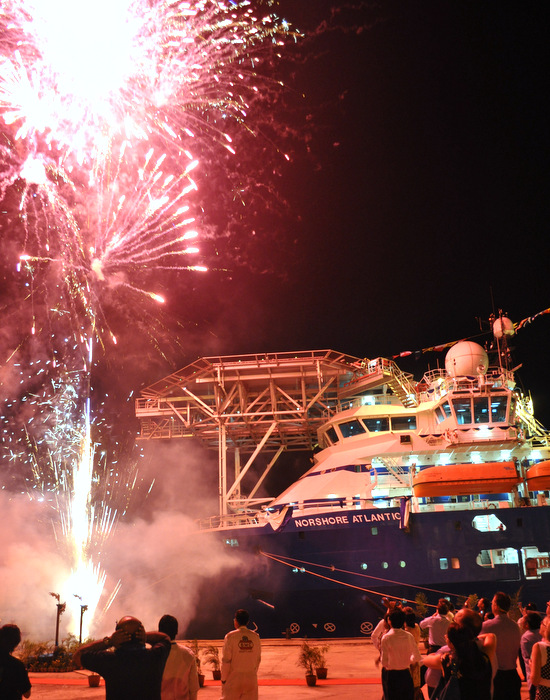 After-dinner fireworks were the climax of the ceremony. Norshore Atlantic would shortly make its way to its first assignment in Indonesian waters.